Looking for adjectives that start with "E?" Adjectives help us describe the world around us. They increase our overall vocabulary. And help to show expression of positive and negative things around us. If you're looking for a big list of adjectives that all begin with the letter "E," scroll down!
What are adjectives? And adjectives that start with E?
Adjectives are simple words that define nouns' characteristics or emotional states. Such as big, humorous, yellow, enjoyable, or quickly. They can also describe how many nouns there are: many, few, millions, and eleven. However, adjectives are not limited to only changing nouns.
Absolute Adjectives: Adjectives that are absolutes describe things that stand alone.
Comparative Adjectives: Unsurprisingly, comparative adjectives draw comparisons between two or more items. The suffix -er is used to create the comparative form for most one-syllable adjectives. Replace the final -y in two-syllable adjectives with the suffix -ier. Add the word more to adjectives with multiple syllables.
Superlative Adjectives: Adjectives with superlative endings denote the maximum degree of the discussed quality. Adding the suffix -est means one-syllable adjectives are transformed into superlatives. Adjectives with two syllables that finish in -y are changed to -iest. Adjectives with several syllables add the most words. It is often the definite article (the) rather than an or a when you use an article with a superlative adjective. When you use a superlative, it is evident that you are referring to a particular thing or things.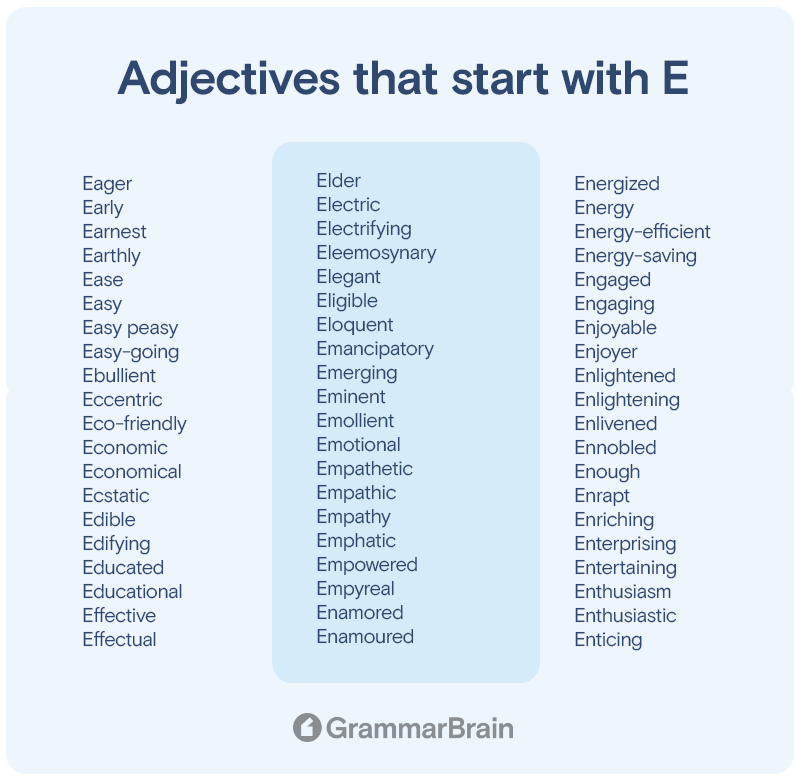 List of adjectives that starts with E
Below is the list of adjectives that starts with E. You can use these adjectives in statements to describe nouns or support verbs.
Edwardian
Edulious
Edulcorative
Edulcorant
Eductive
Educible
Educative
Educational
Educable
Edriophthalmous
Editorial
Editable
Edificial
Edificant
Edictal
Edible
Edental
Edenic
Edematous
Eddic
Eddaic
Edaphic
Edacious
Eczematous
Ecumenic
Ecuadorian
Ectypal
Ectrotic
Ectozoic
Ectozoan
Ectothermic
Ectosteal
Ectopic
Ectolecithal
Ectodermic
Ectodermal
Ectental
Ectal
Ecstatical
Ecphractic
Economical
Econometric
Ecological
Ecliptic
Eclectic
Echolike
Echoless
Echinital
Eccrine
Ecclesiological
Ecclesiastical
Ecclesial
Ecchymotic
Eccentrical
Ecbatic
Eburnean
Ebullient
Ebrious
Ebrauke
Ebony
Ebionite
Eatable
Easygoing
Easy
Eastward
Eastside
Eastern
Earthlike
Earthen
Earthbred
Earthbound
Earthborn
Ear-splitting
Ear-piercing
Earlyish
Early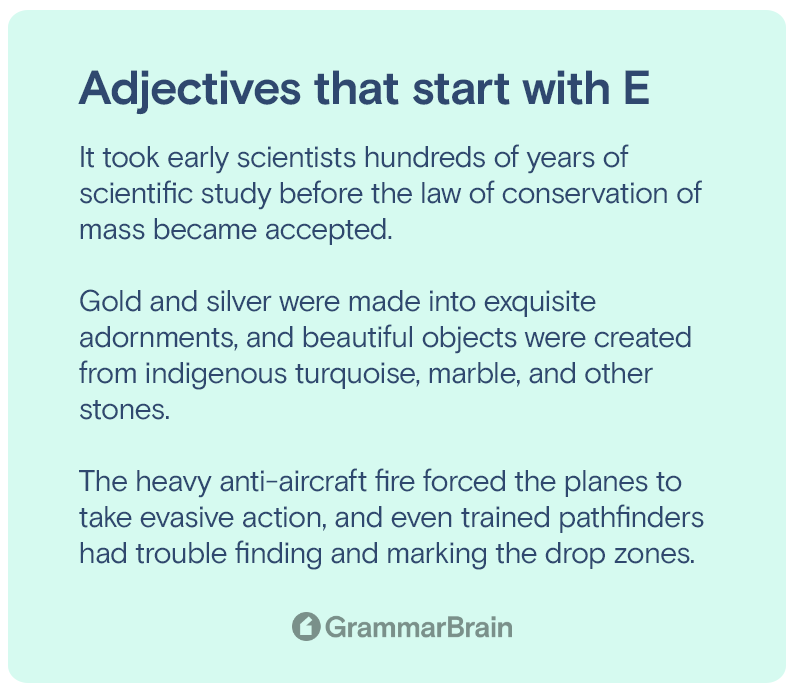 Descriptive adjectives that start with E
Below is the list of descriptive adjectives that starts with E. You can use these adjectives in statements to describe nouns or support verbs.
Evaporable
Evaluative
Euphonic
Eternal
Established
Essential
Erupting
Errorless
Erratic
Erotic
Erosive
Equestrian
Equatorial
Epidural
Epical
Envious
Enviable
Entire
Enticing
Enough
Enjoyable
Enhanced
Engrossing
English
Ended
Ended
Endearing
Encouraging
Enclosed
Enate
Empty
Employed
Emphasized
Eminent
Embossed
Embezzled
Embarrassed
Elusive
Eloquent
Elite
Electronic
Electrical
Elective
Eldest
Elated
Elastic
Elapsed
Elaborated
Eighth
Eighteenth
Egyptian
Egregious
Egotistical
Effluent
Effeminate
Effectual
Effective
Effected
Eerie
Educational
Educated
Edited
Edifying
Edible
Edgy
Edged
Ecologic
Echoing
Ebony
Easy
Eased
Earlier
Each
List of positive adjectives starting with E
Below is the list of positive adjectives that start with E. You can use these adjectives in statements to describe nouns or support verbs.
Extraordinary
Extra
Express
Expert
Expensive
Expected
Expandable
Excusable
Exclusive
Exclamatory
Exciting
Excited
Excitant
Exalted
Exact
Evident
Everyday
Every
Eventful
Evangelical
Evanescent
Eucharistic
Essential
Equivocal
Equivalent
Equipped
Equal
Equable
Epical
Epic
Enviable
Entire
Enough
Enlivened
Enjoyable
Enhanced
Engaging
Energizing
Energetic
Endless
Encyclopedic
Enchanting
Enabling
Empowered
Employable
Emphatic
Empathetic
Emotive
Emergent
Eloquent
Eligible
Elevated
Electrifying
Elating
Elated
Elaborated
Effortless
Efflorescent
Efficient
Effective
Educative
Edifying
Edgy
Ecstatic
Economic
Ebullient
Easygoing
Easy
Earthy
Earnest
Earned
Early
Eager
List of Negative Adjectives Starting with E
Below is the list of negative adjectives that starts with E. You can use these adjectives in statements to describe nouns or support verbs.
Eyesore
Extreme
Extraneous
Extramarital
Extorted
Extinguished
Exterminated
Expurgated
Expunged
Expressionless
Exploited
Exploitative
Exploded
Explicit
Expired
Expending
Expendable
Exorbitantly
Exiled
Exhausting
Exhausted
Excruciating
Excluded
Excessive
Excess
Exceeding
Exaggerating
Exaggerated
Exacerbating
Exacerbated
Eviscerated
Evildoer
Evil
Evasive
Evading
Erroneous
Erratic
Errant
Eroding
Eroded
Erased
Epileptic
Enveloping
Entrapped
Entitled
Enslaved
Enraging
Enraged
Enforced
Enfeebling
Enemy
Endemical
Endemic
Ended
Endangering
Endangered
Encumbered
Encrusted
Encroaching
Encroached
Emptied
Embroiled
Embittered
Embattled
Embarrassing
Embarrassed
Emasculated
Elimination
Eliminated
Egotistical
Egocentric
Eerie
Ear-splitting
Ear-piercing
Earless
Personality Adjectives List that Start with E
Below is the list of personality adjectives that starts with E. You can use these adjectives in statements to describe nouns or support verbs.
Extroverted
Extravagant
Extraordinary
Exploitative
Expansive
Exhaustive
Exhausting
Exhausted
Exciting
Excited
Exceptional
Exasperating
Exasperated
Exacerbating
Evasive
Euphoric
Ethical
Erudite
Envious
Entrepreneurial
Entrancing
Enthusiastic
Enthused
Enthralled
Enterprising
Enlightened
Engrossing
Engrossed
Engaging
Energizing
Energetic
Endearing
Encouraging
Encouraged
Enchanting
Enamored
Empowered
Emotionless
Emotional
Emboldened
Embittered
Embarrassing
Embarrassed
Elusive
Eloquent
Elegant
Electrifying
Elated
Egoistical
Egocentric
Efficient
Eerie
Edgy
Ecstatic
Economical
Eccentric
Easygoing
Easy
Earnest
Eager
Adjectives List that Start with E to Describe a Person
To describe a person, you can use these adjectives that starts with E.
Extraneous
Exterior
Exquisite
Expressionless
Exposed
Exploited
Explicit
Expert
Experienced
Expected
Exotic
Existing
Exemplary
Exact
Evil
Everlasting
Eventful
Evenhanded
Even
Evasive
European
Ethnic
Ethiopian
Eternal
Estranged
Estimable
Established
Essential
Erratic
Errant
Erect
Equitable
Equidistant
Equal
Equable
Enviable
Entire
Enormous
Enlarged
English
Enduring
Endangered
Empowered
Eminent
Emblematic
Elite
Eligible
Elfish
Elfin
Elementary
Elderly
Eighth
Egyptian
Efficient
Effective
Educational
Educated
Echoing
Easy
Early
Example sentences using adjectives that start with "E"
It took early scientists hundreds of years of scientific study before the law of conservation of mass became accepted.
Gold and silver were made into exquisite adornments, and beautiful objects were created from indigenous turquoise, marble, and other stones.
The heavy anti-aircraft fire forced the planes to take evasive action, and even trained pathfinders had trouble finding and marking the drop zones.
Many estimable individuals have lined up behind the notion that we live in a post-copyright age.
Far from debasing his models, Newton places them at the heart of a deep and complex drama where they rule like errant queens.
Students have reported a more equitable share of work and higher perceived levels of team skills following a course in team building.
However, only parts of the canal route were completed because the expected revenues required to complete the project were never generated.
There are many undesigned buildings where plywood exterior siding has been used for decades, and the results aren't pretty after a few years.
Always busy in the herbarium and nattily dressed in coat and bow tie, Wilbur was an enviable model of a true botanist devoted to his craft.
Histologically, sebaceous hyperplasia consists of enlarged lobules of mature sebaceous glands with a central dilated duct.
They also underscore the enduring richness of the continent's cultural heritage, which serves as a wellspring of creativity worldwide.
You're likely to see waders and a variety of herons, stilts, and even the endangered West Indian whistling duck.
My everlasting and most fearful memory of the war was being woken by a thundering noise that shook and rattled my bedroom windows.
They formed elite regiments within the British Indian army and then the British army.
In the United States, hardly the majority of eligible voters go to the polling booths.
Most of these kids live in neighborhoods with elementary, middle, and high schools.
Her curling red hair stilled around her shoulders, framing her pale, elfin face.
The contaminated cotton wadding was not found in quilts used in local colleges and nursing homes for the elderly.
Fathers and daughters, mothers and sons joined thousands of baby boomers for an enchanting evening of harmonious music.
The camera loves the luminous actress, whose elfish eyes and Titian hair evoke the spark beneath her calm exterior.
By the time the Germans mounted their eighth assault, the remaining riflemen had exhausted their ammunition.
A well-laid-out internal network of main crossroads and paths is essential for the efficient movement of men and machinery.
Expecting easy soundbites from the Bernadette Corporation is like wishing a Cezanne would look like a Rockwell.
However, signals from the White House have continued to be cautious, not echoing the strident tone of the activists.
In independent Tibet, monasteries and nunneries, numbering over 6,000, served as schools and universities, fulfilling Tibet's educational needs.
Second, there was a lack of skilled vine dressers and knowledge of the industry, especially knowledge of local climatic and edaphic factors.
Standing on the Zhuangyuan Pavilion, you can marvel at the enchanting views of lakes and hills.
Some energizing postures given at her workshop included the cobra, locust, and chest expander.
His voice was monotonous, expressionless, and cold like he'd only just mastered the art of speaking and was none too skilled at it.
The inn contained exposed beams, high cedar wainscoting on the walls, and wide cedar floorboards.
Yet in melancholic fare, such as Brahms's Mondenschein and Lerchengesang, he found a caressing legato with an enchanting mezza voce.
Adjectives that start with "E" (images)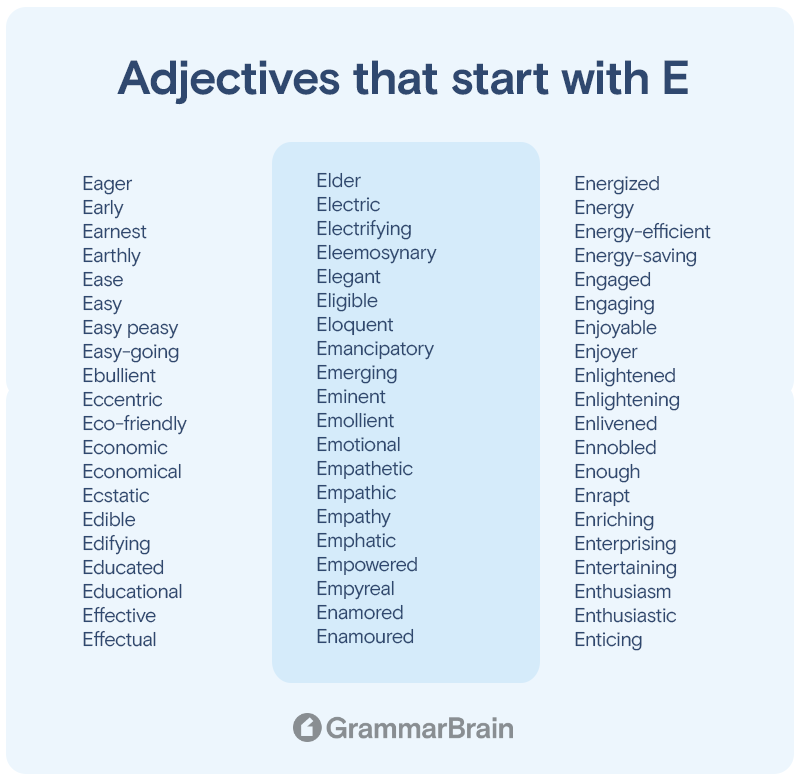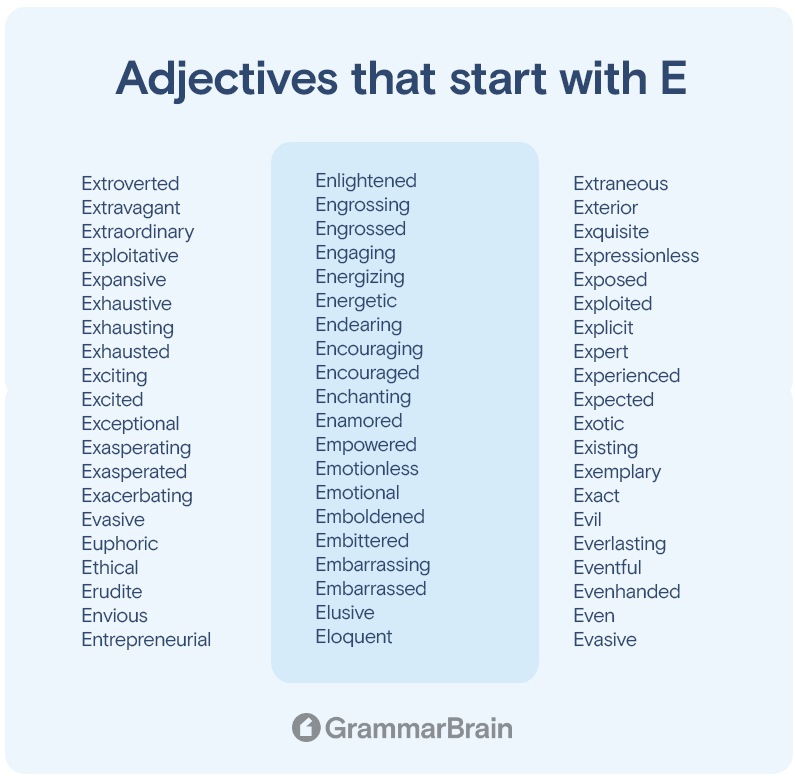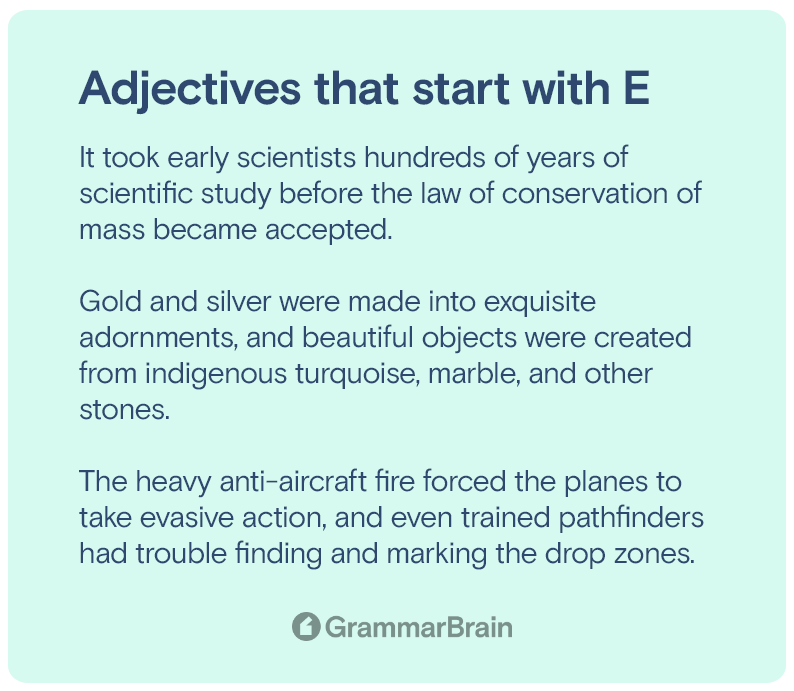 Other adjective lists
Other lists of adjectives:
Adjectives that start with E
Fact checked:
Content is rigorously reviewed by a team of qualified and experienced fact checkers. Fact checkers review articles for factual accuracy, relevance, and timeliness. Learn more.
Glossary
A: B: C: D: E: F: G: H: I: J:
L: M: N: O: P: Q: R: S: T: U: V: