What are countable and uncountable nouns? Nouns can identify places, people, animals, and other things. They are the basic materials required to construct sentences. There are different types of nouns, including proper nouns, common nouns, compound nouns, collective nouns, abstract nouns, and countable and uncountable nouns.
Each of these may have specific purposes. For instance, proper nouns help identify different objects by their names. Similarly, collective nouns represent groups.
Since nouns represent different things, they may also be countable and uncountable. Some items may be countable, and you can count them, whereas others may be beyond numbers.
| | |
| --- | --- |
| Form | Example |
| Countable Noun | Coins, dogs, birds, apples. |
| Uncountable Noun | Bread, water, gold, rice. |
| | |
| --- | --- |
| Form | Definition |
| Countable Noun | The nouns that can be counted are called countable nouns. |
| Uncountable Noun (Mass Noun) | The nouns that cannot be counted, although they can be measured or weighed, are called uncountable nouns. |
What is a Countable Noun?
As the name suggests, you can represent the different things around you that you can count with the help of countable nouns. So, be it places, animals, people, or anything else, there must be a definite number or quantifier.
For instance, 'There may be at least ten candles on the birthday cake,' or 'There are several notable paintings in this gallery.'
Countable nouns may be singular or plural, depending on the context. For example, a book lay on the table,' or 'There are 5,000 employees in that company.'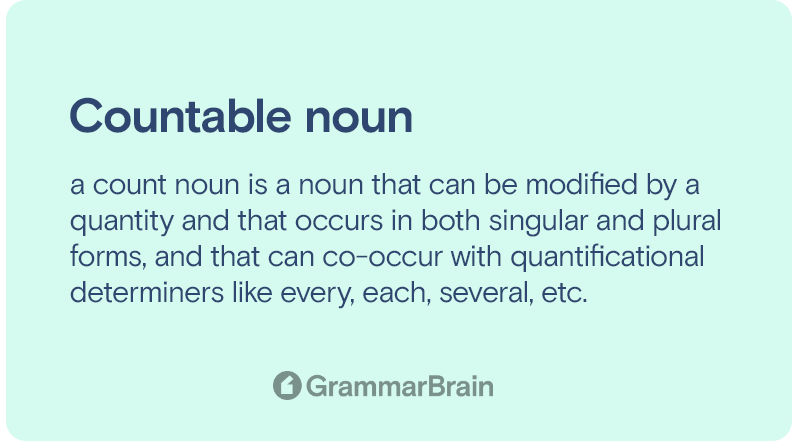 Definition of Countable Noun
Countable nouns, or count nouns, are those nouns that go together with indefinite articles in the singular or plural forms.
Nouns that can be modified using quantities and occur in singular and plural forms, along with quantity determiners, are countable.
So, according to this definition, anything you can represent using a definite or indefinite quantity is a countable noun. Definite determiners are pure numbers. Indefinite denotations, however, can be used when you don't know the numbers or quantities.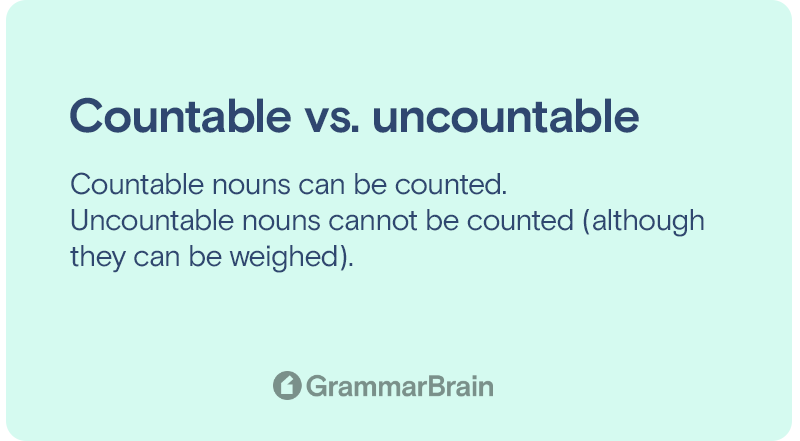 What is an Uncountable Noun?
Anything you cannot represent using a definite quantifier is an uncountable noun. In other words, uncountable nouns are those things that you cannot count.
For instance, 'There is no water in the pond,' or 'Get rid of the garbage.'
Here, 'water' and 'garbage' are uncountable since a definite number or quantity cannot represent them.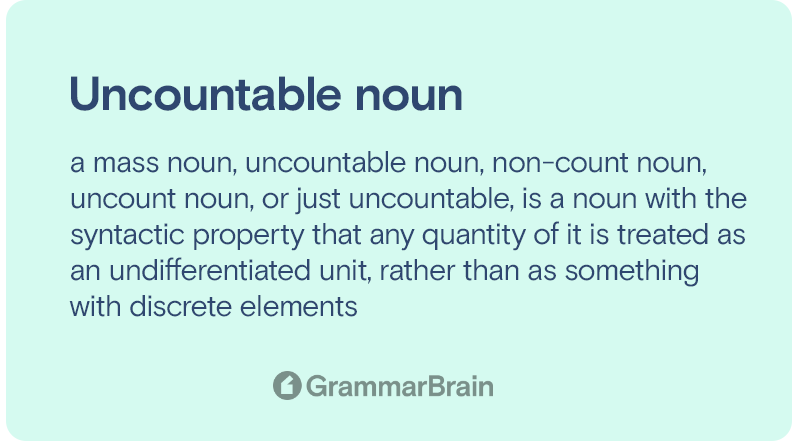 Definition of an Uncountable Noun
In linguistics, uncountable nouns, mass nouns, or non-count nouns are distinguished forms of countable nouns with a syntactic property where the quantity may be an undifferentiated unit rather than a discrete element.
Here, 'undifferentiated unit' means that tracking the objects in question may not be possible.
Countable vs. Uncountable Nouns
The most apparent difference between countable and uncountable nouns is that you can represent countable nouns by a definite number or quantifier. In contrast, the same is not true of uncountable nouns. However, this is not the only difference.
Countable nouns vary from uncountable nouns, depending on various other factors. For instance, countable nouns can assume both singular and plural forms, as against uncountable nouns, which may be only in the singular form.
Likewise, when you express countable nouns in the interrogative format, the question would be 'how many?' instead of 'how much?' for uncountable nouns.
So, the numbers, or quantifiers, become significant when referring to something countable.
Examples of Countable and Uncountable Nouns
Uncountable nouns may include bread, rice, coffee, luggage, money, and information.
Some objects, including money, or luggage, can be counted but are still uncountable, as there is too much.
For instance, you may be able to count money, as currency notes but not in an economy, or bank.
Besides this, you can count most other things or at least represent them using a quantifier.
Uncountable nouns (list)
Alphabet
Uncountable Nouns
A
Aggression
Assistance
Attention
Accommodation
Advertising
Air
Athletics
Access
Adulthood
Alcohol
Applause
Agriculture
B
Blood
Botany
Bacon
Baggage
Ballet
Butter
Biology
C
Carbon
Cardboard
Chalk
Chess
Coal
Commerce
Confusion
Cookery
Countryside
Crockery
Cutlery
Chocolate
D
Determination
Delight
Depression
Driving
Dignity
Dessert
Design
Dust
Distribution
Dirt
Duty
E
Enjoyment
Energy
Envy
Evil
Engineering
Entertainment
Evolution
Existence
Ethics
Evidence
Employment
F
Fashion
Forgiveness
Faith
Flour
Flu
Fear
Fun
Fame
Freedom
G
Gasoline
Genetics
Garbage
Growth
Grief
Grammar
Garlic
H
Hospitality
Homework
Heat
Hatred
Hunger
Honey
I
Ice
Imagination
Information
Independence
Infrastructure
Industry
Irony
J
Jealousy
Jam
Jewelry
Joy
K
Kindness
Knowledge
Karate
L
Labour
Lava
Livestock
Luggage
Lightning
Land
Leather
Linguistics
M
Management
Mathematics
Moonlight
Methane
Milk
N
Nature
Nitrogen
Nutrition
Nonsense
Nurture
O
Obedience
Obesity
Oxygen
P
Pepper
Patience
Permission
Peace
Q
Quartz
R
Reliability
Rum
Recreation
Reality
Rubbish
S
Scenery
Sewing
Strength
Space
Software
Seaside
Stream
T
Toast
Thunder
Transportation
Trust
U
Underwear
Unemployment
Unity
V
Veal
Validity
Vitality
Vinegar
W
Whiskey
Weather
Wildlife
Water
Welfare
Y
Yoga
Yeast
Z
Zinc
Conclusion
Most things are countable. You can still measure or represent them using a suitable quantifier, even if they are not. However, the terms used to describe the numbers or quantities may vary, depending on several factors, primarily if the amount or number is not overwhelming.
You can determine if a noun is countable by counting or measuring it.
So, most objects are still countable even if there are too many and you may not be able to count them.
FAQs
What are some rules governing uncountable nouns?

You can represent any object that you cannot count, doesn't come in definite numbers, or quantifiers as an uncountable noun.

However, uncountable objects have only singular forms and no plurals and may need definite articles to support them.

For instance, when you say, 'I picked up the luggage,' you may be referring to any luggage. However, when you say, 'I picked up my luggage,' you are referring specifically to your bags.

Similarly, when you say, 'I need to see a doctor,' you may be referring to any doctor. However, when you say, 'I need to see the doctor,' you may be referring to a specific doctor.

When it comes to quantifiers, you may need to be more specific when representing countable nouns. For instance, when you say, 'The citizens came to the meeting,' it becomes generic and can refer to the citizens of any place.

However, when you say, 'Some citizens from the neighborhood came to the meeting,' you are referring to a specific set of people.

Likewise, there are quantifiers that you can use only with uncountable nouns.

For example, 'There's little food left.'

There are other quantifiers that you can use with both countable and uncountable nouns. Examples may include all, some, any, and other such words.

For instance, 'He made enough money for a well-to-do living.'
Uncountable nouns are always singular compared to countable nouns, which can be singular, or plural. However, some uncountable nouns assume plural forms although they are singular.

For example, when you say, 'The furniture needs replacement,' you may be referring to a set rather than a single chair or table.

Some nouns may seem plural but, in reality, are singular and may be hard to figure out. Examples include Mathematics or News.

For instance, when you say, 'I've got some bad news,' it can be challenging to determine whether 'news,' in this context, refers only to a single piece of information.
Fact checked:
Content is rigorously reviewed by a team of qualified and experienced fact checkers. Fact checkers review articles for factual accuracy, relevance, and timeliness. Learn more.
Glossary
A: B: C: D: E: F: G: H: I: J:
L: M: N: O: P: Q: R: S: T: U: V: