Everyone is different. And so are their personalities. When writing about them, it is important to accurately and most appropriately describe their nature and personalities. Thankfully, we have 'Personality Adjectives' in English to help us out.
Known as describing words, Personality Adjectives help us describe/ understand a person much better. You use them to describe whether a person is good or bad, fast or slow, happy or sad, easygoing or challenging to handle, and much more.
They make writing more exciting and help us paint a perfect picture of a person using fewer but impactful words.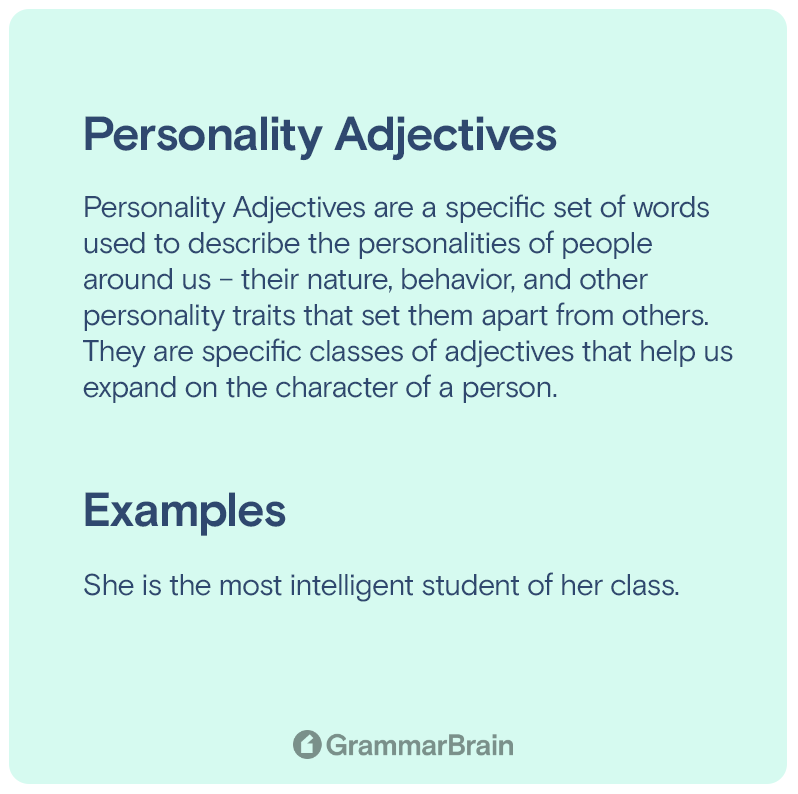 What Are Personality Adjectives?
Personality Adjectives are a specific set of words used to describe the personalities of people around us – their nature, behavior, and other personality traits that set them apart from others. They are specific classes of adjectives that help us expand on the character of a person.
For example:
This is my friend.
This is my clever, witty and cheerful friend.
Here the words clever, witty, and cheerful are used to describe a friend's personality. They help the reader better understand the traits or qualities of a person.
Let's look at another example:
She is the most intelligent student of her class.
Here the word 'most intelligent' is an adjective that is being used to describe the personality of a student. It suggests that no student in her class is as intelligent as her.
Personality adjectives can be used to create both a positive and negative image of a person. They are strong, powerful words that help readers form an option about a person and thus should be chosen wisely.
How do they differ from regular adjectives?
Words used to describe a person, place, or thing are called Adjectives.
Adjectives are of many types and are used to express an attribute of something. They may or may not describe the personality of the object or person in question.
For example:
He has a big square box.
She wore a pretty dress.
Ben has few friends.
Here, big, pretty, and few are all adjectives but they describe the object's personality.
Now take a look at these examples:
He is an arrogant man.
Elina is a wonder kid.
Mark is a hard-working employee.
Here arrogant, wonder and hard working are also adjectives, but since they are used to describe a person's personality, they are known as Personality Adjectives.
Positive personality adjectives
Adjectives used to describe a person's positive character or trait are known as Positive Personality Adjectives. You can use them to portray someone in a positive light and make the person feel extra special.
They come in handy when you want to describe people you love, admire, or want to impress. They also help you describe yourself and/or make a meaningful impact in front of others.
For example:
She is a brave girl.
Tom is very intelligent.
He is an honest employee.
I am a sincere student.
Here, brave, intelligent, honest, and sincere are all used to demonstrate the positive characteristics of people and are hence known as Positive Personality Adjectives.
Warm, friendly, polite, charming, hard-working, generous, loving, and funny are all examples of Positive adjectives.
Other Positive Personality Adjectives include:
Active
Extrovert
Modest
Sensitive
Adaptable
Exuberant
Motivated
Social
Adventurous
Fearless
Nice
Shy
Affectionate
Faithful
Neat
Silly
Ambitious
Frank
Non-judgmental
Smart
Brave
Funny
Optimistic
Straight-Forward
Bright
Forceful
Organized
Sympathetic
Beautiful
Friendly
Observant
Thoughtful
Broad-minded
Good
Patient
Tidy
Calm
Gentle
Passionate
Talkative
Careful
Giving
Persistent
Trustworthy
Cheerful
Generous
Polite
Tough
Courageous
Gregarious
Practical
Understanding
Compassionate
Helpful
Placid
Upbeat
Communicative
Hardworking
Popular
Versatile
Considerate
Humorous
Powerful
Wise
Courteous
Honest
Pro-active
Warmhearted
Creative
Happy
Quiet
Wild
Diligent
Hilarious
Quick-witted
Wise
Diplomatic
Intuitive
Rational
Witty
Determined
Intelligent
Reserved
Dynamic
Independent
Reliable
Joyful
Romantic
Emotional
Kind
Reasonable
Easy-going
Loving
Rational
Energetic
Lucky
Resourceful
Efficient
Loyal
Sincere
Enthusiastic
Mature
Sensible
To learn more about Positive Personality Adjectives, their meaning, and use in sentences, check out our table below.
Negative personality adjectives
Words that are used to describe the negative personality of a person are called Negative Personality Adjectives. They should be used cautiously as they can make a person look bad.
Ben is very arrogant.
She is impolite and grumpy.
Jenny is a selfish girl. She never helps anyone.
Here, arrogant, impolite, grumpy, and selfish are all examples of Negative Personality Adjectives as they describe the negative traits of people.
Other Negative Personality Adjectives include:
Aggressive
Dominating
Humorless
Loud
Arrogant
Dense
Hostile
Mean
Apathetic
Devious
Hypocritical
Manipulative
Anxious
Disloyal
Impatient
Moody
Argumentative
Disrespectful
Impractical
Narrow-minded
Bossy
Disorganized
Humorless
Nasty
Boring
Disruptive
Hostile
Nosy
Boastful
Demanding
Hypocritical
Obsessive
Careless
Egotistic
Impatient
Overcritical
Callous
Evasive
Indiscreet
Overemotional
Childish
Evil
Inconsiderate
Paranoid
Clingy
Fanatic
Ignorant
Possessive
Cruel
Foolish
Irrational
Pessimistic
Coward
Flaky
Irresponsible
Petty
Cocky
Forgetful
Impulsive
Prejudiced
Controlling
Frivolous
Intolerant
Pretentious
Cynical
Greedy
Introvert
Resentful
Deceitful
Grumpy
Jealous
Reckless
Defensive
Gossipy
Judgmental
Rude
Dishonest
Gullible
Lazy
Selfish
Check out our table below for meanings of these Negative Personality Adjectives and learn how to use them effectively in sentences.
Neutral personality adjectives
While most personality adjectives are either positive or negative, some are neutral – neither negative nor positive. Their meaning changes depending on how they are being used in the sentence. They are great when describing people you don't know well enough or don't want to offend.
For example:
He is modern and straightforward.
Here, both modern and straightforward are neutral personality adjectives that can describe a person without being too judgmental.
Anxious
Enigmatic
Modern
Predictable
Soft
Ambitious
Exuberant
Mischievous
Political
Straightforward
Busy
Frank
Modest
Private
Strict
Breezy
Frugal
Moralistic
Relaxed
Tough
Casual
Folksy
Noncompetitive
Reflective
Timid
Chatty
Forceful
Neutral
Reserved
Uncompromising
Childlike
Impartial
Noncommittal
Rebellious
Undemanding
Complex
Intense
Ordinary
Serious
Unassuming
Competitive
Impressionable
Outspoken
Sensitive
Unyielding
Conservative
Inhibited
Opportunistic
Quiet
Decisive
Introverted
Perfectionist
Shy
Extravagant
Irreverent
Philosophical
Silly
Emotional
Loud
Persistent
Steadfast
When to use personality adjectives
Personality adjectives have multiple uses in English and our everyday lives. They improve our vocabulary and help us understand human behavior much better.
Use personality adjectives to:
Clearly understand or describe a personality trait
Personality adjectives come in handy when describing somebody's nature, characteristics, or traits. Use them to describe a person's behavior and how he/she is different from others.
They are used to praise someone or to explain why you don't like them.
Improve your own personality
Personality adjectives help understand personality traits and whether a particular kind of behavior is good or bad. They help inculcate positive traits right from early childhood and help us carve a good path in life.
Amplify your communication skills
You also use them to describe yourself in resumes, applications, and during interviews. They help you leave a positive impact on others as well as increase your self-esteem.
So, keep a list of common adjectives handy all the time. It will help you improve your vocabulary, describe yourself and others easily, and make an impactful presence in front of your audience.
Words to Describe Someone
As mentioned above, having a strong vocabulary is extremely important in English. It improves communication and boosts self-confidence. But just knowing different words doesn't make any sense if you don't know their meaning or how to use them appropriately at different places while describing someone (their personality) or communicating with others.
For your ease, we have compiled a list of the top 70 personality adjectives you can use to create a positive or negative image of a person. Some of the most commonly used personality adjectives include:
Beautiful
Diligent
Organized
Shy
Hardworking
Tough
Proactive
Dynamic
Boring
Diplomatic
Calm
Adventurous
Passionate
Outspoken
Witty
Complex
Mean
Messy
Loyal
Discrete
Humorous
Greedy
Untidy
Frank
Timid
Energetic
Polite
Childish
Manipulative
Straightforward
Fearless
Bossy
Enthusiastic
Talkative
Reserved
Fanatic
Generous
Practical
Emotional
Private
Stubborn
Dishonest
Disorganized
Selfish
Independent
Joyful
Dominating
Reliable
Wise
Grumpy
Sincere
Resentful
Modest
Moody
Mischievous
Versatile
Bad-tempered
Humble
Efficient
Easygoing
Rude
Naughty
Intelligent
Obsessive
Sensible
Determined
Loud
Sooty
Partial
Impulsive
Examples of each word
Let's see what these words mean, what their synonyms are, and how you can correctly use them in sentences through the following examples:
Adjective
Type
Meaning
Example
Synonym
Beautiful
Positive Personality Adjective
Good looking
Annie is the most beautiful girl in the class.
Pretty, Attractive
Hardworking
Positive Personality Adjective
One who works very hard.
My dad is a very hardworking man.
Dedicated, Diligent
Boring
Negative Personality Adjective
Not interesting or exciting
He is such a boring man.
Dry, Dull, Uninteresting
Passionate
Positive Personality Adjective
Having strong will or feelings for something
Peter is a passionate learner.
Zealous, Ardent, Intense
Mean
Negative Personality Adjective
Not generous/ willing to give or share things
My roommate is very mean with her money.
Unkind, Cruel
Humorous
Positive Personality Adjective
Very funny
He is well known in the community for his humorous personality.
Amusing, Entertaining, Witty
Manipulative
Negative Personality Adjective
Tending to influence or control someone
He is smart, savvy, and intelligent, but also very manipulative.
Controlling, Dominating, Authoritative
Enthusiastic
Positive Personality Adjective
Very interested in something or excited by it
Mark is an enthusiastic golf player.
Keen, Eager, Passionate
Generous
Positive Personality Adjective
Kind, Helpful
He is a very generous man.
Kind-hearted
Timid
Negative Personality Adjective
Without much confidence
Kiaan is a timid child.
Shy, Fainthearted
Stubborn
Negative Personality Adjective
Very difficult to change
Rinne is so stubborn that she never admits that she is wrong.
Inflexible, Unbending, Intractable
Selfish
Negative Personality Adjective
Motivated by self-interest
He is too selfish to share his things with others.
Mean, Self-centred
Dominating
Negative Personality Adjective
Controlling
My grandfather has a dominating personality.
Controlling, Dictating, Commanding
Grumpy
Negative Personality Adjective
Irritable
He is a grumpy child.
Cranky, Unhappy, Ill-tempered
Modest
Positive Personality Adjective
Not extreme or excessive
He has been a modest man all his life.
Frugal, Ordinary, Limited
Versatile
Positive Personality Adjective
Having many skills
Sam is a versatile athlete.
Multi-faceted, Resourceful
Efficient
Positive Personality Adjective
Proficient in handling something
I am very efficient with my money.
Effective, Structured, Systematic
Naughty
Neutral Personality Adjective
Mischievous
He has always been a naughty child.
Disobedient, wicked
Sensible
Positive Personality Adjective
Reasonable and Practical
She is a sensible person and deals with problems wisely.
Rational, Stable, Balanced
Sooty
Negative Personality Adjective
Someone who thinks he/she has better taste or standard than others.
Myra and I don't get along. She is too snooty to talk to.
Arrogant, Egoistic, Proud
Diligent
Positive Personality Adjective
Someone who works very hard
Leo is very diligent in his work.
Careful, Cautious
Tough
Neutral personality adjective
Strong
He always acts like a tough guy.
Powerful, Strong, Hard
Diplomatic
Positive Personality Adjective
Acting in a way that does not cause offence
He is very diplomatic in his dealings.
Tactful, Subtle, Prudent
Outspoken
Neutral personality adjective
Honest, Straight-forward
He is an independent and outspoken critic of politics.
Unreserved, Upfront, Candid
Messy
Negative Personality Adjective
Untidy, Disorganized
I don't like Maria. She is a messy girl.
Shabby, Untidy, Grubby
Greedy
Negative Personality Adjective
Having an excessive desire for something
He is an arrogant and greedy businessman.
Insatiable, Hungry, Selfish
Energetic
Positive Personality Adjective
Full of energy
Children are energetic workers.
Active, Strong, Determined
Straightforward
Positive Personality Adjective
Direct
She is blunt and straightforward
Honest, Open, Genuine
Talkative
Positive Personality Adjective
One who talks too much
Nipsy is the most talkative girl in the class.
Chatty
Practical
Positive Personality Adjective
Realistic
Sam always takes a practical approach to solve problems.
Efficient, Functional
Dishonest
Negative Personality Adjective
Corrupt
He is extremely dishonest in his dealings.
Deceitful, Crooked
Independent
Positive Personality Adjective
Free
She is an independent girl who loves doing everything on her own.
Self-sufficient
Reliable
Positive Personality Adjective
Trustworthy
Peter is not only efficient, but a reliable friend too.
Dependable, Honest, Responsible
Sincere
Positive Personality Adjective
Real
He is sincere in his views.
Genuine, Honest, True
Moody
Negative Personality Adjective
Someone with unpredictable mood
Riya is moody and arrogant.
Sulky, Unpredictable
Bad-tempered
Negative Personality Adjective
Getting angry or annoyed easily
He gets bad tempered very easily.
Cranky, Ill-tempered, Angry
Easygoing
Positive Personality Adjective
Relaxed/ Casual
My boss is very easy-going.
Comfortable
Intelligent
Positive Personality Adjective
Wise
My mother is an intelligent woman.
Intellectual, Brainy, Clever, Smart
Determined
Positive Personality Adjective
Showing determination
The lawyer is determined to win the case.
Single minded, Resolved, Hell bent
Partial
Neutral Personality Adjective
Liking something/ someone too much
She is partial toward her students
Biased, Prejudiced
Organized
Positive Personality Adjective
Sorted
She is one of the most organized people in our office.
Systematic, Competent, Able
Proactive
Positive Personality Adjective
Motivated
As a manager, he is very proactive in all his proceedings.
Forward looking, Driven, Energetic
Calm
Positive Personality Adjective
Free from agitation or excitement
She is a calm and diplomatic woman.
Peaceful, Quiet, Serene
Witty
Positive Personality Adjective
Funny
Noah is playful, charming, and witty.
Humorous, amusing
Loyal
Positive Personality Adjective
Faithful
Peter is a loyal friend.
True, Devoted
Untidy
Negative Personality Adjective
Messy
His untidy appearance always weighs against him.
Disorganized, Disordered
Polite
Positive Personality Adjective
Soft spoken
She is a polite, young woman.
Respectful, Well-mannered, Well behaved
Fearless
Positive Personality Adjective
Without fear
He is a bold and fearless climber.
Bold, Brave
Reserved
Positive Personality Adjective
Quite
She is very quiet and reserved.
Private, Restrained
Emotional
Neutral
Personality Adjective
Sentimental
My father is an emotional person.
Tender, Touchy, Passionate, Enthusiastic
Private
Neutral Personality Adjective
Inwardly
Mita is an extremely private person.
Discreet, Aloof, Secretive
Childish
Neutral Personality Adjective
Child-like
I like her childish innocence.
Frivolous, Immature
Impulsive
Negative Personality Adjective
Instinctive
He is too impulsive to be a leader.
Quick, Unpredictable
Shy
Neutral Personality Adjective
Nervous and quite
She is a shy and quiet girl.
Timid, Reserved
So, there you go. Here's a list of some of the most commonly used adjectives to describe a personality, trait or fictional character. Keep them handy and use them to describe yourself and people around you with absolute ease and great precision.
Adjectives describing personality (images)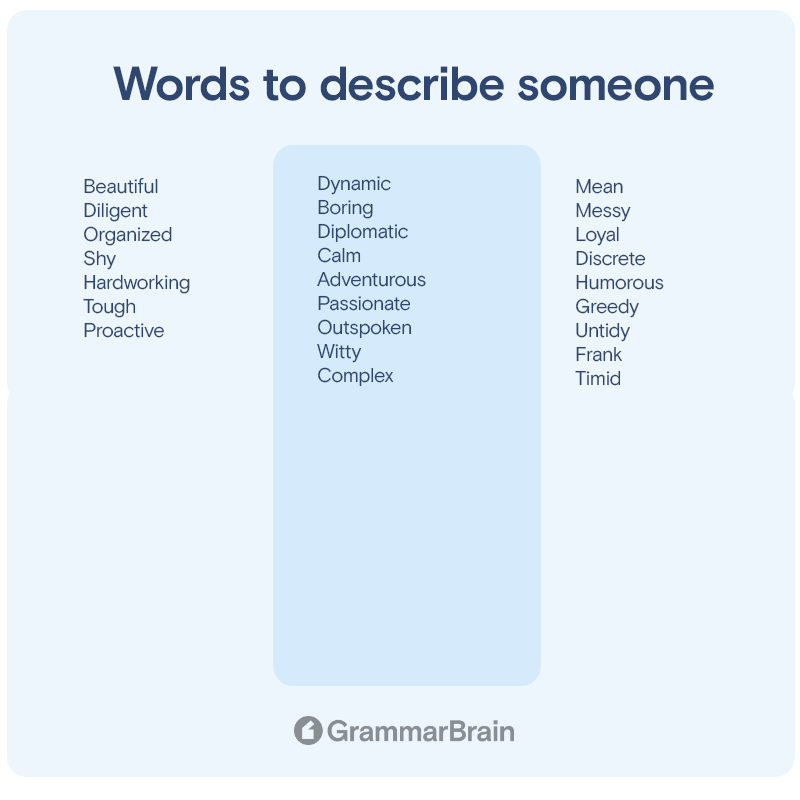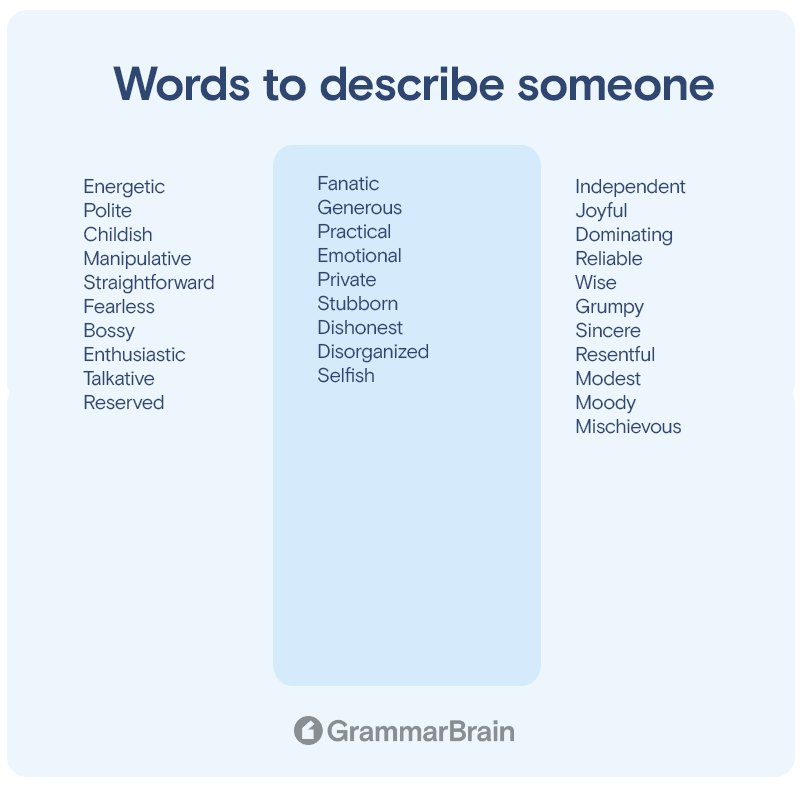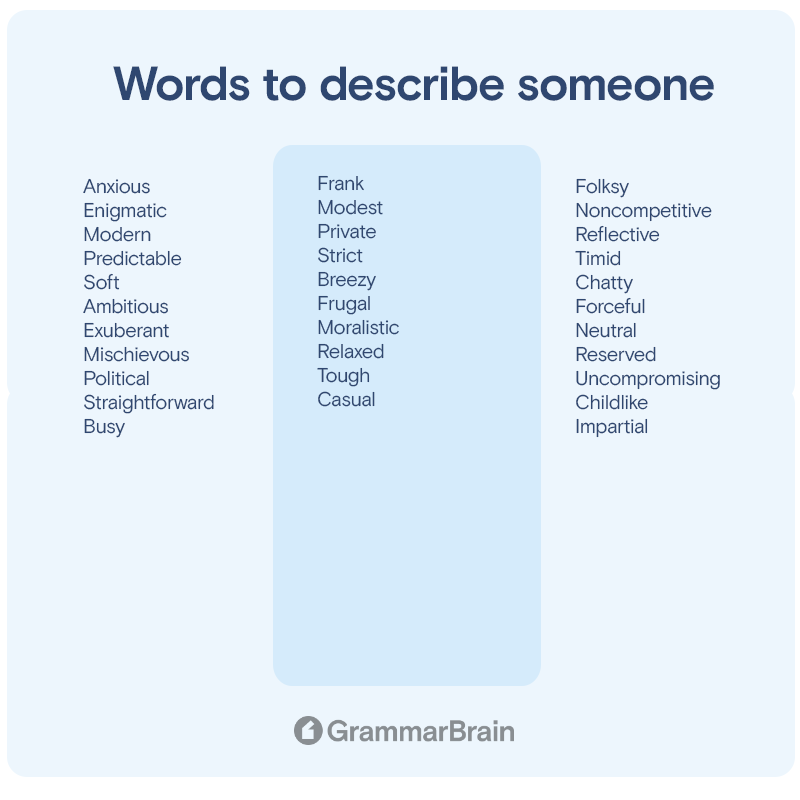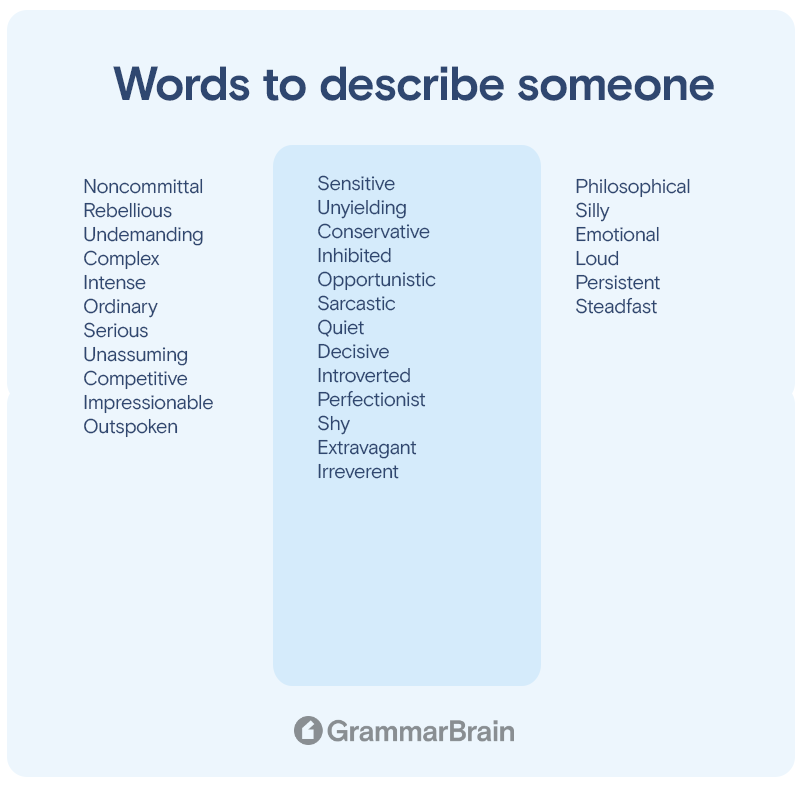 FAQs
What are some positive adjectives?

Beautiful, polite, emotional, loyal.
What are some negative adjectives?

Mean, shy, impulsive, childish, private.
How

would

you describe a modest person?
Why should we use personality adjectives?

They are helpful to describe other people's feelings, qualities, emotions, and more. These descriptive adjectives help us be more specific about what we want to communicate.
Sources
Fact checked:
Content is rigorously reviewed by a team of qualified and experienced fact checkers. Fact checkers review articles for factual accuracy, relevance, and timeliness. Learn more.
Glossary
A: B: C: D: E: F: G: H: I: J:
L: M: N: O: P: Q: R: S: T: U: V: