Looking for adjectives that start with D? Adjectives are a beautiful way to describe the world around us. They can help us to increase our vocabulary and be more expressive. When you're looking for adjectives that start with the letter "D," try the lists below.
What is an adjective? And adjectives that start with D?
We have adjectives in our speech because we use them to describe a noun or pronoun and give more information about it.
So, in simple terms, adjectives are used to answer questions about a specific person/thing.
Grammarians refer to the use of adjectives as modifying nouns and pronouns.
We typically use adjectives when we are trying to convey, quantify or identify something unique about a thing, or a person. For example, "My dog is very brave"/ "The ocean is vast"/ "Her coat is warm"/ "Danny is indecisive". (Highlighted words, being the adjective)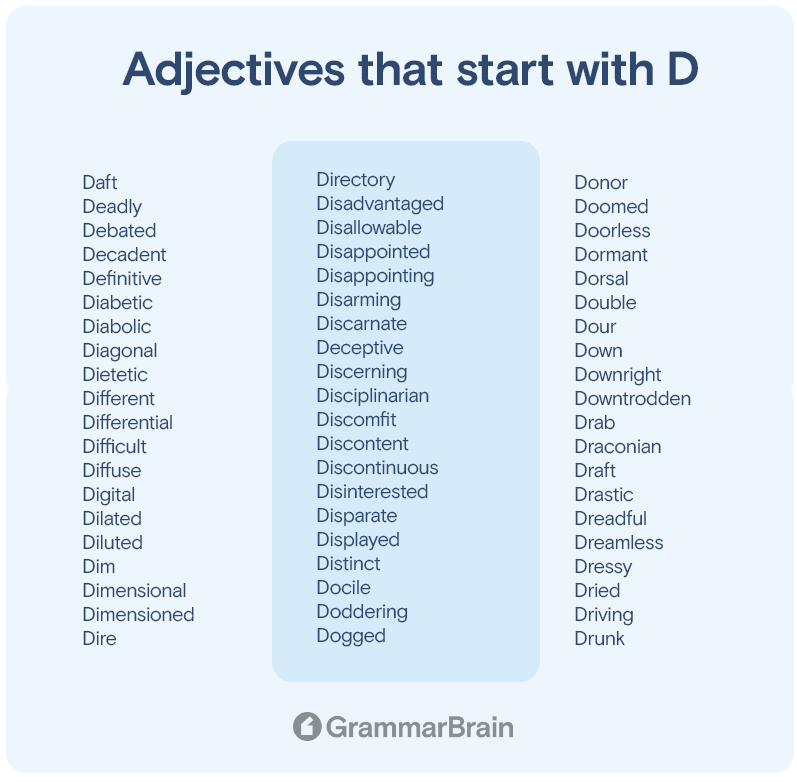 What are the degrees of adjectives used to compare?
Adjectives usually come in three forms: absolute, comparative, and superlative.
Absolute adjectives – They describe something that is in its own right. For example- "Tom is a mischievous boy."
Comparative adjectives – These adjectives are used to make a comparison between two or more things. For most 1-syllable adjectives, the comparative is formed by adding the suffix -er (or just -r if the adjective already ends with an e). For two-syllable adjectives ending in -y, replace -y with -ier. For multi-syllable adjectives, add the word more. For example- "Sally is more mischievous than Tom".
Superlative adjective – They specify that something/someone has the highest degree of the quality that is in question. We add the suffix -est to 1-syllable adjectives that are superlatives (or just -st for adjectives that already end in e). Two-syllable adjectives that end with -y, we can replace -y with -iest. We use "most" for multi-syllable adjectives. For example- "But Harry is the most mischievous of the lot."
We can list out hundreds of words starting from each letter that can be used as adjectives, here we are going to discuss words that start with the letter "d".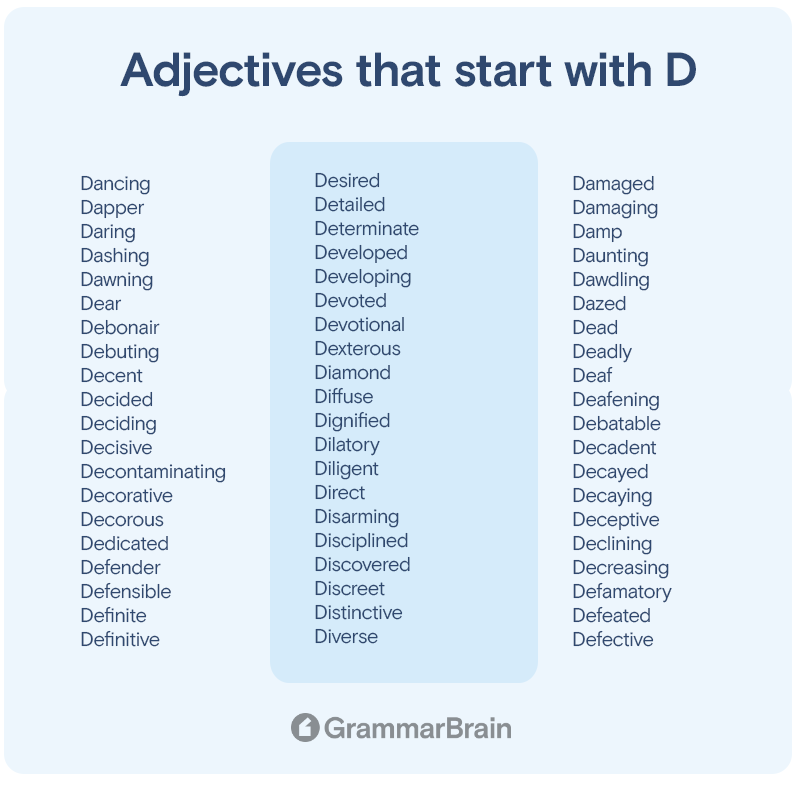 Here is a list of adjectives that start with the letter "D"
Daffy
Daily
Damaged
Damaging
Damp
Dangerous
Dapper
Dark
Dashing
Dazzling
Dead
Deadpan
Deafening
Dear
Debonair
Decisive
Decorous
Deep
Deeply
Defeated
Defective
Defiant
Delicate
Delicious
Delightful
Demonic
Delirious
Dependent
Depressed
Deranged
Descriptive
Deserted
Detailed
Determined
Devilish
Didactic
Different
Difficult
Diligent
Direful
Dirty
Disagreeable
Disastrous
Discreet
Disgusted
Disgusting
Disillusioned
Dispensable
Distinct
Disturbed
Divergent
Dizzy
Domineering
Doubtful
Drab
Draconian
Dramatic
Dreary
Drunk
Dry
Dull
Dusty
Dusty
Dynamic
Dysfunctional
Examples of the use of about 4 words we can use in a sentence as adjectives with their definitions-
Descriptive adjectives that start with "D"
A descriptive adjective is an adjective that modifies a noun or pronoun by describing it or expressing its quality.
Descriptive adjectives can be used either before the nouns or pronouns they modify. They can also be used as the complement of a subject in a sentence after a linking verb.
For example- "The children were playing with the furry sheep."/ "The meeting was drab."
Here's a list of descriptive adjectives:
Daft
Deadly
Debated
Decadent
Definitive
Diabetic
Diabolic
Diagonal
Dietetic
Different
Differential
Difficult
Diffuse
Digital
Dilated
Diluted
Dim
Dimensional
Dimensioned
Dire
Directive
Directory
Disadvantaged
Disallowable
Disappointed
Disappointing
Disarming
Discarnate
Deceptive
Discerning
Disciplinarian
Discomfit
Discontent
Discontinuous
Disinterested
Disparate
Displayed
Distinct
Docile
Doddering
Dogged
Doleful
Doltish
Domesticated
Done
Donor
Doomed
Doorless
Dormant
Dorsal
Double
Dour
Down
Downright
Downtrodden
Drab
Draconian
Draft
Drastic
Dreadful
Dreamless
Dressy
Dried
Driving
Drunk
Drunken
Dryer
Drying
Dual
Dubious
Dull
Duller
Duplicate
Dusk
Dying
Examples of the use of about 5 descriptive adjectives that we can use in a sentence, with their definitions-
Dire: is an adjective that is used to emphasize how serious or terrible a situation or event is. For eg; "She lost her home to a landslide, she is in dire need of financial aid."
Decadent: reflects a state of moral or cultural decline. For example, "They reflected a socially unjust and decadent regime."
Docile: ready to accept control or instruction- submissive. For example- "The horse was very docile, he let me ride him with no trouble ."
Discerning: Having insight or understanding. "My sister is incapable of discerning what's right and wrong."
Draconian: extremely harsh or severe. "These draconian laws will not be acceptable in any other country!"
Positive adjectives that start with D
These adjectives describe something/someone/ a situation in a positive light.
Dancing
Dapper
Daring
Dashing
Dawning
Dear
Debonair
Debuting
Decent
Decided
Deciding
Decisive
Decontaminating
Decorative
Decorous
Dedicated
Defender
Defensible
Definite
Definitive
Definitive
Deft
Delectable
Delicious
Delighted
Delightful
Deluxe
Demonstrative
Demulcent
Demure
Dependable
Deserving
Desired
Detailed
Determinate
Developed
Developing
Devoted
Devotional
Dexterous
Diamond
Diffuse
Dignified
Dilatory
Diligent
Direct
Disarming
Disciplined
Discovered
Discreet
Distinctive
Diverse
Divine
Doable
Dominant
Doting
Doubtless
Dream
Dressy
Driven
Examples of the use of about 4 positive adjectives along with their definitions-
Dapper describes someone (usually male) who has a very neat and clean appearance and looks smart. For example- "Roland looked dapper in his suit last night."
Diligent: having a quality of showing care and conscientiousness. For example- "We have to be diligent when it comes to caring for our newborn."
Demure: describes a quality like being reserved, modest, and shy (usually used to describe a woman). For example, "Helen is demure and charming."
Dexterous: very skillful and clever with your hands. "As people get older, they become less dextrous with their hands."
Negative adjectives that start with D
These adjectives describe something/someone/ a situation in a negative light.
Damaged
Damaging
Damp
Daunting
Dawdling
Dazed
Dead
Deadly
Deaf
Deafening
Debatable
Decadent
Decayed
Decaying
Deceptive
Declining
Decreasing
Defamatory
Defeated
Defective
Defenceless
Deformed
Degenerative
Degraded
Dejected
Delirious
Deluded
Demanding
Demented
Deplorable
Deploring
Depraved
Deprived
Deranged
Derogatory
Despairing
Desperate
Despicable
Despised
Despondent
Destroyed
Detestable
Detrimental
Devastated
Devastating
Devious
Difficult
Digressive
Dilapidated
Diminishing
Diminutive
Disabled
Disaffected
Disagreeable
Disappearing
Disappointing
Disapproving
Disastrous
Discouraged
Disdainful
Diseased
Disgusted
Disgusting
Disliked
Disorderly
Displeased
Disproved
Disputed
Disreputable
Disrespectful
Distasteful
Domineering
Doubtful
Dreaded
Dubious
Examples of the use of about 3 words we can use in a sentence as positive adjectives with their definitions:
Depraved: means morally corrupt or wicked. For example- "That man acted with depraved indifference towards human suffering."
Distasteful: means causing aversion or dislike, something/someone disagreeable or unpleasant. For example- "She made some distasteful remarks about people who struggle to earn enough money."
Deplorable: strong condemnation/completely unacceptable/ shockingly bad or negative. For example- "Some of the houses the real estate agent showed me were in deplorable condition."
Adjectives that start with D to describe a person
Damaged
Damp
Dandy
Dangerous
Danish
Daring
Dashing
Dauntless
Dazzling
Dead
Dear
Debonair
Decaying
Decent
Decisive
Decorous
Decrepit
Dedicated
Deep
Defeated
Defiant
Deformed
Deft
Dehydrated
Delicate
Delightful
Demonstrative
Delinquent
Democrat
Demonic
Dependent
Designer
Detectable
Dexterous
Different
Difficult
Diminishing
Diminutive
Dirty
Disarmed
Discarded
Disgusting
Dishevelled
Dismal
Dispensable
Distant
Distinct
Diverted
Divine
Domestic
Dour
Dowdy
Down
Drab
Drained
Dreaded
Dreamy
Drenched
Dressed
Dried
Driving
Drooping
Droopy
Drugged
Drunk
Dry
Drying
Dual
Dubious
Dumb
Dusty
Dutch
Dwarfish
Examples of the use of about 3 adjectives we can use in a sentence to describe a person along with their definition.
Delightful: meaning very pleasant or charming. For example- "Gordon has a delightful personality."
Distinct: meaning recognizably different from something else of a similar type. For example- "She has a distinct Scottish accent when she speaks, doesn't she?."
Dowdy: unfashionable/ unpleasant/unfashionable way of dressing typically. For example- "The clothes I was wearing were too dowdy for the popular kids, but I didn't care about their opinions."
Adjectives that start with "D" (images)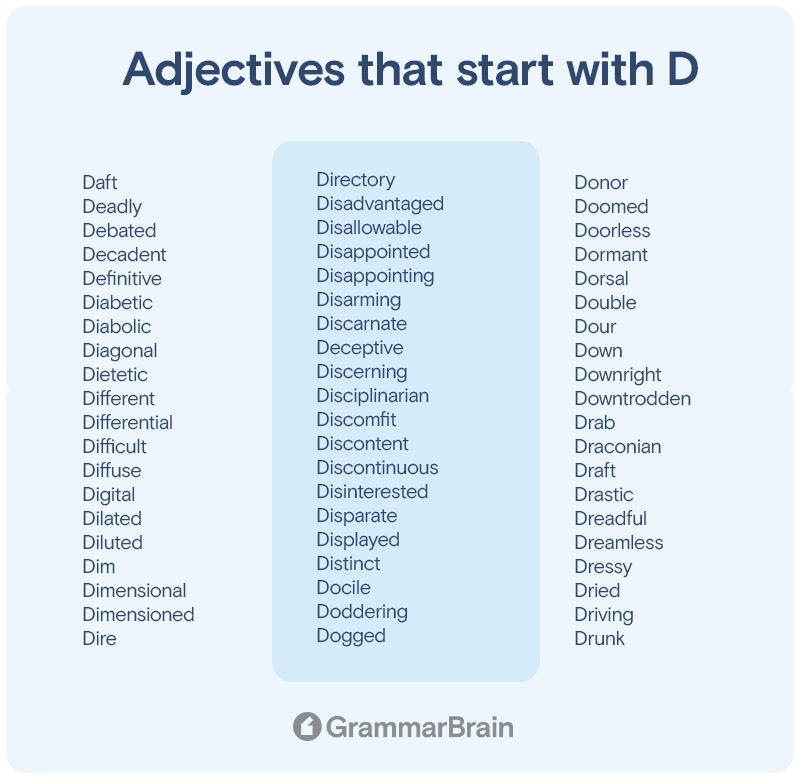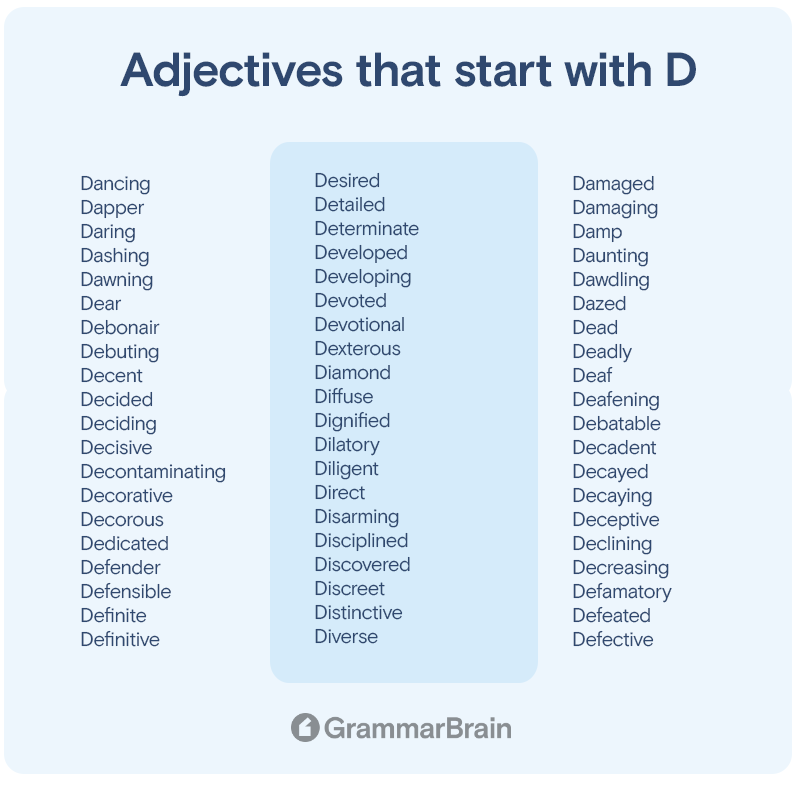 Other adjective lists
Other lists of adjectives:
Adjectives that start with D
Fact checked:
Content is rigorously reviewed by a team of qualified and experienced fact checkers. Fact checkers review articles for factual accuracy, relevance, and timeliness. Learn more.
Glossary
A: B: C: D: E: F: G: H: I: J:
L: M: N: O: P: Q: R: S: T: U: V: