Looking for adjectives that start with the letter "H"? One of the fascinating aspects of grammar is adjectives. Comparing adjective behavior in sentences to nouns, pronouns, and verbs in English can be a little more challenging. This is so because there are several methods to classify adjectives.
But all you need to know to recognize any particular adjective is that it modifies a noun or a pronoun. Ideally, an adjective will provide information on that noun or pronoun.
Consider the following examples:
A dutiful Ravi skipped his school trip to look after his mother
People are plenty in this town
In the first sentence, the word "dutiful" gives us information about our subject, Ravi. In the second sentence, we get information on the number of people in a particular town. Another interesting thing to note is that "this" also acts as an adjective in the second sentence. It's called a possessive adjective. In an everyday conversation, "this" will indicate which town is being talked about based on the context.
In this article, we will list some adjectives that start with the letter H with their definitions and usage. This will help you better understand how to incorporate adjectives in your writing and speech to improve the quality of communication.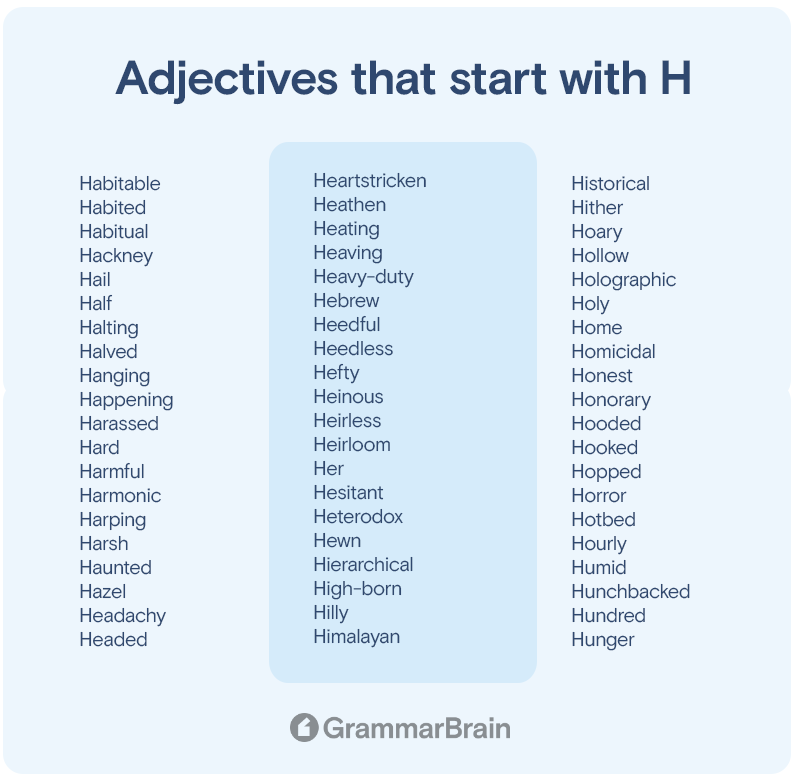 Unique Adjectives that Start with 'H,' Definitions, and Usage in Sentences
Here are unique adjectives that start with the letter "H":
1: Horrible
Definition: Very Bad, Ugly, or Distressful
Example: Hitler was a horrible man.
2: Hellish
Definition: Resembling Hell
Example: The conditions on the battlefield were hellish.
3: Himalayan
Definition: Relating to the Himalayas
Example: I bought a Himalayan dog for five hundred pounds.
4: Homely
Definition: Welcoming or pleasant. Simple.
Example: He was a very homely man, and his guests felt welcome in his house.
5: High
Definition: At a considerable height.
Example: He lived very high in the mountains.
6: Heroic
Definition: Of actions; resembling that of a hero.
Example: His heroic deeds saved the day.
7: Hard
Definition: Tough. Not Soft.
Example: The hard steel of the sword cut through his armor as if it was warm butter.
8: Honest
Definition: Trustable. Someone who tells the truth.
Example: He was an honest man until his very last day.
9: Healing
Definition: Curing; being able to heal.
Example: It is said that Jesus' touch had healing powers.
10: Habitable
Definition: Suitable for living
Example: Antarctica is not really a habitable place.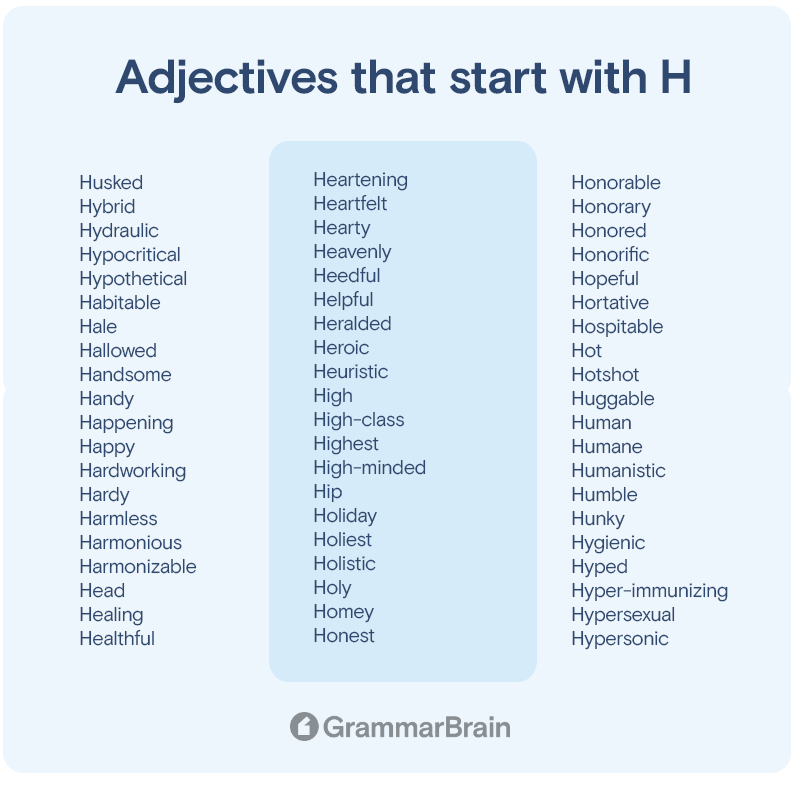 All Adjectives that Start with the Letter H (positive and negative)
Habitable
Habited
Habitual
Hackney
Hail
Half
Halting
Halved
Hanging
Happening
Harassed
Hard
Harmful
Harmonic
Harping
Harsh
Haunted
Hazel
Headachy
Headed
Headless
Headlong
Healable
Heartbroken
Heartrending
Heartstricken
Heathen
Heating
Heaving
Heavy-duty
Hebrew
Heedful
Heedless
Hefty
Heinous
Heirless
Heirloom
Her
Hesitant
Heterodox
Hewn
Hierarchical
High-born
Hilly
Himalayan
Hind
Hispanic
Historic
Historical
Hither
Hoary
Hollow
Holographic
Holy
Home
Homicidal
Honest
Honorary
Hooded
Hooked
Hopped
Horror
Hotbed
Hourly
Humid
Hunchbacked
Hundred
Hunger
Hurtful
Hushed
Husked
Hybrid
Hydraulic
Hypocritical
Hypothetical
Habitable
Hale
Hallowed
Handsome
Handy
Happening
Happy
Hardworking
Hardy
Harmless
Harmonious
Harmonizable
Head
Healing
Healthful
Healthy
Heartening
Heartfelt
Hearty
Heavenly
Heedful
Helpful
Heralded
Heroic
Heuristic
High
High-class
Highest
High-minded
Hip
Holiday
Holiest
Holy
Homey
Honest
Honeyed
Honorable
Honorary
Honored
Honorific
Hopeful
Hortative
Hospitable
Hot
Hotshot
Huggable
Human
Humane
Humanistic
Humble
Hunky
Hygienic
Hyped
Hyper-immunizing
Hypersexual
Hypersonic
Hyper-stimulated
Hypnotic
Hysterical
Hackneyed
Haggard
Hagridden
Hair-raising
Hairsplitting
Half-baked
Half-hearted
Halfway
Hallucinatory
Hallucinogenic
Halt
Halting
Hammy
Hangdog
Haphazard
Hapless
Hard
Hardcore
Hardened
Harder
Hardest
Hardheaded
Hardhearted
Hardscrabble
Harebrained
Harmful
Harried
Harrowing
Harsh
Harsher
Harshest
Hasty
Hateful
Hatefully
Haughty
Haunting
Hawkish
Haywire
Hazardous
Hazy
Headstrong
Hearsay
Heartless
Heartrending
Heartsick
Heathen
Heathenish
Heavier
Heavy
Heavyset
Heedless
Hefty
Hellbent
Hellish
Helpless
Heretical
Hesitant
Hesitating
Hexed
Hidden
Hideous
High-risk
Hoarse
Hogged
Hoggish
Hokey
Hollow
Homeless
Homely
Homesick
Homicidal
Hopeless
Horrible
Horrid
Housebound
Happier
Happiest
Hardhearted
Harebrained
Harmful
Harmless
Harmonic
Harmonious
Harsh
Harsher
Hasty
Hateful
Haughty
Heartbroken
Heartless
Heathen
Heathenish
Hedonistic
Helpful
Hesitant
Hesitating
High-maintenance
High-risk
Hilarious
Holistic
Homesick
Homey
Honest
Honorable
Hopeful
Horrendous
Horrible
Horrid
Horrifying
Hospitable
Hostile
Hot-blooded
Hot-headed
Hot-shot
Huffy
Humble
Humble
Humdrum
Humiliated
Humiliating
Humorous
Hungry
Hurtful
Hurtful
Hygienic
Hyper
Hyper-accurate
Hyperactive
Hyper-aggressive
Hypercritical
Hyper-masculine
Hypersensitive
Hypnotic
Hypocritical
Hysterical
Haggard
Hairier
Hairless
Hairy
Handicapped
Handiest
Handless
Handsome
Handsomest
Handy
Hanging
Haphazard
Hapless
Happier
Happiest
Happy
Hard
Hardiest
Hardworking
Hardy
Hasty
Hawaiian
Heady
Healthier
Healthiest
Healthy
Heavenly
Heavier
Heaviest
Heavy
Heavyset
Heft
Heinous
Hellenic
Helpless
Heroic
Hideous
High
Hindu
Hip
Hippy
Hirsute
His
Holy
Homeless
Homely
Homesick
Homicidal
Honest
Honorable
Horny
Horrible
Horrid
Horrifying
Hostile
Hot
Hotter
Hottest
Howling
Huge
Hulking
Human
Humane
Humanitarian
Hung
Hungarian
Hungrier
Hungry
Hurried
Hushed
Husky
Hypnotized
Hysterical
Habile
Habilimented
Habitable
Habitual
Hadal
Hadean
Hadron
Haemal
Haemapodous
Haemapoietic
Haematal
Haematinometric
Haematitic
Haematocryal
Haematogenic
Haematogenous
Haematoid
Haematological
Haematoplastic
Haematothermal
Haemic
Haemorrhoidal
Hairbrained
Hairbreadth
Hairless
Haitian
Halcyonian
Half
Half-hearted
Halfway
Halibiotic
Halieutic
Haliotoid
Halituous
Hallelujatic
Hallstattian
Hallucal
Halmas
Halogenous
Hamular
Handelian
Handfast
Handicapped
Handleable
Handmade
Handsewn
Handsome
Handwritten
Handy
Hangdog
Hanging
Hanoverian
Hanseatic
Haphazard
Hapless
Haploidic
Haplostemonous
Happy
Hard
Hardbacked
Hard-boiled
Harderian
Hard-favored
Hardhearted
Hardish
Hardscrabble
Hardworking
Hardy
Harebrained
Harengiform
Harish
Harlot
Harm
Harmful
Harmless
Harmonic
Harmonical
Harmonious
Harmonizable
Harping
Harried
Harrowing
Harsh
Hasty
Hatable
Hateful
Hatless
Haughty
Hault
Havanese
Haversian
Hawaiian
Hawk-eyed
Hawkish
Hawklike
Haytian
Haywire
Hazardable
Hazardous
Hazel
Hazeless
Headless
Headlike
Headlong
Headstrong
Heady
Healable
Healful
Healing
Healthful
Healthy
Hearable
Hearselike
Heartbreaking
Heartbroken
Heartfelt
Heartless
Heartrending
Heartshaped
Heartsick
Heartsome
Heartstricken
Heartstruck
Heartswelling
Heartwarming
Heart-whole
Hearty
Heatable
Heathlike
Heathy
Heating
Heatless
Heavenly
Heavy
Heavy-armed
Heavyhearted
Hebamic
Hebdomadal
Hebdomatical
Hebephrenic
Hebetic
Hebraical
Hebraistic
Hebrew
Hebridean
Hebridian
Hectic
Hectocotylized
Hederaceous
Hederal
Hederic
Hederiferous
Hedgeless
Hedonic
Hedonistic
Heedful
Heedless
Heedy
Hegelian
Hegemonic
Hegemonical
Heinous
Heirless
Heliacal
Helical
Helicine
Helicoidal
Heliocentrical
Heliochromic
Heliographic
Heliometrical
Heliotropic
Heliotypic
Helispherical
Hellborn
Hellbred
Hellbrewed
Helldoomed
Hellenian
Hellenic
Hellenistical
Hellespontine
Hellish
Helmet-shaped
Helminthic
Helminthological
Helmless
Helpable
Helpful
Helpless
Helvetian
Helvetic
Hemal
Hemathermal
Hematic
Hematinometric
Hematitic
Hematogenic
Hematoid
Hematological
Hematopoietic
Hematothermal
Hemerobid
Hemic
Hemigamous
Hemihedral
Hemiholohedral
Hemimellitic
Hemimetabolic
Hemimetabolous
Hemimetamorphic
Hemimetamorphous
Hemimorphic
Hemingwayesque
Hemiorthotype
Hemiparasitic
Hemipteral
Hemipterous
Hemispherical
Hemispheroidal
Hemistichal
Hemitropal
Hemitropous
Hemodynamic
Hemophilic
Hemopoietic
Hemorrhagic
Hemorrhoidal
Hemostatic
Hempen
Hempy
Hemstitched
Hende
Hendecasyllabic
Hendecatoic
Hendy
Hennotannic
Henotic
Hepatical
Hepatocystic
Hepatogastric
Hepatogenic
Hepatogenous
Hepatorenal
Hepatotoxic
Hephaestic
Heppelwhite
Heppen
Heptagonal
Heptagynian
Heptagynous
Heptandrian
Heptandrous
Heptangular
Heptaphyllous
Heptarchic
Heptaspermous
Heptavalent
Heptoic
Heptylic
Heralded
Heraldic
Heraldist
Herbaceous
Herbaged
Herbiferous
Herbivorous
Herbless
Herbous
Herby
Hercogamous
Herculean
Hercynian
Hereditable
Heremitical
Heresy
Heretical
Heriotable
Heritable
Hermaphroditical
Hermeneutical
Hermetical
Hermitical
Hernial
Heroical
Heroicomic
Heroicomical
Herpetic
Herpetological
Herschelian
Hertzian
Hesitant
Hesitative
Hesperian
Hessian
Hestern
Hesternal
Hetercephalous
Heterocarpous
Heterocercal
Heterochromous
Heteroclitic
Heteroclitical
Heteroclitous
Heterocyclic
Heterodactyl
Heterodactylous
Heterodont
Heterodoxal
Heterodromous
Heteroecious
Heterogamous
Heterogeneous
Heterogenetic
Heteroicous
Heterologic
Heterological
Heterologous
Heteromerous
Heterometabolic
Heterometabolous
Heteromorphic
Heteromorphous
Heteronymous
Heteroousian
Heteroousious
Heteropathic
Heteroplastic
Heteropodous
Heterosexual
Heterosporic
Heterosporous
Heterotactous
Heterothermic
Heterotropal
Heterotrophic
Heterotropous
Heterozygous
Heuristic
Hex
Hexabasic
Hexacid
Hexactinellid
Hexadactylous
Hexadecimal
Hexagonal
Hexagynian
Hexagynous
Hexahedral
Hexamerous
Hexametrical
Hexandrian
Hexapetalous
Hexaphyllous
Hexapod
Hexastyle
Hexatomic
Hexdecylic
Hexoic
Hexylic
Hibernal
Hibernian
Hidden
Hidebound
Hideous
Hidrotic
Hiemal
Hierarchal
Hierarchical
Hieratical
Hieroglyphical
Hierogrammatic
Hierographic
Hierologic
Hierophantic
Hifalutin
High
High-class
High-energy
Highfalutin
Highflying
High-level
High-minded
High-pressure
High-tech
Hilarious
Himalayan
Himyaric
Himyaritic
Hindu
Hindustani
Hippiatric
Hippic
Hippocratic
Hippophagous
Hippuric
Hipshot
Hircic
Hircine
Hircinous
Hireless
Hirtellous
Hirudine
Hirudinean
Hirundine
Hispanic
Hispaniolan
Hispid
Hispidulous
Histogenetic
Histographical
Histologic
Histolytic
Historial
Historian
Historical
Histrionical
Hi-tech
Hitlerian
Hiveless
Hoary
Hobbly
Hobnailed
Hodiern
Hodiernal
Hoiden
Hoidenish
Holarctic
Holaspidean
Holethnic
Holistic
Hollandish
Holoblastic
Holocryptic
Holocrystalline
Holographical
Holohedral
Holohemihedral
Holometabolic
Holometabolous
Holophanerous
Holophotal
Holophrastic
Holophytic
Holorhinal
Holostean
Holosteric
Holostomatous
Holothurian
Holozoic
Holsom
Holstered
Holy
Homacanth
Homageable
Homaloid
Homaloidal
Homarine
Homaxonial
Homeless
Homelike
Homemade
Homeopathic
Homeostatic
Homeothermic
Homeric
Homesick
Homespun
Homicidal
Homiletic
Homiletical
Hominal
Homing
Hominian
Homish
Hommocky
Homocategoric
Homocentric
Homocercal
Homochromatic
Homochromous
Homocyclic
Homodromal
Homodromous
Homodynamic
Homodynamous
Homoeomerical
Homoeomerous
Homoeomorphous
Homoeothermal
Homoeozoic
Homoerotic
Homogamous
Homogene
Homogeneous
Homogenetic
Homoiothermal
Homoiothermic
Homoiousian
Homological
Homologinic
Homologous
Homomallous
Homomorphic
Homomorphous
Homonomous
Homonymic
Homonymous
Homoousian
Homophile
Homophonic
Homophonous
Homophylic
Homoplastic
Homopolic
Homopterous
Homosexual
Homosporous
Homostyled
Homostylic
Homostylous
Homosystemic
Homotaxial
Homotaxic
Homothermic
Homothermous
Homotonous
Homotropal
Homotropous
Homotypal
Homotypical
Homozygous
Honduran
Honest
Honeyless
Honorable
Honorary
Honored
Honorific
Honorless
Hoofless
Hopeful
Hopeless
Horizontal
Hornless
Hornlike
Horny
Horological
Horometrical
Horopteric
Horrendous
Horrent
Horrible
Horrid
Horrific
Horsy
Hortative
Horticultural
Hortulan
Hospitable
Hostile
Hostless
Hot
Hoven
Howling
Hoydenish
Hubby
Hubristic
Huddled
Hudibrastic
Hudsonian
Hueless
Huffcap
Huffish
Huffy
Huge
Huggable
Hugoesque
Hulchy
Humanistic
Humanitarian
Humble
Humdrum
Humectant
Humective
Humeral
Humic
Humid
Humified
Humiliant
Hummel
Humongous
Humoral
Humoristic
Humorless
Humorous
Humpbacked
Humpless
Humpy
Hunchbacked
Hungry
Hunkered
Hunky
Hunterian
Hurling
Huronian
Hurried
Hurtful
Hurtless
Husbandable
Huswifely
Huttonian
Huyghenian
Hyacinthian
Hyacinthine
Hyaline
Hyblaean
Hybodont
Hybridizable
Hybridous
Hydantoic
Hydracrylic
Hydragogue
Hydraulic
Hydrobromic
Hydrocephalic
Hydrocephalous
Hydrochloric
Hydrocyanic
Hydrofluoric
Hydrofluosilicic
Hydrogalvanic
Hydrogenous
Hydrological
Hydrolytic
Hydrolyzable
Hydromantic
Hydromellonic
Hydrometric
Hydropathic
Hydrophanous
Hydrophilic
Hydrophobic
Hydrophytic
Hydropic
Hydrostatical
Hydrosulphuric
Hydrosulphurous
Hydrotelluric
Hydrothermal
Hydrotical
Hydrotropic
Hydrous
Hygeian
Hygienic
Hygrometric
Hygrophanous
Hygrophthalmic
Hygrophytic
Hygroscopic
Hylic
Hylophagous
Hylozoic
Hymenopterous
Hyoidean
Hyomental
Hyosternal
Hyostylic
Hypaethral
Hyparterial
Hypaxial
Hyperactive
Hyperbatic
Hyperbolic
Hyperbolical
Hyperborean
Hyperchloric
Hypercritic
Hypercritical
Hyperdicrotic
Hyperemic
Hyperkinetic
Hypermetrical
Hyperphysical
Hyperplastic
Hypersensitive
Hypersthenic
Hypertensive
Hypertrophic
Hypethral
Hypidiomorphic
Hypnagogic
Hypnogenic
Hypnotizable
Hypoactive
Hypoblastic
Hypobranchial
Hypocarpogean
Hypochlorous
Hypocoristic
Hypocritical
Hypocrystalline
Hypodermic
Hypodicrotic
Hypodicrotous
Hypogaeic
Hypogastric
Hypogean
Hypogeous
Hypoglossal
Hypognatous
Hypogynous
Hypohyal
Hyponastic
Hyponitrous
Hypophyllous
Hypophysial
Hypostatical
Hypotensive
Hypothalamic
Hypothenal
Hypothetical
Hypsometrical
Hypural
Hyrcanian
Hysteranthous
Hysteretic
Hysteric
Hysterogenic
Hystricine
Adjectives that start with "H" (images)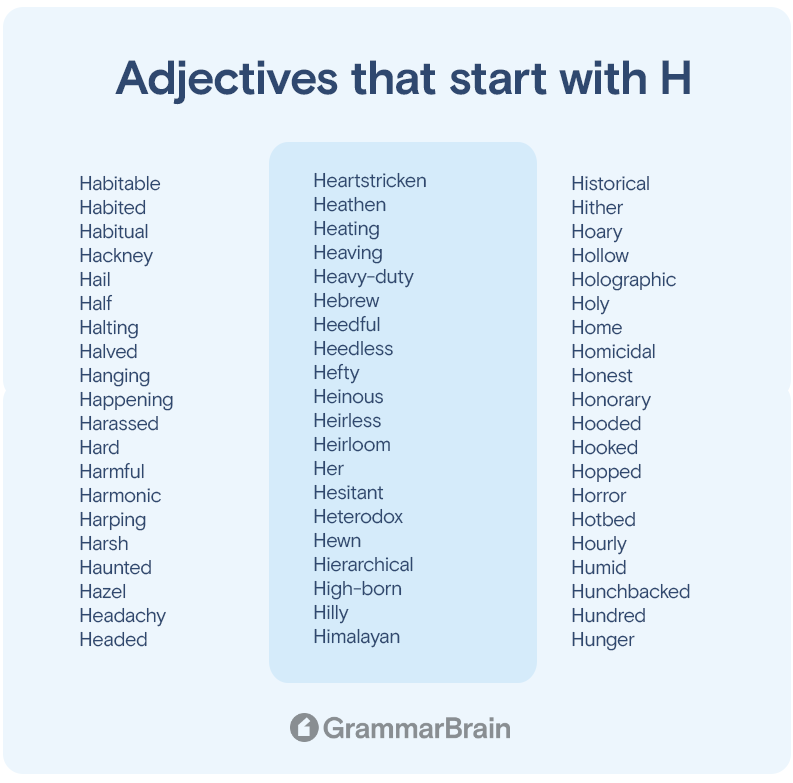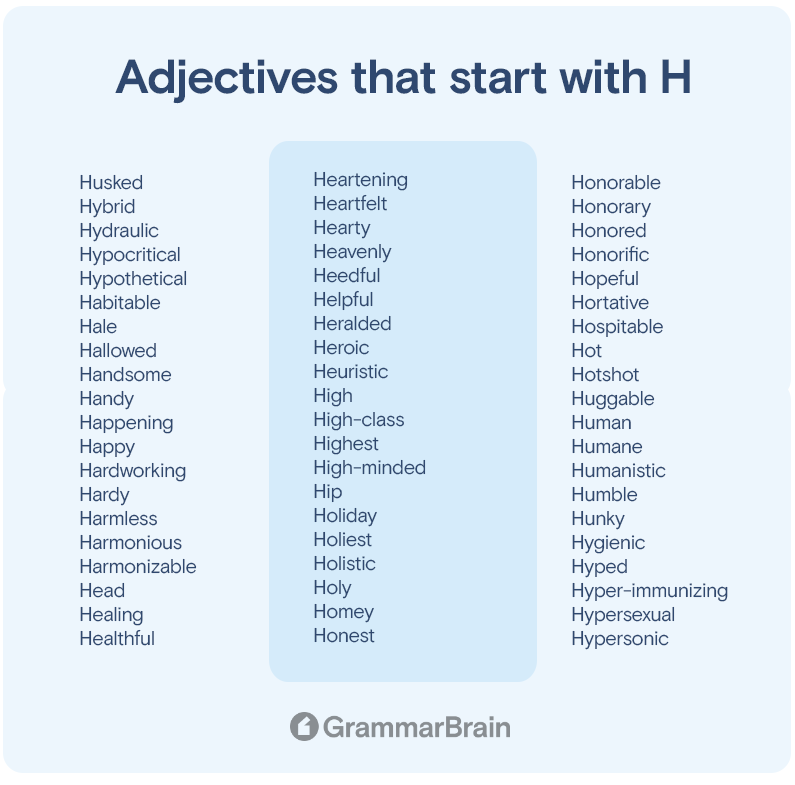 Other adjective lists
Other lists of adjectives:
Adjectives that start with H
Fact checked:
Content is rigorously reviewed by a team of qualified and experienced fact checkers. Fact checkers review articles for factual accuracy, relevance, and timeliness. Learn more.
Glossary
A: B: C: D: E: F: G: H: I: J:
L: M: N: O: P: Q: R: S: T: U: V: