Looking for adjectives that start with the letter V? An adjective is one of the nine speech parts used in a sentence to specify the characteristics of a noun or a pronoun. In other words, the primary purpose of adjectives is to modify the noun.
For example:
Daniel is a clever boy. In this sentence, the adjective defines Daniel as a boy of what kind.
Rapunzel gave me five apples. In this sentence, adjective five clarifies the number of apples.
An adjective can be called a describing word. Let's understand this with an example if I say that I am wearing a cap. Now with this simple sentence, you will not be able to imagine a cap I'm wearing. But if I say I am wearing a grey cap with a Nike logo on it and a tag which I just remembered I need to remove. Now you can imagine that cap more precisely.
This article will cover various adjectives beginning with the letter L and their meanings and use. This will give you a better sense of how you might use adjectives in your writing and voice to increase communication quality.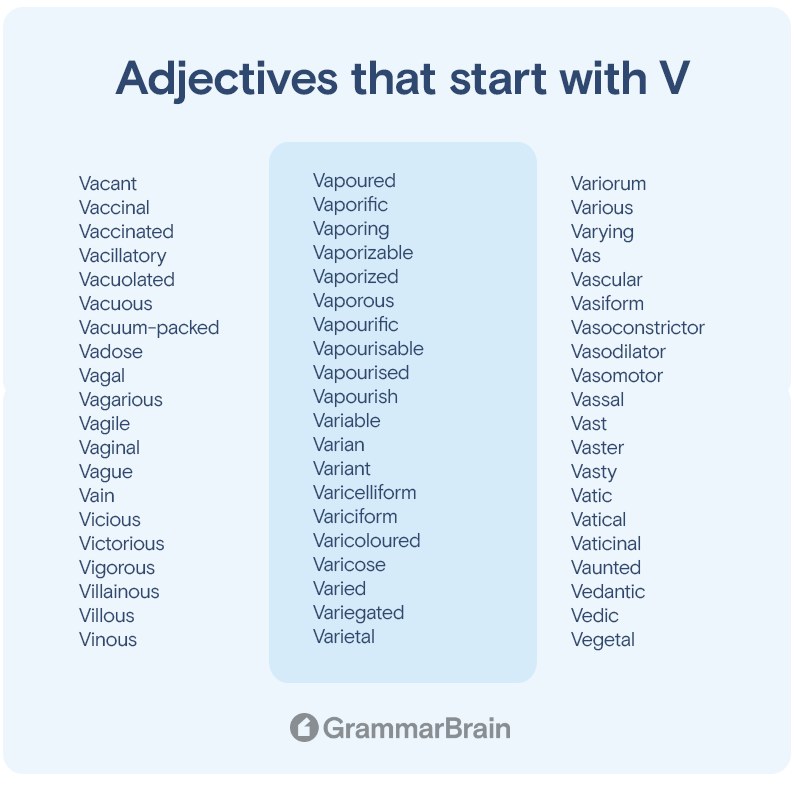 Unique Adjectives Beginning with 'V,' Definitions, and Sentence Usage
Of course, one article cannot include all adjectives beginning with V. You'll need to consult a dictionary for that. However, the list below will give you a decent understanding of the sorts of adjectives you could come across when reading and how to use them in your speech and writing.
1. Vulpine
Definition: The term vulpine refers to something cunning, such as a fox.
Example: She despised his devious tactics but gave him vulpine intellect.
2. Votive
Definition: This is a term connected to vows: holy commitments made by individuals, such as wedding vows. When a vow is made, a votive candle is lit. A votive altar has been consecrated by a religious person and is suitable for taking religious vows. Votive acts should not be taken lightly since a vow is much more significant than a simple commitment.
Example: The votive altar continues to exist in the church for anybody to use to ignite a flame at any moment.
3. Vulnerable
Definition: Because of its literal definition, it has evolved into a term more commonly used for an individual who is easily injured or susceptible to temptation. It is best suited for someone whose emotions are so fragile that they cannot tolerate any criticism or stress.
Example: We must defend our society's most vulnerable citizens.
4. Voracious
Definition: The term is typically connected with a voracious appetite for food, but it may also refer to someone who is extremely immersed in any activity.
Example: Her curiosity for knowledge was voracious. Or my sister is a voracious reader.
5. Volunteer
Definition: Volunteering is willingly contributing your time and services to assist others.
Example: Many institutions offer a specific volunteer course in Commercial German.
6. Volcanic
Definition: Whenever something is volcanic, it is fiercely destructive, such as a snow-capped volcanic eruption.
Example: A major volcanic explosion recently occurred in the area.
7. Voluminous
Definition: Voluminous refers to anything large, vast, or simply enormous. Consider that volume as a size measurement. This will help you realize that voluminous denotes something which is huge in size or scope.
Example: Have you read McClelland's voluminous biography in which he talks about his life and events?
8. Vociferous
Definition: Vociferous is derived from the Latin word vociferari, which means "to scream, shout." If you separately take vox, which means "voice," and combine it with ferre, which means "to carry," you get vociferous, which characterizes voices that carry. Vociferous is not only loud but also obnoxious.
Example: The minority voter's demands became more vociferous during these days.
9. Volatile
Definition: Volatile comes from the Latin word volatilis, which means "fleeting, ephemeral," and always connotes a quick, drastic shift. Consider it the exact reverse of the stable. A volatile individual loses their temper unexpectedly and forcefully. A turbulent political scenario might lead to civil unrest.
Example: Food and gasoline prices are extremely volatile during wartime.
10. Visible
Definition: When you say something is visible, you can see it clearly.
Example: The symbol is visible on the flag.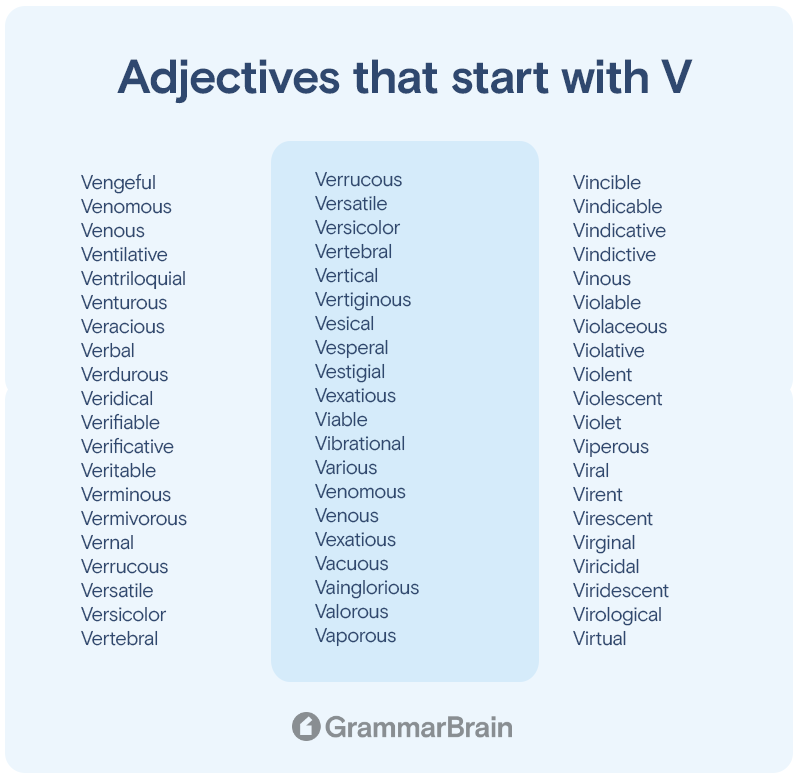 List of adjectives that start with V
Below are some adjectives that start with the letter V
Vacant
Vaccinal
Vaccinated
Vacillatory
Vacuolated
Vacuous
Vacuum-packed
Vadose
Vagal
Vagarious
Vagile
Vaginal
Vague
Vain
Vicious
Victorious
Vigorous
Villainous
Villous
Vinous
Virtuous
Vitreous
Vainglorious
Valedictory
Valent
Valerianic
Valeric
Valery
Valiant
Valid
Valkyrian
Valorous
Valuable
Valueless
Vanadic
Vandal
Vandalic
Vandyke
Vanilla
Vanillic
Vanished
Vanishing
Vanquishable
Vanward
Vapid
Vapoured
Vaporific
Vaporing
Vaporizable
Vaporized
Vaporous
Vapourific
Vapourisable
Vapourised
Vapourish
Variable
Varian
Variant
Varicelliform
Variciform
Varicoloured
Varicose
Varied
Variegated
Varietal
Variformed
Variolitic
Varioloid
Variolous
Variorum
Various
Varying
Vas
Vascular
Vasiform
Vasoconstrictor
Vasodilator
Vasomotor
Vassal
Vast
Vaster
Vasty
Vatic
Vatical
Vaticinal
Vaunted
Vedantic
Vedic
Vegetal
Vegetarian
Vegetational
Vegetative
Vegetive
Viscous
Vivacious
Vociferous
Voluminous
Voluptuous
Voracious
Veinless
Veinlike
Veinous
Velamentous
Vellicative
Velutinous
Vendable
Vendible
Venerable
Vengeful
Venomous
Venous
Ventilative
Ventriloquial
Venturous
Veracious
Verbal
Verdurous
Veridical
Verifiable
Verificative
Veritable
Verminous
Vermivorous
Vernal
Verrucous
Versatile
Versicolor
Vertebral
Vertical
Vertiginous
Vesical
Vesperal
Vestigial
Vexatious
Viable
Vibrational
Various
Venomous
Venous
Vexatious
Vacuous
Vainglorious
Valorous
Vaporous
Vicarious
Vicennial
Viceregal
Vicinal
Vicious
Vicissitudinous
Victorious
Vietnamese
Viewable
Vigesimal
Vigorous
Villous
Viminal
Vimineous
Vinaceous
Vinal
Vincentian
Vincible
Vindicable
Vindicative
Vindictive
Vinous
Violable
Violaceous
Violative
Violent
Violescent
Violet
Viperous
Viral
Virent
Virescent
Virginal
Viricidal
Viridescent
Virological
Virtual
Virtuous
Virucidal
Virulent
Viscous
Visible
Visionless
Visitable
Visitatorial
Visitorial
Visualized
Viticultural
Vitiliginous
Vitreous
Vitrifiable
Vituperative
Vivacious
Viviparous
Vivisectional
Vizierial
Vociferous
Voiceful
Voiceless
Voidable
Volcanic
Volitional
Volumetric
Voluminal
Voluminous
Voluptuous
Voracious
Vortical
Vortiginous
Voyeuristic
Vulnerable
Vulturous
Descriptive adjectives that start with the English letter V
Descriptive adjectives are the types of adjectives that describe a noun or pronoun's features, traits, or attributes. The majority of adjectives are descriptive in nature. Below is the list of Descriptive adjectives that start with the letter V in English.
Vaccinated
Vaginal
Vagrant
Vague
Vain
Valedictory
Valid
Validatory
Valued
Valved
Vanadous
Vandal
Vanilla
Vapid
Vaporific
Vaporing
Vaporizable
Variable
Variant
Varied
Various
Varying
Vascular
Vassal
Vast
Vaunted
Velvety
Verbal
Verbose
Verdant
Verifiable
Veritable
Vernacular
Versatile
Versed
Very
Viable
Vicarious
Vigilant
Vigorous
Violet
Viral
Virtual
Visible
Visual
Vital
Vivid
Vocal
Vocational
Voiceless
Voluntary
Vulnerable
Below are some adjectives that start with the letter V in the English language and are positive in nature.
Validated
Validity
Valorise
Valorous
Valour
Value
Valuable
Valuable
Vacation
Vail
Valedictorian
Valentia
Valentine
Valiant
Valiantly
Valid
Validate
Valued
Vamp
Vanguard
Vintage
Variety
Vast
Vastly
Vaticinate
Vaticinator
Vaudeville
Vaulting
Vegetate
Vehement
Vehemently
Venerable
Venerate
Venerated
Veneration
Ventilate
Venture
Venturesome
Veracious
Veraciously
Voraciousness
Veracity
Verdant
Verdure
Verdurous
Veridical
Verifiable
Verification
Verified
Verify
Vermilion
Vernal
Vernally
Versatility
Versatile
Versatilely
Versatility
Versed
Verve
Very
Veteran
Viable
Vibrant
Vibrantly
Victory
Victorious
Victoriously
Victor
Victrix
Viewable
Vigil
Vigilance
Vigilant
Vigilantly
Vigour
Vigorous
Vigorously
Vigorousness
Vindicate
Vintage
VIP
Virago
Virgin
Virginity
Virile
Virility
Virtue
Virtuosity
Virtuoso
Virtuous
Virtuously
Visible
Vision
Visionary
Vista
Vital
Vitalize
Vitality
Vitalize
Vitally
Vivacious
Vivacity
Vivid
Vividly
Vivify
Vocal
Vocation
Vogue
Volant
Volitional
Volume
Voluntary
Volunteer
Volunteer
Voluptuous
Voracious
Votary
Vouch
Vow
Vulnerary
Below are some adjectives that start with the letter V in the English language and are negative in nature.
Vacant
Vagrant
Vague
Vain
Vapid
Vegetative
Vengeful
Venomous
Vexed
Vexing
Vicious
Vile
Villainous
Vindictive
Vinegary
Violent
Volcanic
Vulgar
Vulnerable
Vagrant
Vague
Vagueness
Vain
Vainly
Vanity
Vehement
Vehemently
Vengeance
Vengeful
Vengefully
Vengefulness
Venom
Venomous
Venomously
Vent
Vestiges
Vex
Vexation
Vexing
Vexingly
Vibrate
Vibrated
Vibrates
Vibrating
Vibration
Vice
Vicious
Viciously
Viciousness
Victimize
Vile
Vileness
Vilify
Villainous
Villainously
Villains
Vindictive
Vindictively
Vindictiveness
Violate
Violation
Violator
Violators
Violent
Violently
Viper
Virulence
Virulent
Virulently
Vulgar
Virus
Vociferous
Vociferously
Volatile
Volatility
Vomit
Vulnerable
Vomited
Vomiting
Vomits
Adjectives that start with V to describe a person
Adjectives describing a person are the adjectives that describe a person's attitude, character or behaviour in general towards other human beings and towards nature as a whole. Below are some adjectives that start with the letter V and describe the person's character and behaviour.
Vegetarian
Vegetative
Vehement
Velvety
Venal
Venerable
Vengeful
Venomous
Venturesome
Venturous
Veracious
Verbal
Verbose
Verdant
Verifiable
Verified
Veritable
Vernacular
Versatile
Versed
Vertical
Very
Vexed
Vexing
Viable
Vibrant
Vibrating
Vicarious
Vicious
Victorious
Vigilant
Vigorous
Vile
Villainous
Vindictive
Vinegary
Violent
Violet
Viperous
Viral
Virtual
Virtuous
Virulent
Visceral
Viscous
Visible
Visionary
Visual
Vital
Vitriolic
Vivacious
Vivid
Vocal
Vocational
Voiceless
Volcanic
Voluminous
Voluntary
Voluptuous
Voracious
Vulnerable
Adjectives that start with "V" (images)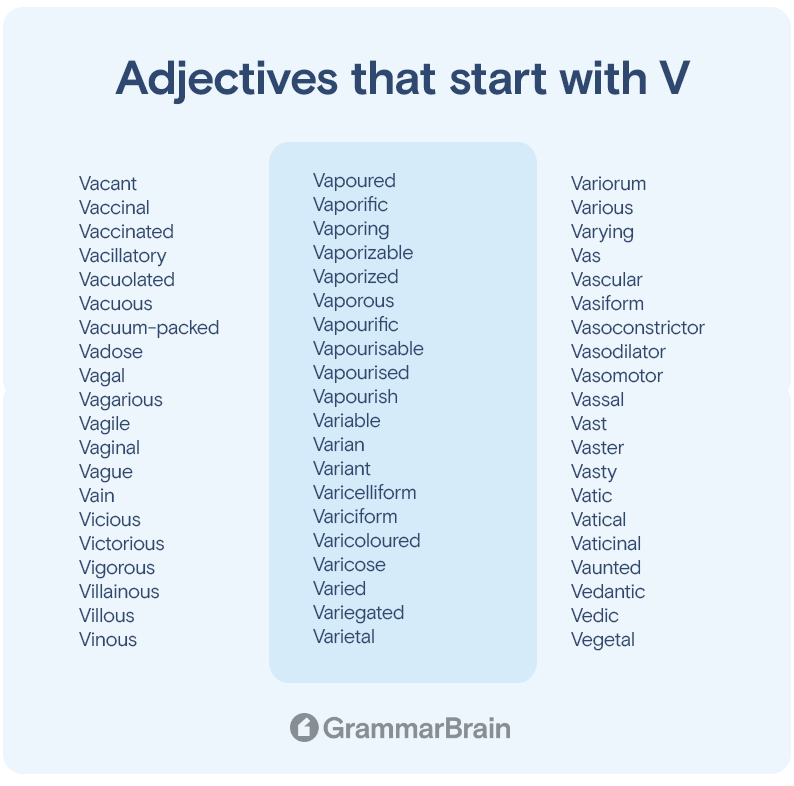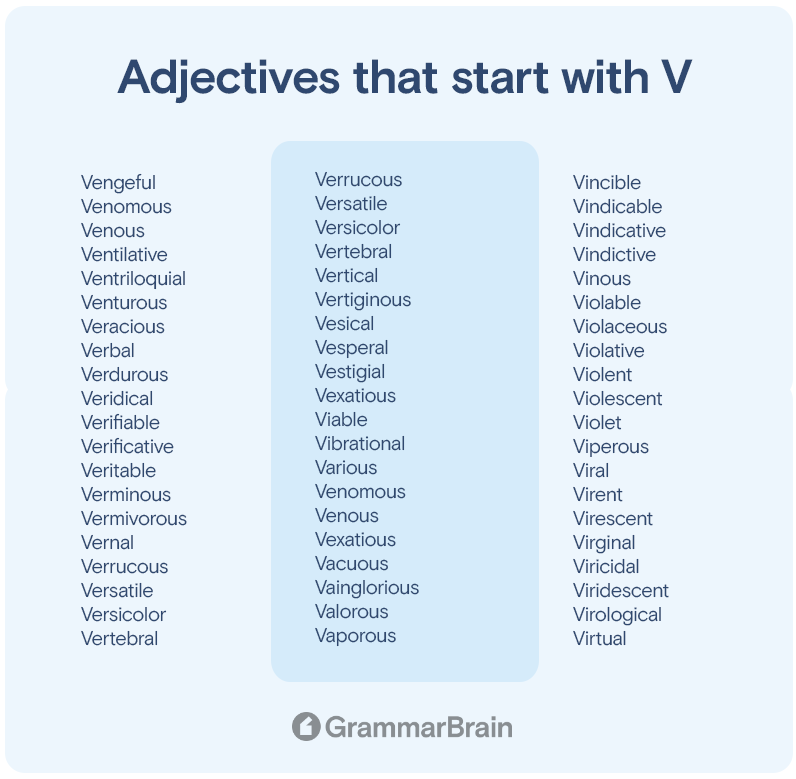 Other adjective lists
Other lists of adjectives:
Adjectives that start with V
Fact checked:
Content is rigorously reviewed by a team of qualified and experienced fact checkers. Fact checkers review articles for factual accuracy, relevance, and timeliness. Learn more.
Glossary
A: B: C: D: E: F: G: H: I: J:
L: M: N: O: P: Q: R: S: T: U: V: