There are abundant positive words beginning with A that can be used to make expressions more interesting. Here is a list of positive words that start with A to help you find the right word choices for your written and oral expressions.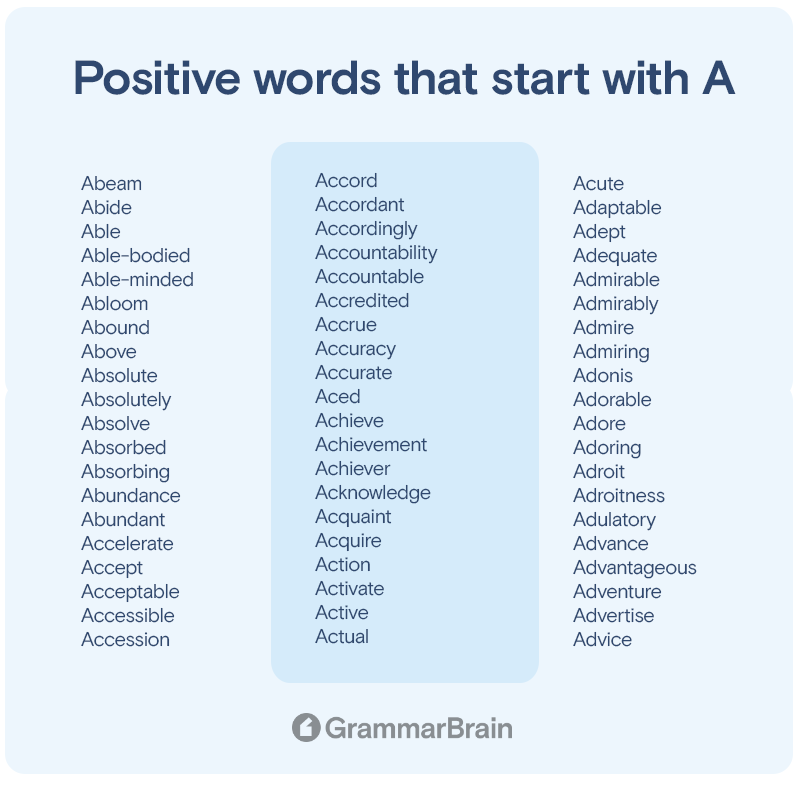 List of positive words that start with A
Abeam
Abide
Able
Able-bodied
Able-minded
Abloom
Abound
Above
Absolute
Absolutely
Absolve
Absorbed
Absorbing
Abundance
Abundant
Accelerate
Accept
Acceptable
Accessible
Accession
Accessory
Acclaim
Accolade
Accommodate
Accomplish
Accord
Accordant
Accordingly
Accountability
Accountable
Accredited
Accrue
Accuracy
Accurate
Aced
Achieve
Achievement
Achiever
Acknowledge
Acquaint
Acquire
Action
Activate
Active
Actual
Acute
Adaptable
Adept
Adequate
Admirable
Admirably
Admire
Admiring
Adonis
Adorable
Adore
Adoring
Adroit
Adroitness
Adulatory
Advance
Advantageous
Adventure
Advertise
Advice
Advisable
Aesthetic
Affability
Affable
Affectionate
Affinity
Affirm
Amplify
Affluence
Affluent
Affordable
Ageless
Agile
Agleam
Aglow
Agree
Agriculture
Agreeable
Ailment
A la mode
Alert
Alive
Allegiance
All-important
All-knowing
Allocate
Allowing
Alluring
Ally
Aloha
Altruism
Altruistic
Always
Amatory
Amazing
Amen
Ambidextrous
Ambition
Ambitious
Amenable
Amiable
Authentic
Amiable
Amicable
Amity
Amorous
Amorousness
Ample
Amuse
Amusement
Amusing
Anew
Angel
Angelic
Animate
Anticipate
Appetite
A-one
Aphrodisiac
A-plus
Appeal
Appealing
Appetite
Applaud
Apposite
Appreciable
Appreciation
Approachable
Approve
Apropos
Ardent
Ardor
Aristocrat
Aristocratic
Aroma
Aromatic
Arouse
Arousing
Arrange
Artful
Articulate
Artistic
Ascending
Ascertain
Aspire
Aspiring
Assent
Assert
assertive
Assertive
Associate
Assurance
Assure
Assuring
Astonishing
Astonishment
Astounding
Astronomical
astute
Astute
Athletic
Attain
Attentive
Attentiveness
Attest
Attitude
Attract
Attraction
Attractive
Attune
Audacious
Audacity
August
Auspicious
Authentic
Authenticity
Auspicious
Automate
Autonomous
Avant-garde
Avid
Award
Aware
Awareness
Awed
Awe-inspiring
Awesome
Awestruck
Adventurous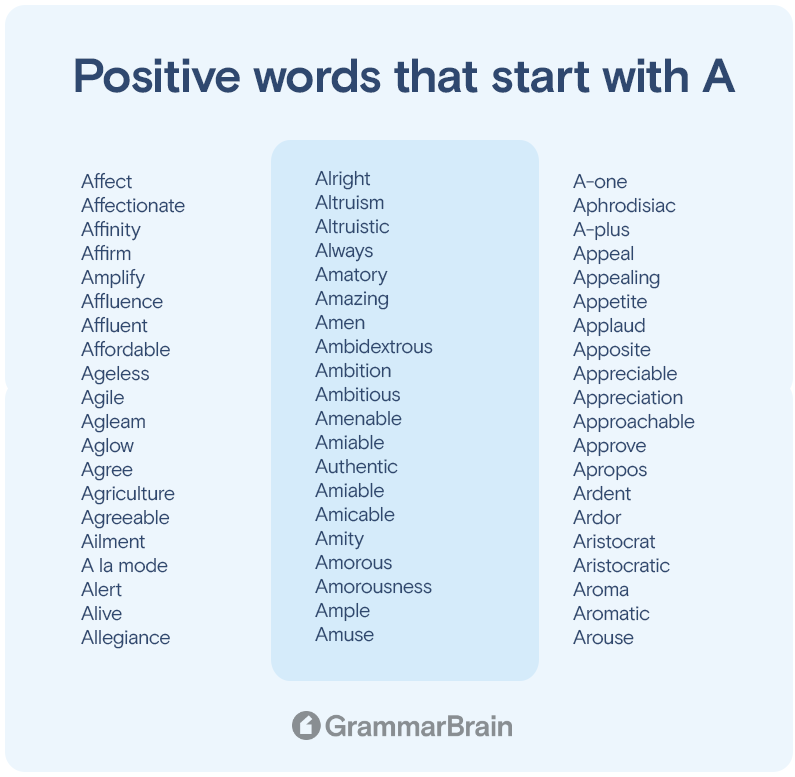 List of adjectives that start with A (that are positive)
Abashed
Abaxial
Abbreviated
Abducent:
Aberrant
Abeyant
Abiding
Abiding
Abient:
Abiogenetic
Abject
Ablaze
Abloom
Ablutionary
Abominable
Aboral
Aboriginal
About
Above
Above-board
Aboveground
Abranchious
Abreast
Absolutist
Absorbefacient
Absorbing
Abstemious
Abstinent
Abstract
Abstractive
Abstruse
Abusive
Abysmal
Academic
Acanthoid
Acceptable
Accepting
Accessible
Accessorial
Accessory
Acclivitous
Accommodating
Accompanying
Accordant
Accountable
Accumbent
Accurate
Accurate
Accursed
Accusatory
Accustomed
Ace
Acellular
Acephalous
Acerate
Acerb
Acetose
Acetous
Achromatic
Achromic
Achy
Acidic
Acidophilic
Acidulent
Acoustic
Acquainted
Acquisitive
Acrid
Active
Actual
Acyclic
Adagio
Adamant
Adamantine
Adaptive
Addicting
Additional
Addlebrained
Adducting
Adept
Adequate
Adjacent
Adjoining
Adjunctive
Adjustable
Administrative
Admirable
Admissible
Admittable
Adolescent
Adorable
Adroit
Adult
Adulterate
Advanced
Advantageous
Adventurous
Adversarial
Advertent
Advisable
Aerial
Aeriferous
Aesthetical
Aesthetical
Affable
Affected
Affectionate
Affective
Affiliated
Affined
Affirmative
Affluent
Affordable
Affordable
Afoot
Aforementioned
Aforesaid
Afraid
African
Agape
Age-long
Aggravated
Aggregative
Aggressive
Agitated
Aglitter
Aglow
Agonizing
Agrarian
Agreeable
Airsick
Airy
Ajar
Alacritous
Alacritous
Alarming
Alert
Algebraic
Alien
Alienated
Alight
Alike
Alive
All-around
Alleged
Allegiant
All-important
All-knowing
Allowable
All-purpose
All-too-common
Alluring
Allusive
Alluvial
Alone
Aloof
Alterable
Alternate
Alternating
Alternative
Amatory
Amazing
Amazing
Ambiguous
Ambitious
Ambivalent
Ambulant
Ambulatory
Amiable
Amicable
Amorous
Amphibian
Ample
Amusing
Anamnestic
Ancient
Anecdotal
Anemic
Angelic
Angered
Angular
Animalistic
Animated
Annoying
Annual
Anonymous
Another
Antagonistic
Anticipated
Anticlimactic
Antiquated
Antiseptic
Antisocial
Antsy
Anxious
Apathetic
Apologetic
Appalling
Apparent
Appealing
Appetizing
Applauding
Applicable
Appreciative
Apprehensive
Approachable
Appropriate
Approving
Approximate
Apropos
Aquatic
Ardent
Arduous
Argentine
Arguable
Argumentative
Arid
Ariled
Ariose
Aristocratical
Arithmetical
Armed
Armillary
Armless
Articulate
Ashamed
Ashamed
Asleep
Aspiring
Assertive
Assignable
Assistant
Assistive
Assorted
Assuasive
Assumable
Assurgent
Assuring
Astonished
Astonishing
Astounded
Astounding
Astringent
Astronomical
Astute
Asymmetrical
Athletic
Atomic
Atrocious
Attachable
Attainable
Attention-getting
Attentive
Attractive
Attributable
Atypical
Audacious
Audio
Auricular
Auspicious
Austere
Austrian
Authentic
Authoritarian
Autobiographical
Autographed
Automatic
Autonomous
Autumnal
Available
Avant-garde
Avascular
Avenging
Average
Aversive
Avian
Avirulent
Avoidable
Awaited
Awakening
Aware
Awash
Away
Aweary
Aweigh
Awesome
Awestricken
Awry
Axenic
Axial
Axillary
Axiological
Axiomatic
Ayurvedic
List of verbs that start with A (that are positive)
Abandon
Abase
Abate
Abbreviate
Abdicate
Abduct
Abolish
Abort
Absorb
Abuse
Accelerate
Accept
Access
Acclaim
Accord
Accumulate
Accuse
Achieve
Acquire
Acquit
Act
Activate
Actualize
Adapt
Addressed
Adjust
Administer
Admire
Adopt
Adore
Adulate
Advance
Advocated
Affect
Affiliate
Afford
Agree
Aim
Align
Allow
Alter
Amend
Amplify
Amuse
Analyze
Announce
Annoy
Answer
Anticipate
Apologize
Appeal
Appear
Applaud
Applied
Apply
Appoint
Appoint
Approach
Approve
Architectured
Argue
Arise
Arrive
Ascertain
Ask
Aspire
Assault
Assemble
Assert
Assign
Assist
Assume
Assure
Astonish
Astound
Attach
Attempt
Attend
Authored
Authorize
Automate
Avert
Avoid
Awarded
List of nouns that start with A (that are positive)
Abacus
Abbey
Abbot
Abbreviation
Abdication
Abdicator
Abduction
Abductor
Abode
Absentee
Abuser
Abyss
Academia
Academy
Accelerant
Accent
Acceptor
Access
Accessory
Accident
Accommodation
Accomplice
Accordion
Accost
Accused
Accuser
Ace
Achiever
Acid
Acorn
Acoustic
Acoustics
Acquaintance
Acquisition
Acquittance
Acquitter
Acre
Acrylic
Action
Active
Actual
Acupressure
Acupuncture
Adage
Adaptableness
Adapter
Adder
Addict
Addition
Adept
Adherence
Adherent
Adhesion
Adhesive
Adieu
Adjacent
Administration
Admiral
Admiralty
Admittance
Admitter
Adobe
Adventurer
Advert
Advertisement
Advisement
Advisory
Advocate
Affair
Affection
Affidavit
Affixture
Affluence
Affluent
Afghan
Aftergrowth
Aftermath
Afternoon
Afterthought
Agnostic
Agriculture
Air
Aircraft
Airline
Airplane
Airport
Airship
Alabaster
Alarm
Albatross
Albino
Album
Alcohol
Alcohol
Alcove
Alder
Ale
Alert
Alfa
Alibi
Aliment
Alley
Altar
Alternator
Alyssum
Ambient
Ambiguity
Ambulance
Americanization
Amman
Ammo
Ammonia
Ammunition
Amnesty
Amoeba
Amount
Amphibian
Amplifier
Amulet
Amusement
Anachronism
Anagram
Analgesic
Anchor
Ancient
Android
Anesthetic
Angel
Anger
Angina
Angle
Angler
Anguish
Anime
Aniseed
Anklet
Annex
Annexation
Annihilation
Annihilator
Annotate
Announcer
Annoyer
Annual
Answer
Ant
Ante
Antechamber
Antenna
Antenna
Anthill
Antibacterial
Antichrist
Antidepressant
Antidote
Antiquity
Anybody
Apex
Apparel
Appliance
Application
Applicator
Approach
Apron
Aquarium
Aquarius
Arbor
Arch
Archive
Archway
Area
Ark
Arm
Armchair
Armrest
Arrow
Arrowhead
Arsenal
Artillery
Ascendant
Ascot
Ash
Ash
Ashes
Ashtray
Aspirator
Aspirin
Assembly
Asteroid
Astringent
Atlas
Atmosphere
Atom
Attachment
Attic
Attire
Audio
Augmentation
Auto
Automobile
Availability
Avalanche
Award
Awl
Ax
Axle
Flowers, fruits, and, animals starting with A
Agave
Ape
Algae
Aster
Aloe
Animal
Apple
Apricot
Avocado
Aphid
Aardvark
Abalone
Akita
Albatross
Alligator
Anaconda
Ant
Antler
Name places that start with A
Acropolis
Afghanistan
Africa
Airport
Alabama
Albania
Albany
Albuquerque
Algeria
Algiers
Andorra
Angola
Antarctica
Area
Argentina
Armenia
Asia
Atlantic
Atoll
Auditorium
Australia
Austria
Body parts, people and professions that start with A (that are positive)
Abdomen
Academician
Accountant
Accountant
Acrobat
Actor
Actress
Adjunct
Adolescent
Advocate
Agent
Agriculturalist
Airman
Amateur
Ambassador
American
Ankle
Apprentice
Archaeologist
Architect
Arm
Armpit
Arsonist
Artist
Assemblage
Astronaut
Athlete
Attaché
Short and positive words that start with A
Abby
Abet
Able
Acai
Ace
Ache
Acid
Act
Ale
Acyl
Ada
Add
Addy
Adit
Ado
Ados
Adry
Adze
Adze
Aero
Aery
Afar
Affy
Afro
Agar
Agas
Agee
Agen
Ager
Ages
Agio
Agog
Agon
Agro
Ahem
Ahi
Ahoy
Aias
Aid
Aida
Aide
Ails
Aim
Aims
Air
Airt
Airy
Aits
Aitu
Ajar
Ajee
Ajis
Akee
Akes
Akin
Alae
Alan
Alap
Alar
Alas
Alas
Alay
Alba
Albe
Albs
Alco
Alec
Alee
Alef
Alf
Alfa
Alga
Alit
Alko
Alky
Ally
Alma
Alme
Alms
Aloe
Alps
Also
Alto
Alum
Alus
Am
Amah
Amas
Ambo
Amen
ames
amia
amid
Amid
amie
And
Anew
Ant
Any
Apex
App
Area
Arms
Army
As
Ash
Ashy
Ask
At
Atom
Away
Awe
Awl
Ax
Axed
Axel
Axis
Aye
Antidisestablishmentarianism is the longest word starting with A. Here are some long words that start with A accompanied by their meanings.
Long positive words that start with A
Aardvark: A burrowing nocturnal animal
Abandonware: An abandoned software
Abarcy: Insatiable or never full
Abecedarian: A person teaching or learning the alphabet
Abequitate: Ride away on a horse
Abomination: Something not likable or disapproving
Acanthous: Shaped like a spine or thorn
Acarpellous: Having no carpels
Acarpous: Producing no fruit
Accelerando: Gradually increasing speed especially in music
Acerbic: Harsh or severe
Acoustic: Related to sound
Acquaintances: Known people
Acquiesce: Accept something reluctantly
Acronymically: In an acronymic manner
Aeroembolism: Decompression sickness
Agelast: A person who never laughs
Agoraphobia: Fear causing panic
Aldosteronism: Health condition due to excess production of the hormone
Altruistic: Generous, unselfish
Ameliorate: Make something better
Analphabetics: Writing system that is not alphabetic
Argillaceous: Containing clay
Astringent: Chemical that tightens tissues
Audacious: Showing willingness to take a risk, daring and unconventional
Auspicious: Promising success
Positive words that start with A to describe a person
Abandoned
Abiding
able
Able
Able-bodied
Abnormal
Abrasive
Abrupt
Absent
Absentminded
Absorbed
Abstracted
Absurd
Abusive
Accepting
Accessible
Acclaimed
Accommodating
Accompanying
Accomplished
Accountable
Accurate
Accused
Acknowledged
Acrid
Acrobatic
Active
Activistic
Adamant
Adaptable
Adaptive
Addicted
Adequate
Admirable
Admired
Adolescent
Adolescent
Adopted
Adoptive
Adorable
Adoring
Adroit
Adult
Adventuresome
Adventurous
Affable
Affable
Affectionate
Afraid
Aged
Ageless
Aggravated
Aggressive
Agitated
Agreeable
Airsick
Alabaster
Alarmed
Alert
Alien
Alive
All-around
Alleged
Alone
Aloof
Amazed
Amazing
Ambitious
Ambulatory
Ambulatory
Amenable
American
Amiable
Amicable
Ample
Amused
Amusing
Ancient
Anemic
Angelic
Angry
Animated
Annoyed
Annoying
Anonymous
Another
Antagonistic
Antisocial
Antsy
Anxious
Apathetic
Apologetic
Appealing
Appreciative
Apprehensive
Approachable
Appropriate
Approving
Ardent
Argumentative
Aristocratic
Arresting
Arrogant
Arthritic
Articulate
Artistic
Artless
Ashamed
Aspiring
Assertive
Assured
Assuring
Astonished
Astounded
Astute
Athletic
Atrocious
Attentive
Attractive
Auspicious
Australian
Austrian
Authentic
Authoritarian
Authoritative
Available
Avid
Avoidable
Awake
Aware
Awesome
Awful
Awkward
Awless
Sentence examples using positive words that start with "A"
The athletic players put in a lot of hard work to make the team win.
She has ample intelligence to pass the test.
Anna became ambulatory again after the physiotherapy sessions.
He is an ardent photographer who loves wildlife photography.
I could not stay angry with my apologetic friend.
He is a bold and articulate speaker.
The adorable babies won everyone's hearts.
The writer's authentic ideas keep the readers engrossed.
The aged gentleman walked slowly towards his house.
Her attractive looks made her a successful model.
His approachable nature allowed the students to ask him questions.
Positive words that start with "A" (images)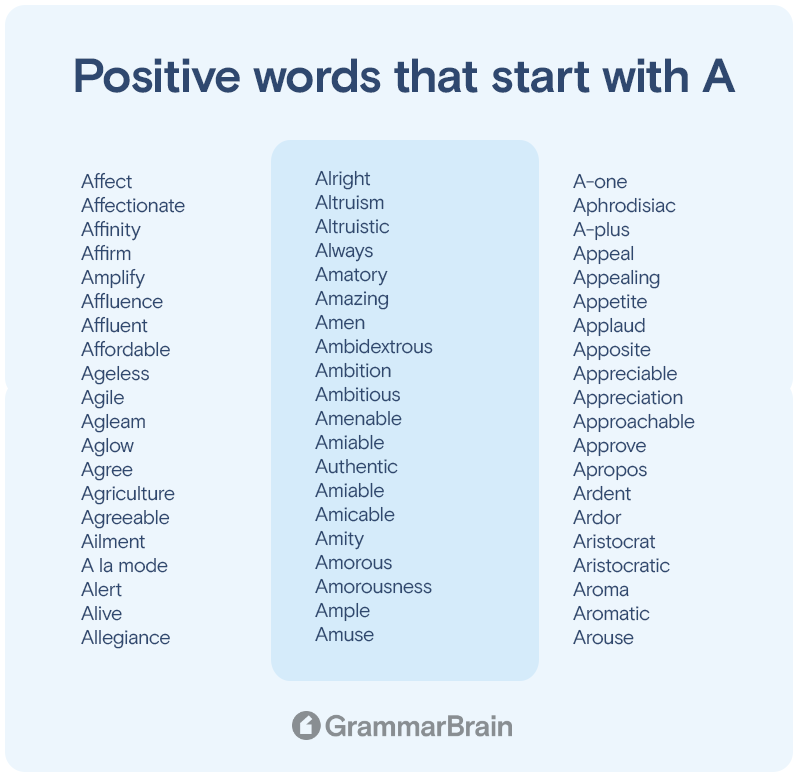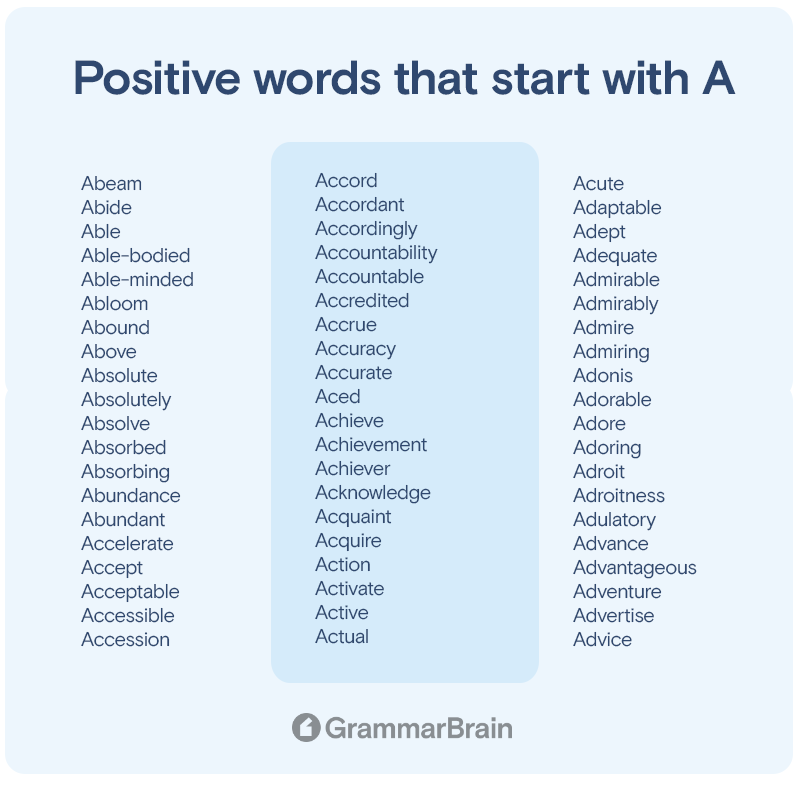 Other positive word lists
Other lists of positive words:
Positive words that start with A
Fact checked:
Content is rigorously reviewed by a team of qualified and experienced fact checkers. Fact checkers review articles for factual accuracy, relevance, and timeliness. Learn more.
Glossary
A: B: C: D: E: F: G: H: I: J:
L: M: N: O: P: Q: R: S: T: U: V: