Here's how to end an email the most effective way. It is pretty daunting to find the ideal closing words for your emails. A staggering 333.2 billion emails are sent every day around the world as per the 2022 census.
When you choose to send out emails, it gives an impression of who you are or what your brand is all about. You could be sending emails to your loved ones, co-workers, professors, clients, doctors, or business stakeholders.
Regardless, it is imperative for you to learn how to end an email. A poorly writteen email can leave a lasting impression that you don't want.
Why is the end Important?
Every element of your email message matters. This includes the greeting, the body, and the closing.
Your priority in these areas will determine whether you leave a positive or negative impression.
Some individuals debate that the closing line is way more important than the email subject. When you choose to end an email, you need to be mindful of these factors:
Who is receiving this email?
The primary purpose of your email.
Does this email represent my company?
Is this email solely representing my own brand?
You have to consider these elements before sending an email. It is crucial to always understand your audience first and then to begin writing your message.
How to Close an Email
Nobody ends their business calls, personal calls, meetings, etc. abruptly. You end them in a kind polite manner without rushing the other person.
Closing an email deserves the same effort. Here's how you can close an email:
Closing Line
This part of the email also goes by the term "email closing paragraphs." It helps in indicating the correspondence's intention.
Here, you can choose to use phrases like "thank you in advance," "any help on this matter would be highly appreciated," "thank you for your time in this matter," and more.
These phrases will go a long way in showing the right intention.
Sign Off
This phrase or word shows that the email is coming to an end. For instance, the word 'Regards' is a perfect example of signing off the email thread.
Ensure that you are adding a comma after the sign-off. And then moving on to adding your full name.
Sender's Name
Every sender should make it a priority to use their full names while closing an email. If you are communicating with the recipient with only your first name, adding a surname is a nice addition.
It's best to use your full name to leave no room for confusion. It makes it easier for the recipient to identify who you are and why you're contacting them.
Signature
The signature usually consists of contact details, job designation, address, organization, and website.
But it isn't always included in the ongoing email threads. We recommend you do so since it doesn't hurt.
Email Closing Examples
If you end your emails in a professional tone, then you entertain a memorable and interactive atmosphere. It doesn't matter who it is for; you need to summarize your email and close it with a nice signature (usually your full name, contact details, and a clear call-to-action).
It shows your recipient that you made a significant effort to communicate what you need. Usually resulting in a faster response or better connection with the party you're having a conversation with.
These closing phrases will jet-set your email writing skills to the next level. They are as follows:
Formal Closing Endings
I am thankful for your assistance in this matter.
Any help in this matter would be highly appreciated.
We are deeply sorry for the inconvenience caused.
I am expressing my regrets for…
Thank you for your consideration.
Please do not hesitate to reach out for my assistance.
We are grateful for your cooperation in this matter.
Thank you for going above and beyond on completing this project.
Polite Email Endings
Please do not hesitate to ask us any questions.
I am eagerly looking forward for you to revert back to me.
Could you kindly let me know if you require an extension?
I would sincerely appreciate any help from your end.
Please let us know if we can do anything from our end to help.
Could you kindly fill me in on this matter?
I appreciate your understanding in this matter.
Do not hesitate to call us if you require further information.
Please have a good weekend.
Professional Email Endings
You have been very patient. Thank you.
Good luck with…
I sincerely appreciate you for devoting your time to this matter.
We hope to hear back from you soon.
Could you please let us know if you need a reschedule?
Please let us know if it sounds good to you.
Do not hesitate to contact us if you have any queries.
Please find the attached documents below.
All the very best on your…
Business Email Endings
Please let us know if there is anything more we can do for you.
We are grateful for your cooperation in this matter.
Our deepest apologies for the inconvenience that we have caused.
We are interested to know your input on this matter.
Our team is looking forward to working with you again in the future.
Do not hesitate to contact us for any queries regarding…
We are looking forward to hearing your thoughts on this.
Could you let me know when it's the right time to…
Thank you for your time and support in this matter.
Personal Email Endings
I'm hoping to hear from you soon.
I'll call you.
Thanks for taking the trouble.
Get back to me soon.
Let me know if you need anything else.
Thanks a bunch!
Let's connect soon.
Please write soon!
Good luck with your…
How to End an Email to a Professor
Students usually connect with their professors for research opportunities and coursework. Or questions about getting to meet deadlines. Many key elements go into the mix when you have to email your professor. This includes greetings, salutations, and requests or questions.
But one of the most important components is ending the email correctly. If you're currently a student, then the following these key tips will help you end your email:
Be Polite
The primary focus here should be to clear your expectations with polite language. Avoid writing confusing closing paragraphs or just generally writing a poor-quality email.
The professors will know why you contact them when you get directly to the point.
Invitation
Do you think it will be helpful for you to meet them in person? If so, ensure that you are extending an invitation for further discussion regarding your concerns.
Meet them during their office hours. It is respectful, and you are allowing them to meet based on their convenience.
Gratitude
You should always prioritize making an effort to thank your professors when you close an email. Ensure that you are thankful for their time regardless of the scenario.
Paying gratitude because of their time and assistance leaves a positive lasting impression on them. It shows that you are a professional even when asking a question about an absent accommodation or deadlines.
Salutation and Signature
It is an absolute must to end your email with a kind salutation. Examples would include "Respectfully," "Sincerely," or "Best Wishes."
Once you finish signing your name, you can follow it with an appropriate signature. Here, you can insert your name, position (if any), university name, degree type, and anticipated graduation date.
Useful Email Ending Tips to Use with Your Professor
Here are some of the key points to remember on how to end an email with your professor:
You shouldn't use ALL CAPS in the ending paragraph or signature. It makes your text look aggressive, and your professor may feel belittled.
Emojis should only belong in one area, and that is in text messages. You should never include them in your professional emails because they are childish and informal.
Avoid informal language like you would use in text messages. Since they are hard to interpret, especially with some adults. It is best to omit the use of shorthand substitutions and abbreviations.
Avoid using college slang if you want to appear professional and have your questions addressed. The last thing you want is a rejected plea and your professor losing respect for you.
You should always refrain from criticizing your professor in your email. It's not the place nor the time to do that.
It is vital always to proofread your emails for needed corrections. Professors usually pay attention to the closing paragraph for an organized and concise summary of your email.
Avoid using phrases and inspirational quotes. Your professor won't have the time to read those, especially when they are busy individuals.
You should never overwhelm them with non-stop flattery. Kissing up to them often turns them off and doesn't make you look good.
Students should make it a priority to redirect their point of concern in the closing lines. It's helpful because most professors end up skimming through their emails due to their busy schedules.
How to End an Email to a Teacher
Email signoffs are necessary to maintain the decorum of the relationship between the sender and recipient. Let's delve into the important key points on how to end an email with your teacher.
All About Professionalism
Students and Teachers can bond in various ways. But students should always be professional when emailing their teachers, regardless of the relationship.
Here, avoiding short forms and sticking with complete words is essential. Ensure that you also pay attention to grammar, caps, and punctuation.
This also means that there should be no usage of smileys and emojis. Your email won't just look unprofessional, but you will also come off as a disrespectful spoiled scholar.
The last thing you want is the emojis and smileys disrupting your message flow.
Proper Words
It is important that you don't resort to slang and text lingo. Do you want your teacher to address your concerns or spend time translating what you just sent? Exactly! You'd rather they reply.
Never forget to capitalize the first letter of 'Teacher.'
The same goes for the teacher's full name, title, etc.
School Address
Students should always insert the school's address at the end of the email. It will catch the teacher's attention and identify you as one of his/her students.
This way, your email will have a quicker response. Your email will also look professional and won't end up in the spam folder.
Acknowledgement
The trick to ending an email with your teacher is always to thank them. Make it a habit to always thank them for taking their time out to go through your email.
When you thank them in advance, you appreciate their time and consideration in the matter. You also end up placing yourself in a position where they will favor you in the future.
Here are some of the polite phrases to end your email with:
Best Regards
Sincerely
Thank you for your time and consideration.
Kind Regards
Respectively
Cordially
Avoid using phrases like "Looking forward to hearing from you" or "I hope to hear from you soon," etc. It makes you appear impatient. Especially because teachers are busy. They have hectic schedules but will get back to you.
Pay Attention to the Email Length
If the body of your email is short, then the closing lines should also be short. However, if your email is lengthy, ensure that you incorporate the appropriate length to close the email (a conclusion).
Revision
Just like you revise the essays you submit to your teacher, the same is required with the closing statement of your email. Your teacher will probably focus on the concluding statement, so ensure that you proofread for misspellings and punctuation mistakes.
A grammatically poor email shows you didn't put much effort into the matter.
Closing Email Tips to Teachers
Do not act informal in your tone of writing regardless of how close you are to your teacher.
Avoid including anything personal in your closing statements and in the email in general.
To piggyback off the previous point, avoid emailing them for non-academic reasons.
Ensure that you check the syllabus of your course for email instructions. It will tell you the required steps preferred by the teacher for emailing them.
Communicate via a school email rather than your personal.
How To End an Email to a Doctor
When it comes to the medical field, here's how you can successfully end an email to your doctor:
Review
The summary of your email should be straight to the point. You need to clarify why you are reaching out to your doctor.
You need to address the core issue and why you wish to see them. It is important to be clear and concise. Respect their time.
Ensure that you haven't misspelled or mentioned anything informal.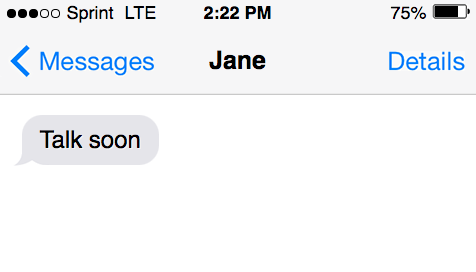 Using Spaces and Paragraphs Correctly
Never mistake stuffing all your email sentences into one enormous paragraph. Ensure that you use adequate spaces/paragraphs and address your concerns accordingly.
It will be confusing for the recipient, especially doctors who are bombarded with emails daily.
Grammatical Errors and Proper Language
You should always double-check your closing lines to ensure that your email is correct. Also, it's crucial to add proper punctuation wherever needed.
When you address someone like your doctor, make it a habit always of being formal. It means that you should avoid using texting (like SMS texting) language in your email endings or in the email in general.
It is a professional decorum, and your doctor wouldn't expect a childish email.
Using CTA (Call-to-Action)
A clear Call-To-Action is required at the end of your email. You can attach your phone number to initiate a phone conversation.
Full Name Signoffs
The most important thing is to sign off by using your full name. You could be an old patient of the doctor (or someone new), but it will help him/her identify you.
This step is essential. Especially when you have a previous medical history with the hospital or clinic. It will become easy for the recipient to process your request.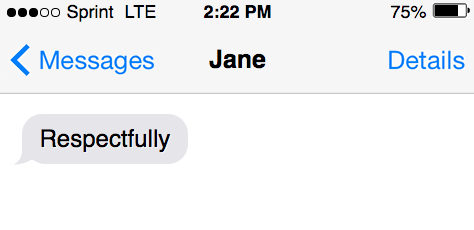 Thanking Them
If you email them after a successful treatment, you should prioritize thanking them in the closing lines. You could say how he/she is bettering people's lives through their medical epertise and so on.
During the treatment, you can also talk about their kindness, devoted medical attention, sincerity, etc..
You can also thank them in advance for their time and consideration in returning an email back to you in the closing line.
Avoid Overstuffing Information
When you write the closing paragraph of your email to your doctor, ensure that you aren't overfeeding them information. You shouldn't get too deep into the details.
Potential patients should always get to the point and save the rest of the information for the in-person meeting.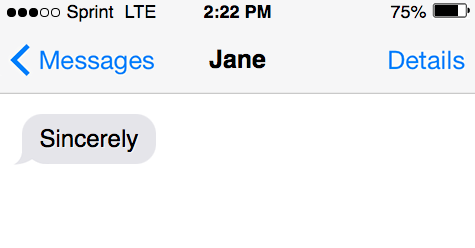 Closing Email Examples for Your Doctor
Here are some examples of closing emails that you can use for your doctor:
Respectfully
Best
With gratitude
Regards
Many regards
Kind regards
Sincerely
Email Endings in Different Scenarios
Everyone should know how to end an email in a professional tone and manner. The key is always to be polite.
Potential Job Situation
Companies will ask for your resume, job application, and other materials through email. Here, you must thank them for taking the time to approach you for the role.
In the closing email, you should show them that you are interested in further discussions. As a possible candidate, you should include a Call-To-Action (like your phone number).
This way, the employer will be able to contact you with ease. A good closing line would be "Thank you for shortlisting me for this role. I'm looking forward to hearing from you soon."
Job Offer
A well-written formal email is a must when you receive a job offer. Your closing statement should include acknowledgment and gratitude.
It goes to show that you are grateful for the opportunity. The company will feel reassured by this response.
You can use an ending phrase like "I am looking forward to initiating the next steps for this role."
Meeting Response
If you are a working individual, you are accustomed with work meetings. When you receive a meeting invitation, craft your response professionally.
Your closing response will help in scheduling the date and time of the meeting. Once you hear back, the recipient will finalize the meeting details and add them to their calendar.
You can use this example – "Look forward to meeting soon." Or you can also go for a semi-informal tone and use – "Talk soon" or "Talk to you very soon."
Unique Email Ending Phrases
We thought it would be nice to include some more ending phrases for you. You can use these phrases on how to end an email:
Enthusiastically
Best
Stay tuned for more
Best wishes
Warm wishes
Thanks for taking the time to read this email
Cheers
Anticipating your reply
Thank You in Advance
With gratitude
Contact me for further assistance
With deep gratitude
Lots of love
Have a ffabulous weekend
Warmly
Please reach out for more help
There are different types of email closings, each serves a unique purpose. For instance, you can use "Lots of love" to address a loved one.
You can use phrases such as 'With gratitude" or "Thank you in advance" for work-related emails or to address a colleague.
Phrases like "Respectfully," "Best Wishes," or "Best" can be used for both personal and professional mail ending lines.
If you are in the sales department, you could go for lines like "Cheers" and "Stay Tuned" to pique the recipient's interest. The word 'Cheers' may come off a little informal; however, it can go well in business settings.
Keep track of how senders close their emails. It will help you gain a deeper understanding of how they appreciate receiving communication and what style of communication you can engage in.
Sources
Fact checked:
Content is rigorously reviewed by a team of qualified and experienced fact checkers. Fact checkers review articles for factual accuracy, relevance, and timeliness. Learn more.
Glossary
A: B: C: D: E: F: G: H: I: J:
L: M: N: O: P: Q: R: S: T: U: V: