What are the most commonly misspelled words in American English? The unpredictable spelling system in English makes it difficult and confusing, especially for non-native speakers, which leads to a large number of misspelled words.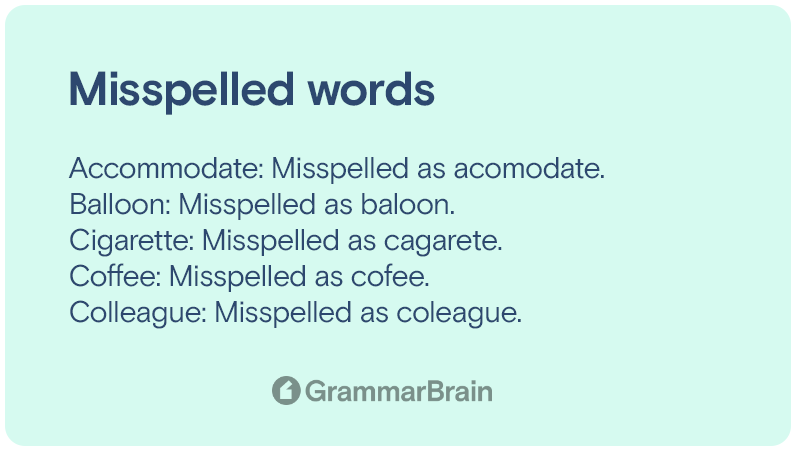 Why are some words commonly misspelled?
Differences in pronunciation and spelling
Some words are pronounced differently than their spelling. While pronunciation is the verbal structure of the word, spelling is the visual structure of the word. Dissonances in these can create confusion and lead to misspellings.
Examples
Colonel
The word colonel used to depict an officer rank in the army is pronounced as kur-nuhl, exactly like the word kernel.
Sew
The word 'sew' means stitching or weaving using threads and needles. The word is pronounced as 'sow'.
Hyperbole
Hyperbole is a word used to denote an obvious or extremely exaggerated statement. It is borrowed from the Greek word huperbolḗ via Latin and has the irregular pronunciation, 'hai-pur-buh-lee'.
Lingerie
The word denoting women's clothing and innerwear is borrowed directly from the French. Americans pronounce it as lahn-zhuh-RAY.
Silent letters
Some words have silent letters i.e. they are not heard when said out aloud making room for spelling errors.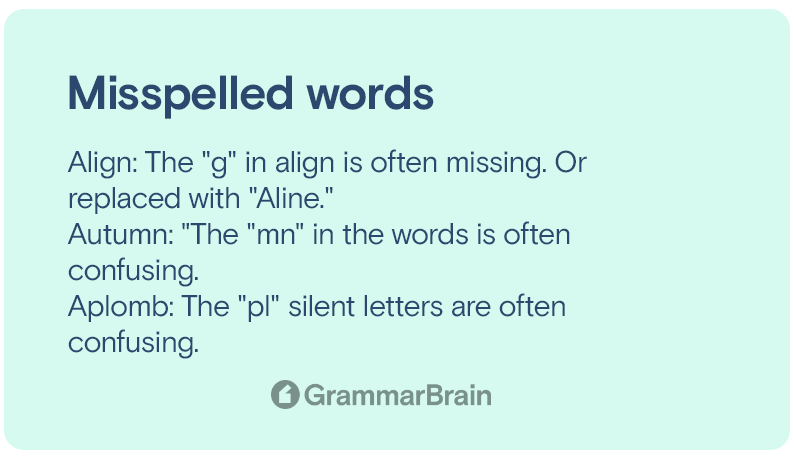 Examples
Align: The "g" in align is often missing. Or replaced with "Aline."
Autumn: "The "mn" in the words is often confusing.
Aplomb: The "pl" silent letters are often confusing.
Ascent: The "sc" combination can get misspelled easily.
Bridge: With the "dg" being silent, often misspelled as "Brige."
Cologne: The "gn" combination can get confusing.
Champagne: Similar to "cologne," the "gn" combination is confusing.
Debt: The "bt" combinations are challenging to remember.
Doubt The "bt" combination is challenging to remember.
Feign: With the "gn" silent letters getting confused.
Gnaw: "Gn" in "gnaw" can get misspelled as "naw."
Numb: The "mb" combination as "num."
Resign: "The "gn" combination being confusing.
Subtle: More "bt" silent letters.
Womb: The "mb" in womb being highly confusing.
Double/repetitive letters
Some words have one or more repetitive letters occurring together which makes it easy to misspell.
Examples
Accommodate: Misspelled as acomodate.
Balloon: Misspelled as baloon.
Cigarette: Misspelled as cagarete.
Coffee: Misspelled as cofee.
Colleague: Misspelled as coleague.
Committee: Misspelled as comitee.
Harass: Misspelled as harass.
Embarrass: Misspelled as embaras.
Exaggerate: Misspelled as exagerate.
Recommend: Misspelled as recomend.
Recurring: Misspelled as recuring.
Trellis: Misspelled as trelis.
Underrate: Misspelled as underate.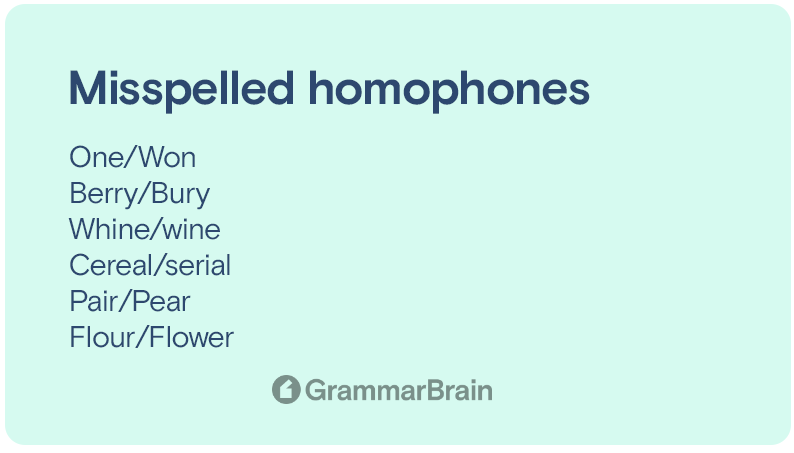 Homophones
Homophones are words that sound the same but have different meanings and spellings.
Examples
One/Won
Berry/Bury
Whine/wine
Cereal/serial
Pair/Pear
Flour/Flower
Proper nouns
Names of people, places, brands, etc. can sound different than the way they appear.
Names
Reagan (not Raygan/Rhaygun)
Louis (Not Luwis)
Madeleine (Not Madalin)
Arianna (Not Ariana)
Sean (Not Shaun)
Geoffrey (Not Joffrey)
Graham (Gram and not GraHam)
Brand names
Some brands have willfully changed their spellings for impact, uniqueness, or emphasis. 
Examples of brands with modified spelling:
Reddit
Fiverr
Flickr
Wrogn
Diggz
Tumblr
But some brand names have been commonly misspelled due to their foreign origin.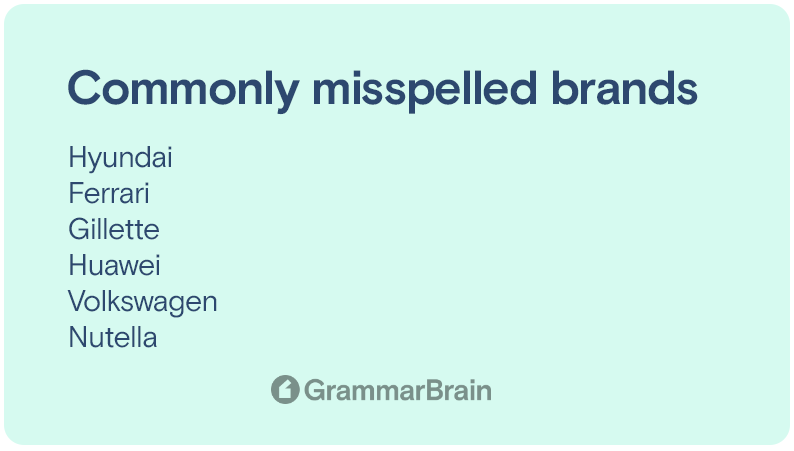 These are:
Hyundai
Ferrari
Gillette
Huawei
Volkswagen
Nutella
Lamborghini
Fedex
Bugatti
Dolce & Gabbana
Porsche
Differences between UK and US spelling
Though UK and US English share a common language, you may wonder why they have different spellings.
The standardized spellings of English came about only in the late 18th century. The Johnson's Dictionary (1775) cemented the current UK spelling by contending that the spelling should be dependent on the origin word. 
But Noah Webster's Dictionary (1783) introduced changed spellings in US English motivated by the need to make it easier to learn. This emphasis on phonetic spellings led to dropped letters, transposed letters, etc. 
Let's see some examples of varied spelling in UK and US English.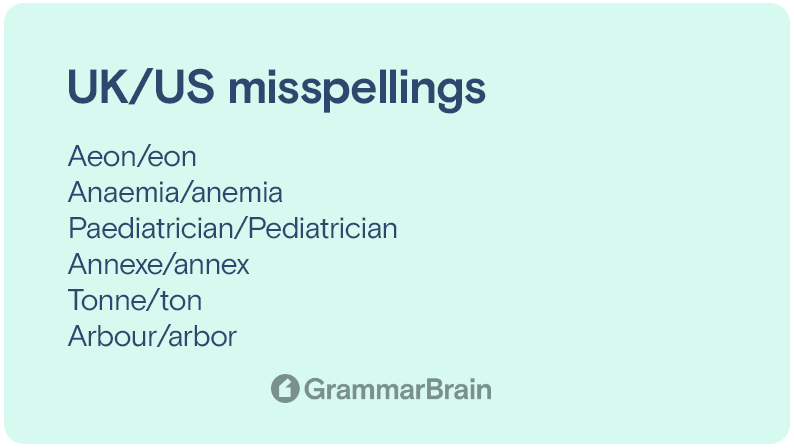 Examples of dropped letters
US English has dropped redundant letters in spellings to make them closer to phonetic spellings.
UK/US
| | |
| --- | --- |
| UK/British English | American English |
| Aeon | Eon |
| Anaemia | Anemia |
| Annexe | Annex |
| Tonne | Tone |
| Arbour | Arbor |
| Colour | Color |
| Aeroplane | Airplane |
| Plough | Plow |
| Sulphur | Sulfur |
| Doughnut | Donut |
Examples of transposed spellings
Some letters are transposed in the spellings of US English to make it closer to its pronunciation.
UK/US
| | |
| --- | --- |
| UK/British English | American English |
| Metre | Meter |
| Theatre | Theater |
| Fibre | Fiber |
| Lustre | Luster |
| Calibre | Caliber |
Examples of double consonants
UK/US
| | |
| --- | --- |
| UK/British English | American English |
| Appal | Appall |
| Enrol | Enroll |
| Dishevelled | Disheveled |
| Distil | Distill |
| Counsellor | Counselor |
| Fulfil | Fulfill |
| Skilful | Skillful |
Examples of changed letters
The US English favors the use of 'z' instead of 's' historically.
UK/US
| | |
| --- | --- |
| UK/British English | American English |
| Criticise | Criticize |
| Organise | Organize |
| Recognise | Recognize |
| Authorise | Authorize |
| Sympathise | Sympathize |
| Analyse | Analyze |
Since both variants are correct but restricted to the respective regions, it is important to maintain uniformity in spelling rules for consistency.
Commonly confused words
Some words in English may sound the same though they have entirely different meanings and spelling.
accept/except
advice/advise
affect/effect
allusion/illusion
allude/elude
assent/ascent
complement/compliment
counsel/council
conscious/conscience
dependant/dependent
discrete/discreet
elicit/illicit
imminent/immanent
farther/further
forward/foreword
license/license
practice/practise
proceed/precede
principle/principal
Commonly misspelled words in English
Here's a list of frequently misspelled words in English due to their irregular pronunciation, emphasis, silent letters, or double letters.
Accede
Almond
Amateur
Amethyst
Ascend
Asterisk
Asylum
Atheist
Believe
Bureau
Bury
Business
Calendar
Chaos
Chief
Coffee
Colleague
Colonel
Committee
Connoisseur
Conscientiously
Debt
Delinquent
Doubt
Drunkenness
Ecstasy
Effervescence
Entrepreneur
February
Gauge
Gnash
Guarantee
Harassment
Haughty
Hierarchy
Hyperbole
Inconvenience
Irresistible
Jeopardy
Leisure
Liaison
Lightning
Lingerie
Mellifluous
Mischievous
Obeisance
Occurrence
Perjury
Perseverance
Personnel
Playwright
Preferred
Prejudice
Process
Professor
Pronunciation
Psychic
Quarantine
Questionnaire
Quintessential
Recommend
Recurring
Renaissance
Resplendent
Restaurant
Rhapsody
Rhythm
Rotisserie
Schedule
Scissors
Separate
Solder
Success
Symphony
Vacuum
Viscount
Wantonly
Weird
Fact checked:
Content is rigorously reviewed by a team of qualified and experienced fact checkers. Fact checkers review articles for factual accuracy, relevance, and timeliness. Learn more.
Glossary
A: B: C: D: E: F: G: H: I: J:
L: M: N: O: P: Q: R: S: T: U: V: