Looking for words that rhyme with "blue?" Blue is a color that lies midway between indigo and violet in the colored spectrum of white light. It is also one of the three primary colors, the other two being red & green. It's most often seen as the color of the sky or the ocean. A second meaning of the word also includes the feeling of melancholy or gloom.
The color of the curtain should have been Prussian Blue and not Egyptian Blue.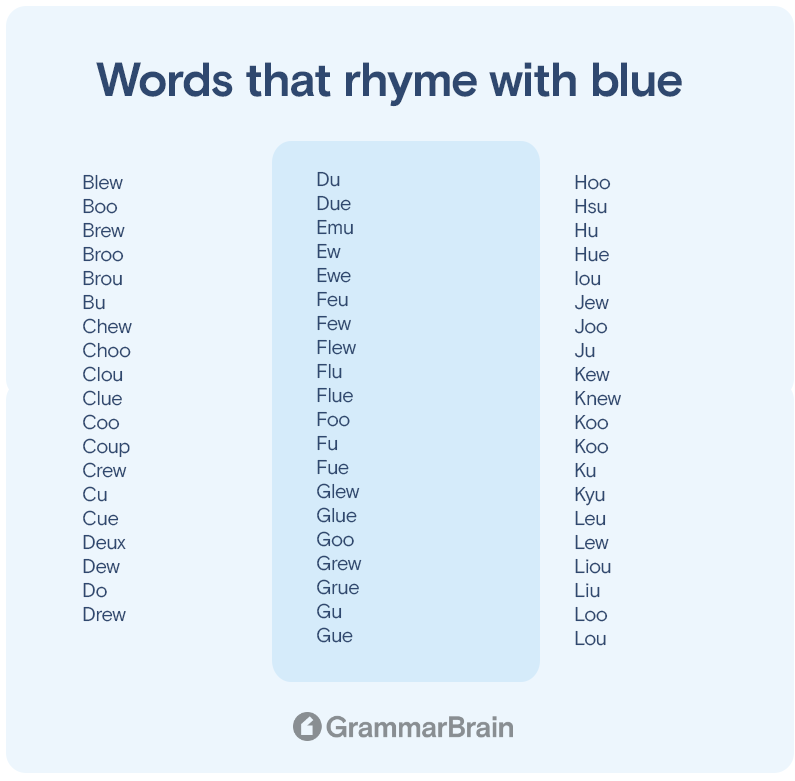 One-syllable words that rhyme with blue
Blew
Boo
Brew
Broo
Brou
Bu
Chew
Choo
Clou
Clue
Coo
Coup
Crew
Cu
Deux
Dew
Do
Drew
Du
Due
Emu
Ew
Ewe
Feu
Few
Flew
Flu
Flue
Foo
Fu
Fue
Glew
Glue
Goo
Grew
Grue
Gu
Gue
Hew
Hewe
Hoo
Hsu
Hu
Hue
Iou
Jew
Joo
Ju
Kew
Knew
Koo
Koo
Ku
Kyu
Leu
Lew
Liou
Liu
Loo
Lou
Loux
Lu
Lue
McGrew
McHugh
Mew
Moo
Mu
New
Nu
Ooh
Ou
Pew
Phu
Plew
Poo
Pooh
Prue
Pu
Qu
Queue
Rew
Roux
Ru
Rue
Screw
Sew
Shoo
Shou
Shrew
Shu
Skew
Slew
Smew
Soo
Sou
Spew
Sprue
Stew
Strew
Su
Sue
Tew
Thew
Thu
To
Too
True
Tu
Two
Tzu
View
Vou
Vous
Vu
Vue
Whew
Who
Woo
Wou
Wu
Xu
Yeu
Yew
Yu
Zu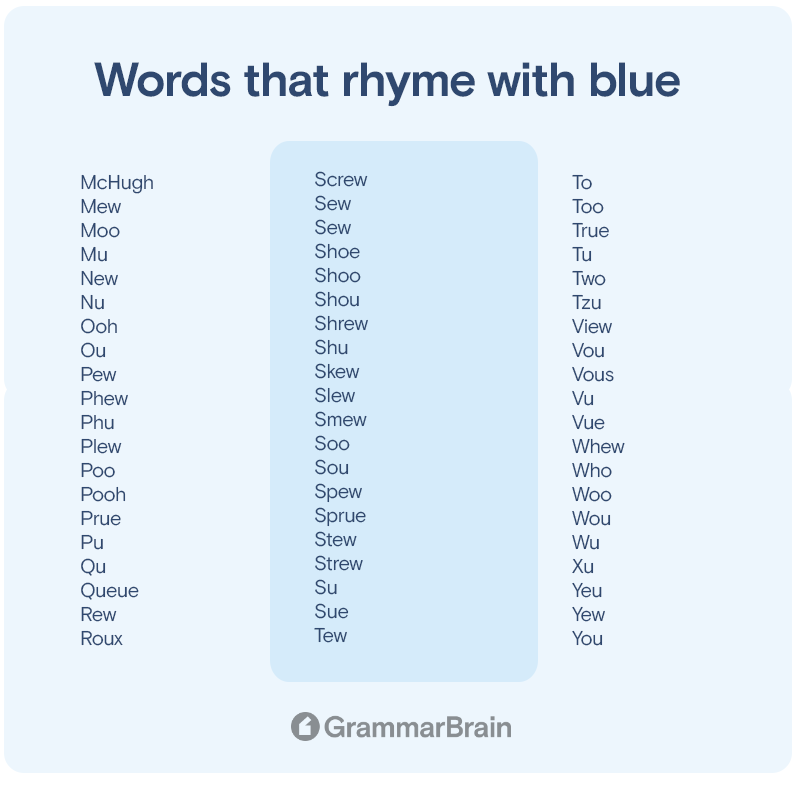 Two-syllable words that rhyme with blue
Accrue
Achoo
Ado
Ague
Anew
Approve
Argue
Baku
Ballou
Bamboo
Basque
Bellew
Bestrew
Booboo
Brogue
Cachou
Canoe
Cashew
Cebu
Chengdu
Construe
Cuckoo
Curfew
Debut
Decrew
Depew
Depue
Disvalue
Ecu
Endue
Ensue
Eschew
Extrude
Fairview
Fescue
Fitzhugh
Fondue
Fordo
Foredo
Fugue
Guru
Hairdo
Halloo
Hereto
Hindu
Igloo
Imbrue
Imbue
Improve
Indue
Into
Intrude
Issue
Jammu
Jusqu
Kansu
Kazoo
Kung Fu
Kwangju
Ladue
Larue
Ledoux
Lieu
Listview
Liu
Marcoux
Marque
Masque
Menu
Mieux
Mildew
Miscue
Onto
Outdo
Outgrew
Perdue
Peru
Pique
Pique
Piu
Plaque
Preview
Prevue
Pursue
Purview
Queue
Ragu
Redo
Refute
Reglue
Regrew
Reissue
Renew
Renew
Rescue
Reskew
Review
Revue
Risque
Roadcrew
Roughhew
Seaview 
Seethrough
Shampoo
Shiatzu
Shivoo
Sinew
Skiddoo
Statue
Subdue
Subdue
Subvue
Sunview
Surview
Taboo
Tabu
Tattoo
Tatu
Therethrough
Tissue
Tolu
Trabue
Undo
Undue
Unglue
Unmew
Unshoe
Untrue
Upto
Value
Vendue
Venue
Vertu
Virtue
Vogue
Voodoo
Wahoo
Wazoo
Whereto
Withdrew
Yahoo
Zebu
Three-syllable words that rhyme with blue
Adieu
Afterview
Anyhoo
Atishoo
Avenue
Babassu
Ballyhoo
Barbeque
Bienvenue
Biotissue
Bottlescrew
Breakthrough
Buckaroo
Bugaboo
Cariboo
Chanoyou
Clearview
Cockatoo
Congrue
Continue
Corkscrew
Cotonou
Counterview
Cybercrew
Deconstrue
Downvalue
Eigenvalue
Foreknew
Fu Manchu
Gardyloo
Gasperoo
Gillaroo
Giraudoux
Grandnephew
Hereto
Hitherto
Honeydew
Horseshoe
Impromptu
Inconnu
Interview
Intratissue
Jackeroo
Jackscrew
Jujitsu
Kangaroo
Kathmandu
Lakeview
Leadscrew
Lemieux
Malibu
Marabou
Menstrue
Miniscrew
Minizoo
Misconstrue
Multiview
Neotissue
Ninjutsu
Oceanview
Outdrew
Overdo
Overdrew
Overdue
Overflew
Overgrew
Overshoe
Overthrew
Overvalue
Overview
Pageview
Parleyvoo
Peekaboo
Potoroo
Rearview
Reconstrue
Rendezvous
Residue
Resubdue
Retinue
Revenue
Setscrew
Smackeroo
Sockeroo
Stepnephew
Stinkaroo
Stinkeroo
Strikethrough
Sudoku
Superglue
Thumbscrew
Timbutku
Tiramisu
Traincrew
Transvalue
Turnscrew
Ubuntu
Underdo
Undergrew
Undervalue
Unscrew
Walkthrough
Wallaroo
Wanderoo
Waterloo
4-syllable words that rhyme with blue
Depardieu
Hullabaloo
Kalamazoo
Muumuu
Pirarucu
Tippecanoe
5-syllable words that rhyme with blue
BMW
DFW
GNU
Yabbadabadoo
ZANU
Phrases that rhyme with blue
A few
About to
As to
Be itching to
Be on to
Be true
Become due
Been through
Better to do
Bird flu
Birds flew
Bite only what you can chew
Bless you
Brand new
Break into
Breaking into
Bump into
Burst into
Buy into
Carry through
Cold brew
Come into
Come through
Comfortable as a shoe
Common as an old shoe
Cut into
Daring to
Dig into
Dip into
Eat one's cake and have it too
Face value
Feel free to do
Follow through
Get into
Get through
Get used to
Give rise to
Give thought to
Going to
Good value
Halfway through
Have got to
Have your cake and eat it too
Heart goes out to
Home brew
Hoping to
How dare you
How do you do
In addition to
In my view
Latched onto
Lead to
Lead up to
Leak to
Led it to
Lend an ear to
Lend to
Lie to
Light into
Like new
Look into
Make a stew
Make do
Market value
Mind you
More than one can chew
Next to
No can do
No clue
Nose into
Not a few
On to
Paddle your own canoe
Pay attention to
Pay-per-view
Peer review
Pitch into
Plow through
Point of view
Pork stew
Put through
Ring true
Rope into
Saddle shoe
Sectioning crew
Set to
Should do
Sit through
Slipped through
Sneak a preview
Soft shoe
Squeak through
Step into
Stick one's nose into
Take exception to
Talk into
Thank you
That will do
They argue
Through and through
Thumb through
To do
Turn an eye to
Up to you
Used to
Wade into
We drew
Well to do
Will continue
Wish you
With an eye to
With reference to
With regards to
With respect to
Works due
Yoo hoo
You've
Words that rhyme with blue (images)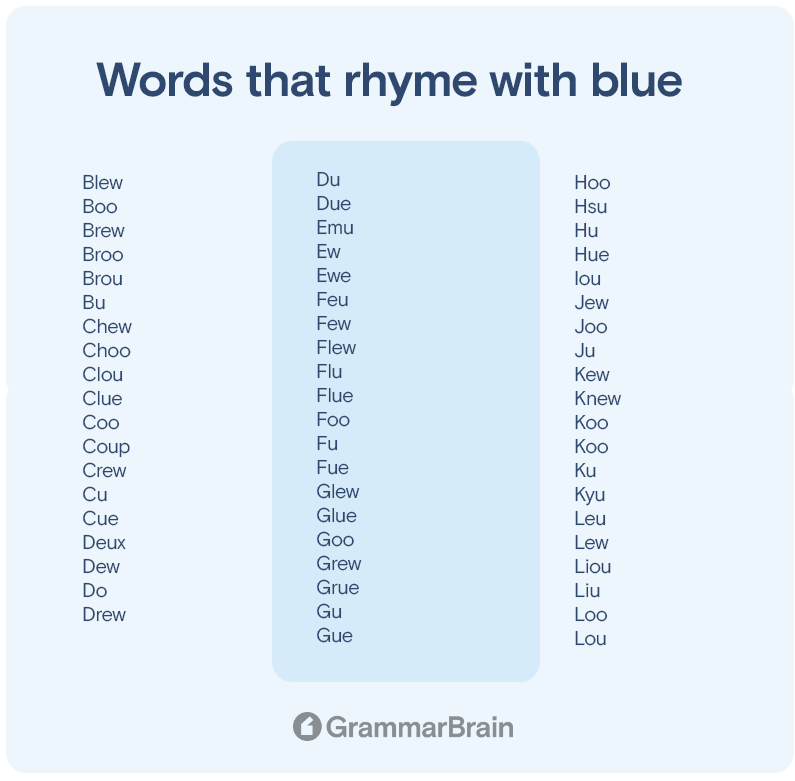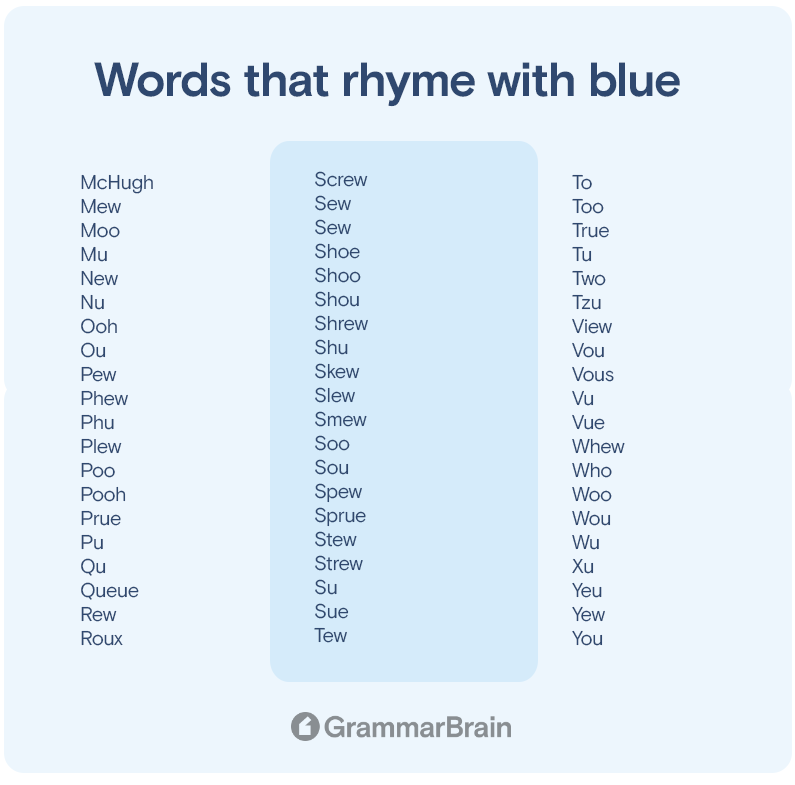 Other rhyming word lists
Here are other popular rhyming word lists:
Words that rhyme with house
Words that rhyme with days
Words that rhyme with blue
Words that rhyme with month
Words that rhyme with heart
Words that rhyme with love
Fact checked:
Content is rigorously reviewed by a team of qualified and experienced fact checkers. Fact checkers review articles for factual accuracy, relevance, and timeliness. Learn more.
Glossary
A: B: C: D: E: F: G: H: I: J:
L: M: N: O: P: Q: R: S: T: U: V: