Looking for words that rhyme with "dog?" The ability to listen to similar sounds within words is an important skill for someone learning a new language. It lays the groundwork for understanding that words are composed of separate speech sounds. And when the selected speech sounds are changed within a word, you can create a new word.
An example of this language structure would be cut-hut-but.
This is what you would call a 'rhyme'
According to the Merriam-Webster dictionary, words that rhyme possesses similar terminal sounds when spoken or written.
In this blog post, readers can find different classifications of words that rhyme by using an original word that relates to man's best friend. Read on to find what words rhyme with dog ideal for nursery rhymes and poems.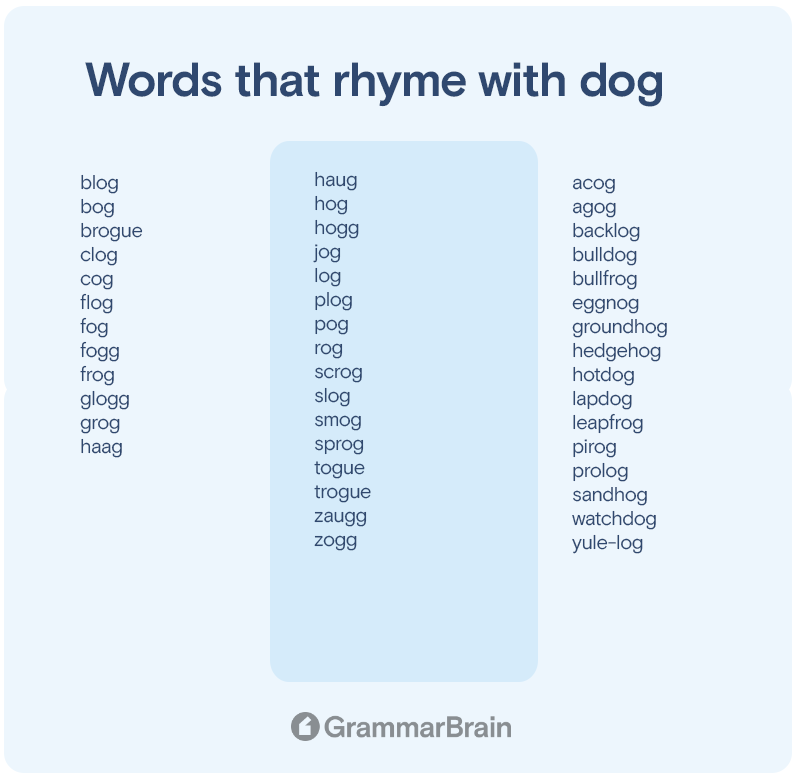 Words that Rhyme with Dog
The Collins dictionary describes a syllable as a part of a word that contains a single vowel sound, and that is pronounced as a unit. Single-syllable words are short and are only composed of a unit. Two-syllable words have 2 units to pronounce in a word, and so forth. Listed below are words that rhyme with dog matched to their number of syllables.
Single-syllable words that rhyme with dog
blog
bog
brogue
clog
cog
flog
fog
fogg
frog
glogg
grog
haag
haug
hog
jog
log
plog
pog
rog
scrog
slog
smog
sprog
togue
trogue
zaugg
zogg
Two-syllable words that rhyme with dog
acog
agog
backlog
bulldog
bullfrog
eggnog
hedgehog
hotdog
lapdog
leapfrog
prolog
sandhog
watchdog
yule-log
Three-syllable words that rhyme with dog
Four-syllable words that rhyme with dog
abominog
cardiologue
electrosmog
emenagogue
idealogue
melanagogue
secretagogue
Five-syllable words that rhyme with dog
inter-paralogue
isotopologue
pseudo-homolog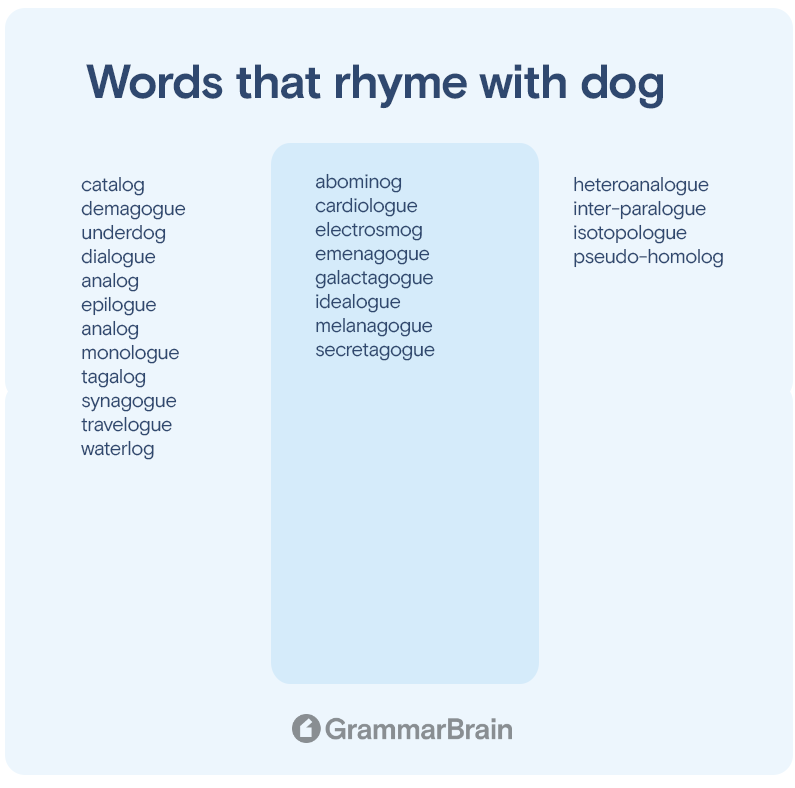 Rhyming Phrases To Use With the Word Dog
Using rhyming phrases with an assigned word can make lines of poems or story sounds more vibrant and exciting to read. The following list of phrases would add some spark to your writing:
bleed like a stuck hog
chestnut-flanked sparrowhawk
crawl before you can walk
have a heart-to-heart talk
holding on like a bulldog
informative talk
like a bump on a log
like falling off a log
like rolling off a log
living high off the hog
ongoing dialogue
positive self talk
proud as a peacock
ran amok
walk and talk
walk the talk
watch like a hawk
white as chalk
win in a walk
you're the one to talk
Words That Rhyme With Synonyms of Dog
When composing a piece of writing, replacing a word with an equivalent can improve how you communicate with readers. If you were to write a nursery rhyme with the word dog, for example, using the word dog repetitively can be mundane. Instead, try to replace the word dog with its synonym. Read on for a list of words that rhyme with synonyms of dog.
Canine
affine
align
assign
bine
brine
cline
crime
dine
fine
swine
vine
whine
wine
zine
Doggy
boggy
cloggy
doggie
foggy
fogie
froggy
groggy
moggy
nagi
poggy
scroggy
sloggy
smoggy
soggy
takagi
yagi
Hound
mound
bound
ground
sound
found
pound
round
crowned
downed
drowned
stound
frowned
gound
wound
browned
around
Mutt
abut
all but
betel nut
brazil nut
but
butt
chestnut
clearcut
coconut
crew cut
cut
donut
doughnut
dutt
glut
groundnut
gut
gutt
haircut
haute
hazelnut
horse chestnut
macadamia nut
monkey nut
netiquette
nut
nutt
peanut
phut
putt
qubit
rebut
robot
rut
rutt
scuttlebutt
shortcut
Puppy
chubby
cuppy
dummy
duppy
fluffy
fuzzy
grubby
honey
hurry
money
monkey
sunny
supply
ugly
yuppie
yuppy
Imperfect Rhyming Words That Match With Dog
There are other names for imperfect rhymes that may be familiar to some. Imperfect rhymes are also called slant rhymes, lazy rhymes, near rhymes, and half rhymes.
In the world of rhyming, imperfect rhymes only meet some of the criteria of rhyming and not all. As such, these rhymes group words with similar sounds but not wholly the same. Near rhymes are great additions to songwriting, often giving a more interesting feel than perfect rhymes.
Examples of near rhymes of the word dog:
arc
awoke
bark
block
bloke
book
broads
broke
choke
cloak
clock
cock
coke
cook
cork
crock
crook
dark
folk
fork
gobs
hook
jobs
joke
knock
lark
lock
look
mark
mistook
mock
moonwalk
odds
overlook
park
pods
poke
pork
provoke
rock
rods
rogue
shark
shock
shook
smoke
soak
sock
spark
spoke
stark
stock
storybook
talk
took
wads
walk
woke
Rhyming with the word dog
Now that you have a vast selection of words that rhyme with dog in your hand, it is time to apply it to your writing or oral speech. Using rhymes in a poem, lyrics or story can create a memorable echo for the audience. Rhyming words like dog-frog-log are pleasurable to read or say when strung together, making them perfect as an addition to any writing.
Words that rhyme with dog (images)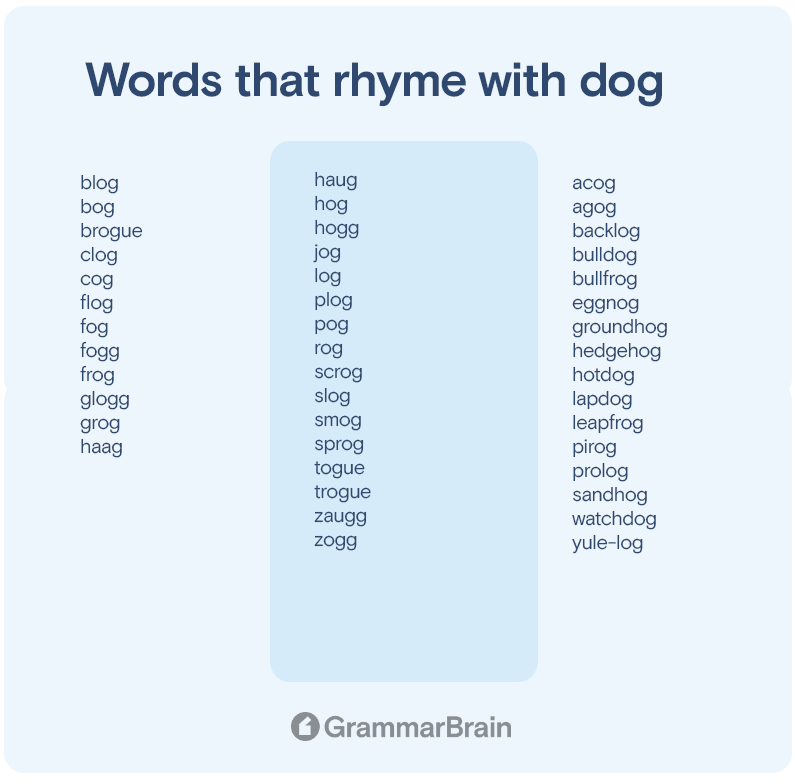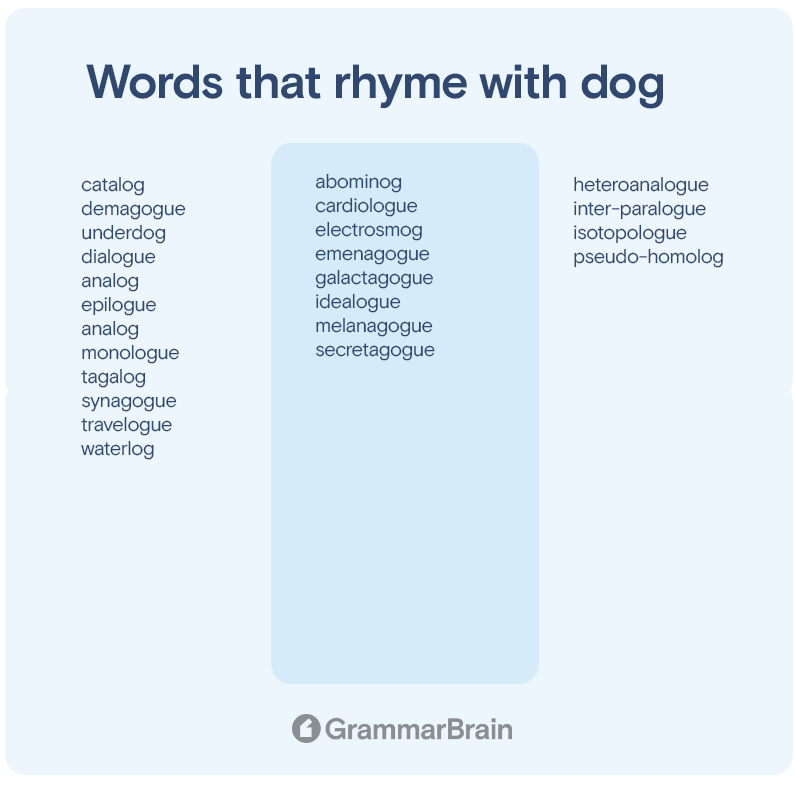 Other rhyming word lists
Here are other popular rhyming word lists:
Words that rhyme with dog
Words that rhyme with house
Words that rhyme with days
Words that rhyme with month
Words that rhyme with heart
Words that rhyme with love
Fact checked:
Content is rigorously reviewed by a team of qualified and experienced fact checkers. Fact checkers review articles for factual accuracy, relevance, and timeliness. Learn more.
Glossary
A: B: C: D: E: F: G: H: I: J:
L: M: N: O: P: Q: R: S: T: U: V: