Looking for compounds words for kids to understand? A compound word is formed by combining two words to create a new word. This new word will have a meaning entirely different from the word used to form it. Compound words can also sometimes be created with more than three words.
Compound word: The different types
Compound words are classified into three different types depending on the way they are formed.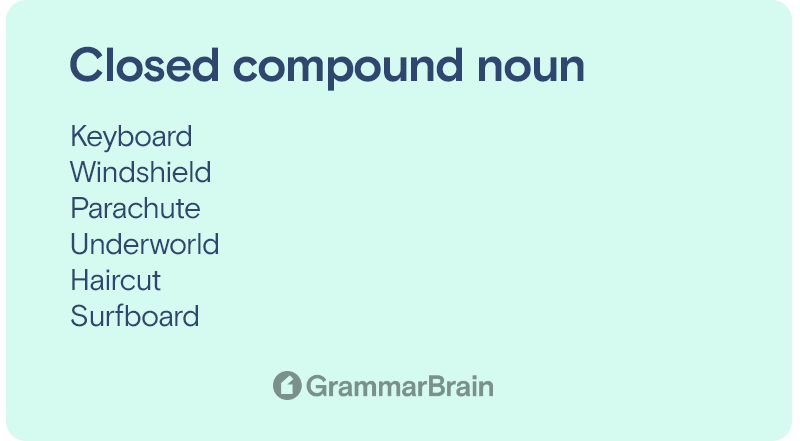 Closed compound words
A closed compound word appears like a single word. They are created by joining two words together without a space in between. They usually contain only two words and are easily recognizable. Even though these words were not always used together, they are now considered "real words."
Examples:
Basketball
Snowball
Moonlight
Bookstore
Waistcoat
Notebook
Fireman
Armchair
Keyhole
Bedroom
Since English is a constantly evolving language, many words that are used extensively typically end up being written as a single word. An example of this is the word "online." This word was spelled "on-line" during the initial stages of internet use. But now the spelling "online" has become more accepted.
Open compound words
An open compound word is formed when a modifying adjective is combined with a noun to form an entirely new noun. They are created by joining two or more words. The words that are joined are written with a space in between. The space between the words can make it a bit difficult to identify open compound words.
Examples:
Ice cream
Coffee mug
Real estate
Living room
Post office
First aid
Dinner table
Full moon
Hot dog
Compound words can also be formed by combining words with adverbs that end in -ly. Such compound words are also written as separate words.
Examples:
Newly formed
Largely irrelevant
Highly contagious
Newly discovered
Freshly baked
Lightly salted
Poorly written
Distantly related
Hyphenated compound words
A hyphenated compound word is created by joining two or more words and placing a hyphen between them. Compound adjectives are typically hyphenated if they come before the noun they modify rather than after. Hyphenated compound words typically serve as compound adjectives.
Examples:
Long-term
Day-to-day
Snow-clad
In-depth
Sun-dried
One-footed
Hands-on
Brother-in-law
Well-known
Hyphenated compound words have numerous rules associated with them. This makes them a bit trickier to write and identify. In some situations, open compound words become hyphenated. Consider the word "video game." It is an open compound word. But this word is usually hyphenated when it modifies a noun like "collector" or "player."
Example:
Avid video game players are fervently waiting for the release of Starfield in 2023.
Hyphens are frequently employed when compound adjectives are used in front of a participle. They also modify or alter a noun. Consider the word "record-breaking show." Here, the word "breaking" is the present participle of the verb "break." The adjective form "record" is placed before "breaking." Both these words serve the same purpose, describing the noun "show."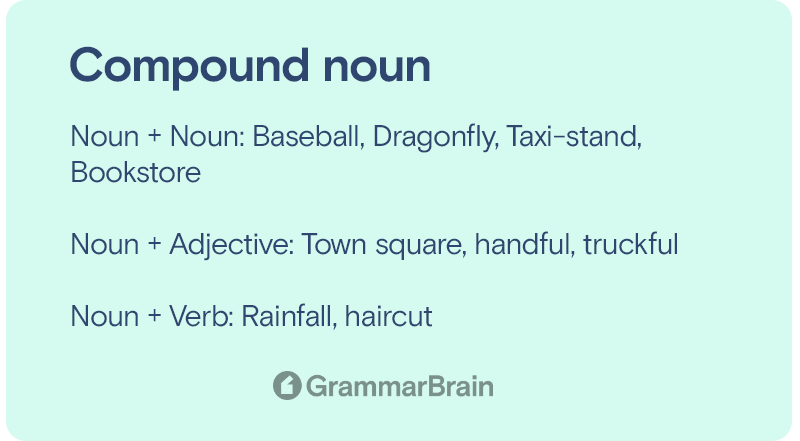 Compound nouns
Compound words that function as nouns are known as compound nouns. Examples include "boyfriend," "firefighter," and "greenhouse."
Compound verbs
Compound verbs, or complex predicates, are multi-word compounds that act as single verbs. Examples include "sugarcoat," "proofread," and "blackmail."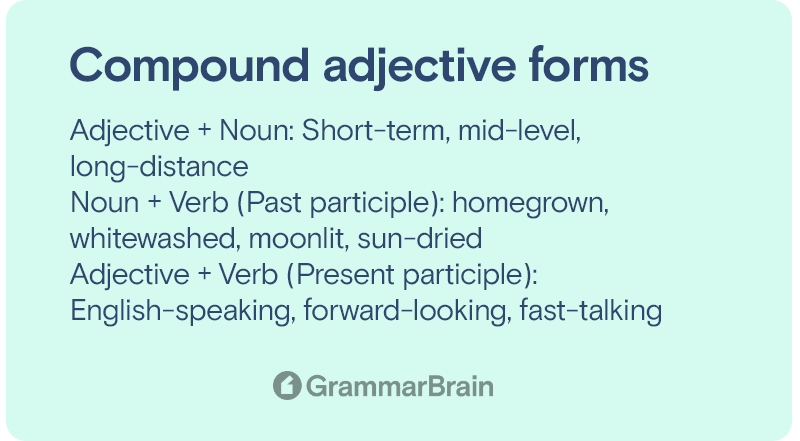 Compound adjectives
Compound adjectives are compound words that describe a noun. Examples include "short-handed," "white-washed," and "ice-cold."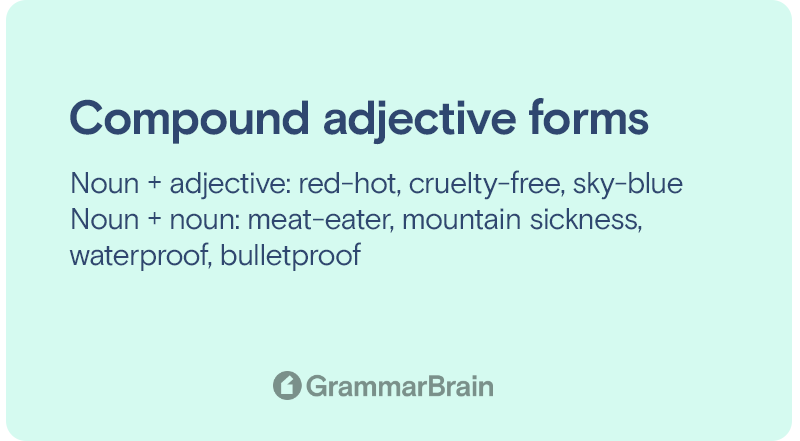 Compound word formation
Compound words are created by joining two words, particularly two components of speech. The different ways in which compound words can be formed include: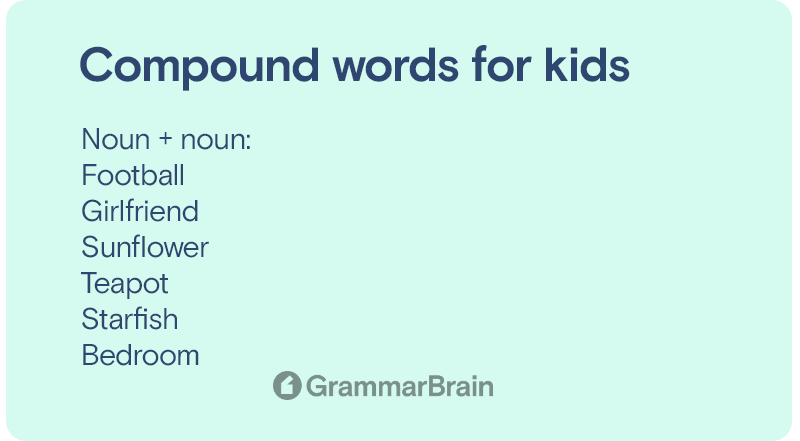 Noun + noun
Words formed by joining nouns include:
Football
Girlfriend
Sunflower
Teapot
Starfish
Bedroom
Music band
Snowman
Cupcake
Rainbow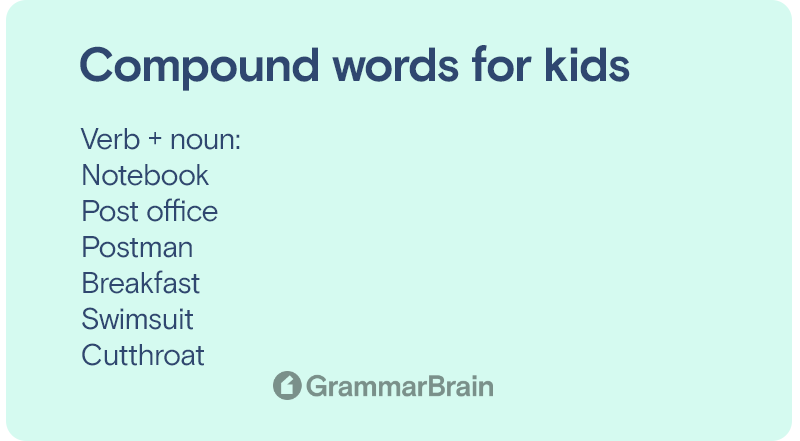 Verb + noun
Words formed by joining a verb and noun include:
Notebook
Post office
Postman
Breakfast
Swimsuit
Cutthroat
Chopstick
Typewriter
Bathroom
Worksheet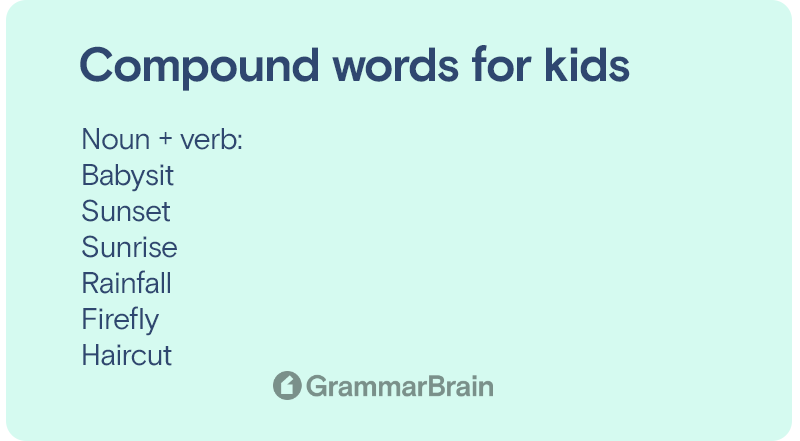 Noun + verb
Words formed by joining a noun and verb include:
Babysit
Sunset
Sunrise
Rainfall
Firefly
Haircut
Raindrop
Snowfall
Photoshoot
Daydream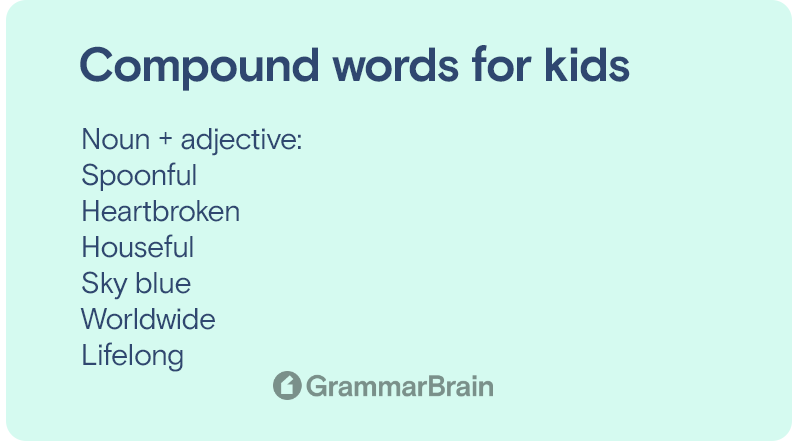 Noun + adjective
Words formed by joining a noun and adjective include:
Spoonful
Heartbroken
Houseful
Sky blue
Worldwide
Lifelong
Wireless
Snow white
Laptop
Sugar-free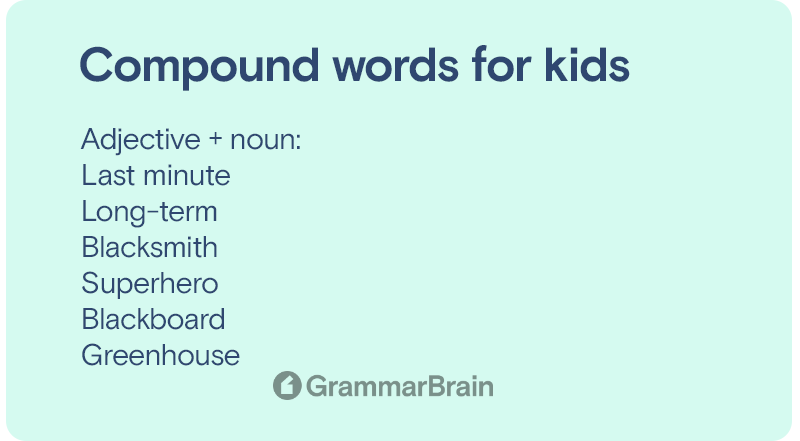 Adjective + noun
Words formed by joining an adjective and noun include:
Last minute
Long-term
Blacksmith
Superhero
Blackboard
Greenhouse
Hot dog
Full-time
Full moon
Bluebird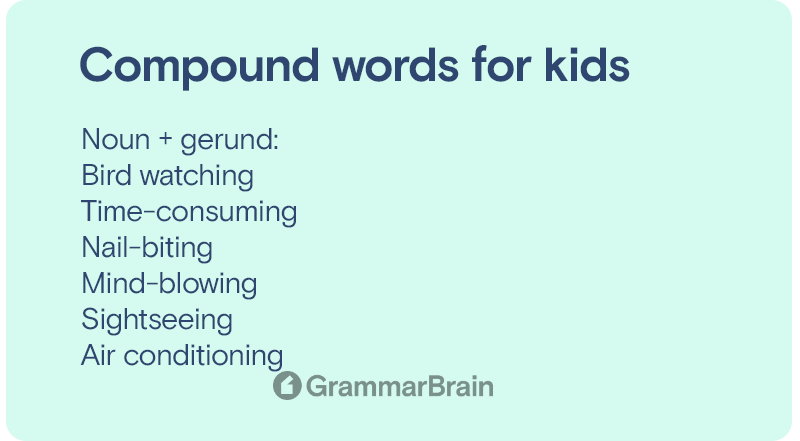 Noun + gerund
Words formed by joining a noun and gerund include:
Bird watching
Time-consuming
Nail-biting
Mind-blowing
Sightseeing
Air conditioning
Brainstorming
Mind mapping
Job hopping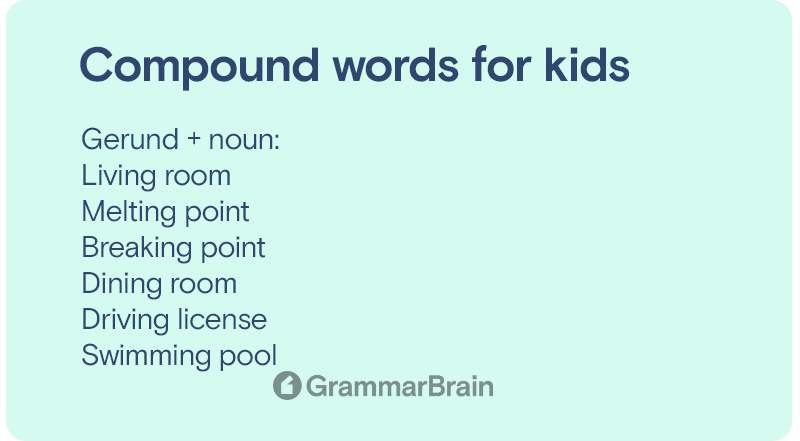 Gerund + noun
Words formed by joining a gerund and noun include:
Living room
Melting point
Breaking point
Dining room
Driving license
Swimming pool
Washing machine
Vending machine
Managing director
Skipping rope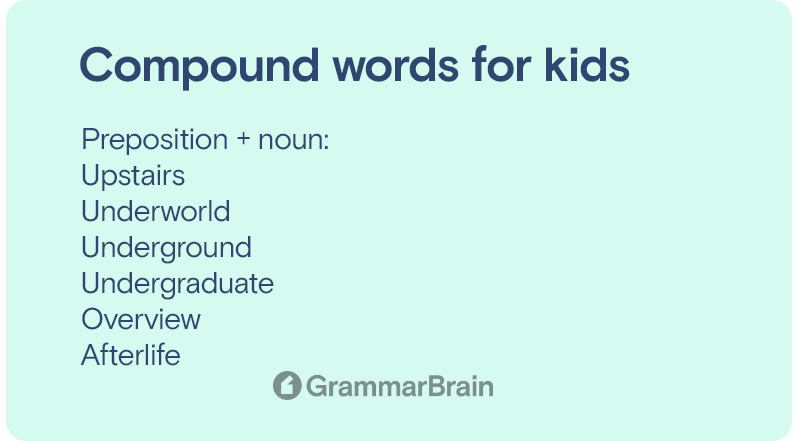 Preposition + noun
Words formed by joining a preposition and noun include:
Upstairs
Underworld
Underground
Undergraduate
Overview
Afterlife
Forehead
Bystander
Oversight
Background
Preposition + verb
Words formed by joining a preposition and verb include:
Outrun
Output
Outdo
Underestimate
Understand
Overlay
Overthrow
Input
Intake
Overreact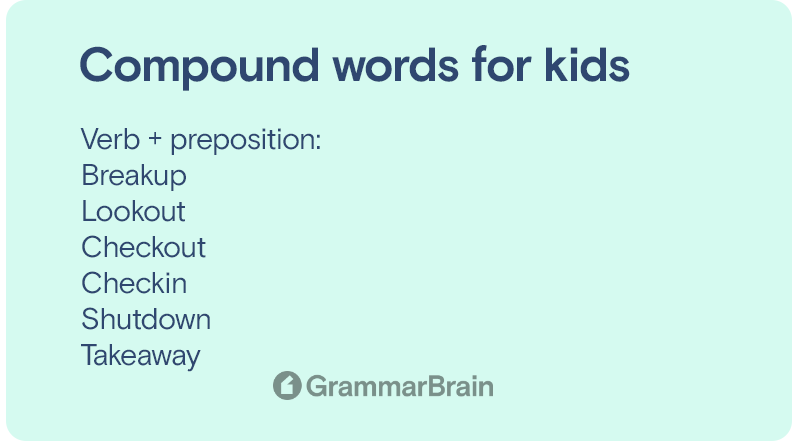 Verb + preposition
Words formed by joining a verb and preposition include:
Breakup
Lookout
Checkout
Checkin
Shutdown
Takeaway
Drawback
Takedown
Cut through
Roll-off
Creative techniques to teach kids compound words
Each child has a unique learning pattern and style. Every kid has a different understanding and grasping power. Learning compound words can be made interesting for kids by using some engaging and entertaining methods.
Flashcards
Kids learn easily and quickly with visual cues. Flashcards can be used to teach kids compound words as well as for end-of–lesson exercises.
Art and craft
Kids can be encouraged to make different crafts using compound words like sunglasses. The children learn the terms more easily and remember them better when they craft.
Interactive exercises
Activities like making Pictionary can help kids better remember compound words.
Exercise on compound words
Using the words given below, form open, closed, and hyphenated compound words.
Sister
Rain
Sitting
Swimming
Minded
Pool
Hand
Throat
Half
Bow
Card
Broad
Wash
Man
Baby
Made
Top
Counter
Cut
Flash
FAQs
Though compound words are multi-syllable in nature, not all words with multiple syllables are compound words. A multi-syllable word is a compound word if it can be broken down into its component words. Consider the word "beautiful." This word has three syllables but it cannot be divided into distinct meaningful words. So, "beautiful" is not a compound word.

But consider the word "sunshine." Here, this word can be divided into "sunshine = sun + shine." The individual words "sun" and "shine" have meanings.

This makes "sunshine" a compound word. So, the best strategy to determine if a given word is compound is to divide it.
What is the difference between compound and complex words

Compound words contain two or more words that are combined to produce another word with a different meaning. Examples include firefly, firefighter, and sunshine.

Complex words have one root, or base, along with one or more affixes (es). They have multiple morphemes. Examples include disestablishment and quicker.
Sources:
Fact checked:
Content is rigorously reviewed by a team of qualified and experienced fact checkers. Fact checkers review articles for factual accuracy, relevance, and timeliness. Learn more.
Glossary
A: B: C: D: E: F: G: H: I: J:
L: M: N: O: P: Q: R: S: T: U: V: