What are good hook examples to get my creative writing inspiration flowing? Many elements go into an effectively written piece of work. Using these elements to your advantage will help you write better essays, assignments, articles, stories, and more. The hook is one of these elements. It is what "hooks" the reader onto your work. The skill to write a compelling hook will decide whether people want to read your writing or not.
Learn about hooks and see examples in this comprehensive guide…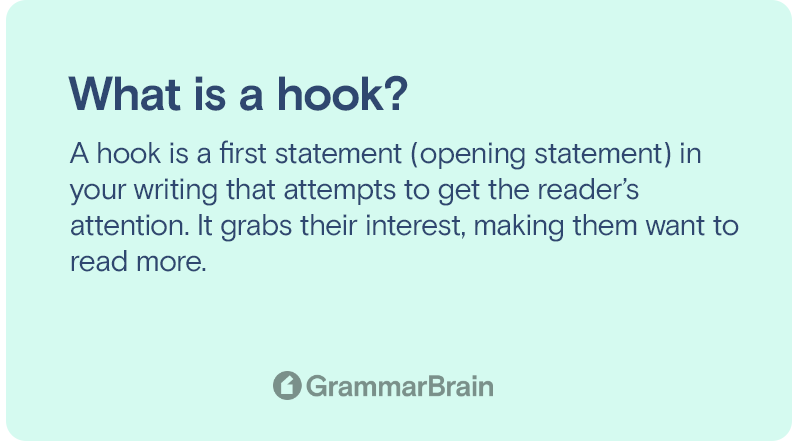 What Is Hook?
A hook is a first statement (opening statement) in your writing that attempts to get the reader's attention. It grabs their interest, making them want to read more.
In essence, make your hook catchy. Readers should be motivated to continue reading the whole piece.
To achieve this, read your material multiple times and understand the central theme. The hook must follow that theme. It cannot be random for the sake of being catchy.
For making your hooks catchy, there are multiple things at your disposal. Use humor, state relevant and shocking facts, ask rhetorical questions or borrow a famous quote to develop good hooks.
Hook Examples
As mentioned earlier, there are multiple types of hooks. Choose the type that best suits the written material based on the nature of your essay or article.
In a nutshell, hooks come in 5 varieties – Sentences, Questions, Story Openings, Facts or Statistics, and Quotations.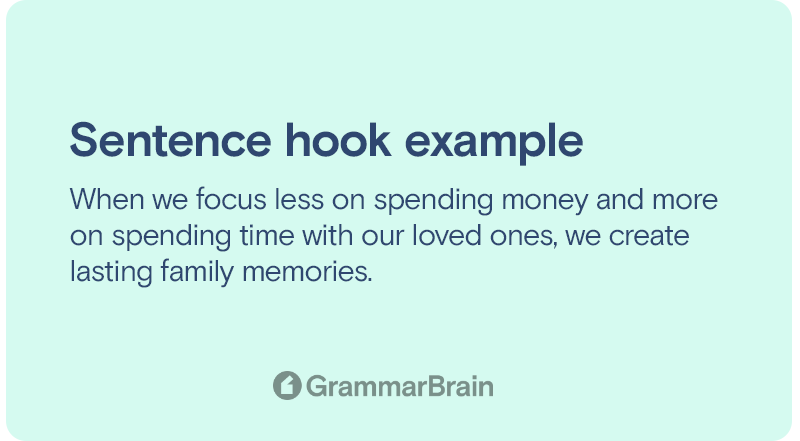 Sentence Hook Examples
Start your article with a convincing opening statement or sentence. The first sentence will act as your hook if it is sensational or catchy enough. When you make a strong statement, you create a powerful impression on the reader.
Whether the reader agrees or disagrees with you is not the question. If they find your statement compelling, the readers will be intrigued to learn more about what you have to say. It will make them read your article or essay.
Here are some excellent sentence hook examples: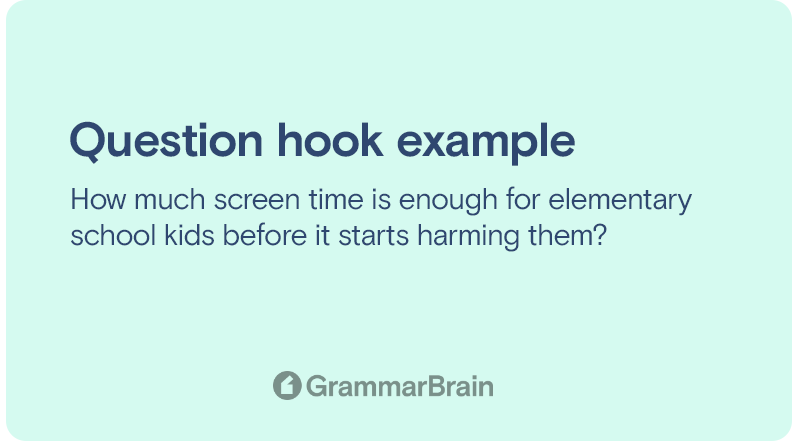 Question Hook Examples
If you do not wish to assert yourself, ask the readers a question instead. People instinctively feel the need to respond when posed with a question, even if it is through writing.
But how do you hook the readers through a question? The trick lies in balancing the overall message of your work with a relatable but thought-provoking question.
Pose a question that is connected to your written material and triggers a reader's curiosity. Ask a shocking, probing, or universal question whose answer a reader wants.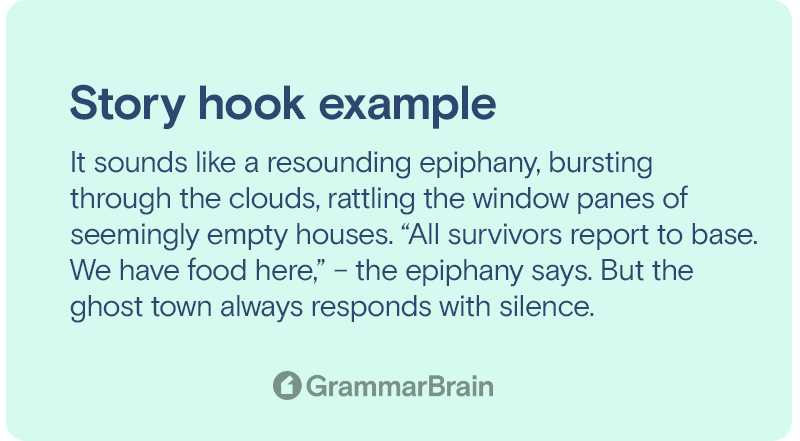 Story Hook Examples
A hook is as important in fiction as it is in non-fiction writing. Without a good opening, your story will begin with a rocky start. In the worst-case scenario, readers may not even finish the first paragraph before picking up another story (with a much better hook, presumably).
In short, a story hook creates questions, triggers curiosity, and promises a satisfying read.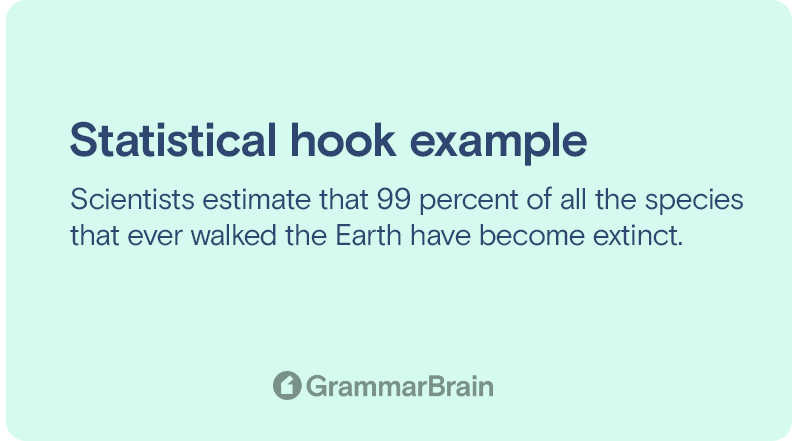 Statistical or Factual Hook Examples
Honesty is often the best policy. Statistical or factual hooks represent this notion.
Instead of writing something clever, witty, shocking, or sentimental, hit your readers with essential facts from the get-go.
Interesting insights and facts relevant to the article can make a reader interested in gaining more knowledge. This method is particularly useful for essays, reports, and articles. But even stories can begin with a fact, depending on how to paraphrase it.
Quotation Hook Examples
Lastly, using someone else's quote is an exciting way to write a hook. The quote need not be famous. However, when you look for a quote, ensure it is interesting and related to your written material.
Pick the quote you like. The quote can be from an article, movie, speech, interview, etc.
Assertion Sources – Cite Them Properly
When it comes to statistical/factual hooks and quotation hooks, pay special attention to the following:
FAQs
Can the hook come at the end?

No, the hook must appear in the beginning. Otherwise, it will not manage to grip the reader.
How many types of hooks are there?

There are 5 types of hooks – statements, questions, statistical, quotation and story.
Is the title a hook?

Definitely! Your title should be as catchy as the first statement of your written material. 
Fact checked:
Content is rigorously reviewed by a team of qualified and experienced fact checkers. Fact checkers review articles for factual accuracy, relevance, and timeliness. Learn more.
Glossary
A: B: C: D: E: F: G: H: I: J:
L: M: N: O: P: Q: R: S: T: U: V: